Free Solar Panel Programs for Pensioners: Everything You Need to Know
Updated: July 23, 2022
The Australian federal government, as well as the majority of state governments, are committed to ensuring that every home in Australia has access to green energy.
As such they have rolled out the Small Technology Certificate (STC) solar program to help reduce costs.
On top of government rebates for all homeowners, most states have free solar panel plans for low-income families, retirees, and pensioners. This is generally through grants or interest-free loans.
Since each state has a different policy, we'll go one by one.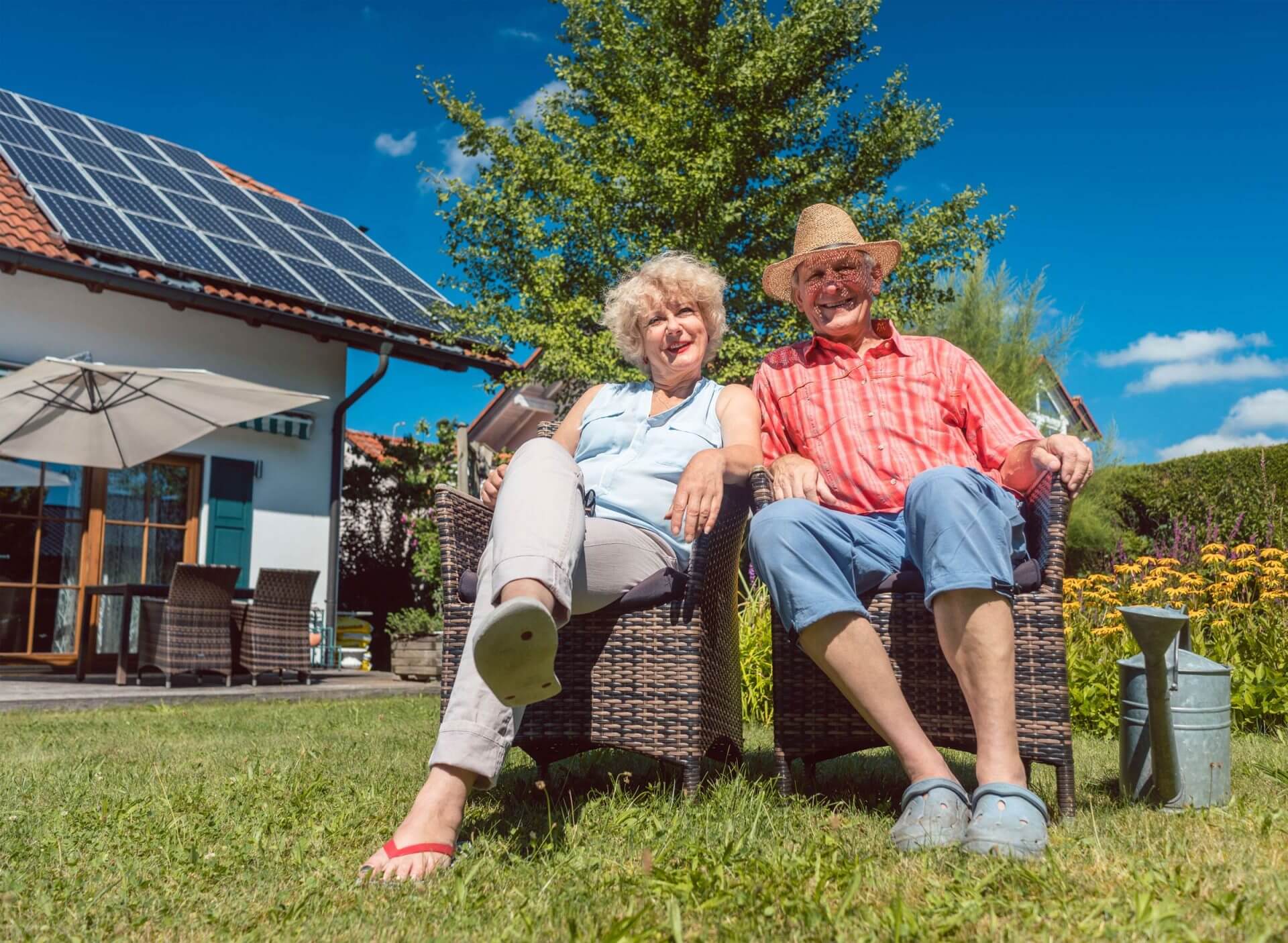 The Victorian state government is committed to removing barriers to solar energy availability for low-income households. They're accomplishing this by making solar panels and batteries cheaper through their Solar Homes Program, which includes many solar schemes.
While there is no program expressly for low-income families, the state does offer rebates (up to $1,400) to Victorian residents, as well as a no-interest loan to help these families lower their utility expenditures.
Note: The state minister for solar homes stated earlier this month that the government will provide a $1,000 solar rebate to all VIC qualifying low-income households, which should assist them in upgrading their home energy systems.
Apart from the rebates and solar schemes supplied by the federal government, Western Australia's state government offers none. Their state government has stated explicitly that it opposes any solar subsidy program, and existing feed-in tariff systems may be phased out soon.
Low-income households can still rely on feed-in tariffs and upfront refunds from the national government under the Small-scale Renewable Energy Scheme for the time being.
Each year, a normal household that joins Switch for Solar might save $157 to $525. In 2021, Switch for Solar was offered in some areas. The service will be provided to the first 5,000 families in the state starting in mid-2022.
The Switch for Solar initiative is run by the South Australian state government for low-income homes. The goal of the project is to help residents save hundreds of dollars each year by utilising clean solar energy. Eligible houses will receive a 4.4kW solar PV system installed at no cost for a period of ten years under this scheme.
The NSW government has a solar scheme specifically for low-income earners to help them take advantage of the savings solar panels provide, without the large initial outlay.
Under this scheme, you can save up to $600 per year off your electricity bill without the prohibitive upfront costs of solar.
You are eligible if you live in one of the following local government council areas: Bayside, Blacktown, Burwood, Campbelltown, Canterbury-Bankstown, Cumberland, Fairfield, Georges River, Liverpool, Parramatta, Strathfield and Penrith.
You must also:
Hold a valid pensioner card
Agree NOT to receoive the Low Income Household Rebate for 10 years
Own the home you live in
Do not have an existing solar system installed.
Apply here: Solar for low-income house holds NSW trial
Resource: https://www.service.nsw.gov.au/transaction/apply-low-income-household
Australian Capital Territory (ACT)
The Australian Capital Territory Government's Household Battery Storage scheme will provide a reimbursement to residents and companies who instal a battery storage unit connected to a new or existing rooftop solar PV installation.
The following requirements must be met:
The property must be owned by the Scheme participant.
A single-family home or a property with a unit title is necessary.
Non-unit titled homes and stand-alone unit titled dwellings must have an Unimproved Value (UV) of less than $750,000 in 2020-21 based on the unit entitlement percentage. Unit named multi-story apartments has a UV of $200,000.
Resource: https://www.climatechoices.act.gov.au/policy-programs/home-energy
A baseline 5kW solar system installed in 2022 will qualify for a $2,772 incentive under the SRE plan for Queenslanders. It is applied as a point-of-sale discount to lower the cost of going solar. Feed-in tariffs are also available.
These solar panels are self-sustaining. Regional Queenslanders will receive 6.583 cents per kilowatt-hour of exported electricity, whereas South East Queenslanders would receive 18 cents.
The Home and Business Battery Scheme helps Northern Territory residents, businesses, non-profits, and community groups purchase and instal:
a solar PV system with a battery and inverter that meet the requirements
if a solar PV system is already installed, a qualifying battery and inverter
If you satisfy the following conditions, you may apply. You need to be:
a Northern Territory registered homeowner.
A company registered in the Northern Territory.
a non-profit or community organization operating in leased or owned premises in the Northern Territory.
You can apply for one grant for your home and another for your business if you own both.
Tasmania has led the way in renewable energy generation, with renewables accounting for 100 per cent of the island's electricity and solar panels installed on over 24,600 households. Now that this milestone has been reached, the Tasmanian government and population are focusing on other goals, such as achieving a 100 per cent renewable goal by 2040.
The STC programme, also known as the Small-scale Technology Certificate programme, provides substantial price discounts across Australia. Tasmanian residents who live in Zone 4 are eligible for STCs worth $2,971 for a 6.6kW solar system. STCs automatically discount solar energy systems by 20–30%, providing substantial incentives to anyone who wants to use them.
Carbon emissions are produced by fossil-fuel-fired power plants, which also contribute to local air pollution in areas around power plants.
You can lower your personal environmental footprint by installing solar. When you install a solar panel system on your home, you may avoid buying carbon-emitting electricity from the grid and instead draw power directly from your solar panels.
Even if you aren't directly using solar energy, you are reducing the demand for carbon-emitting generating by putting your solar energy into the grid. At the end of the day, a typical household solar panel system will reduce carbon emissions by three to four tonnes per year.
What are the benefits of using solar panels?
You will need less electricity from the utility company if you generate your own. This will save you money on your energy bill right away. You can also make money by selling back to the grid any unused electricity that you have generated. You may increase the value of your green investment by taking advantage of available solar panel grants.
The more energy you produce, the less energy you'll require from a source, increasing your energy independence.
While a solar array does require some cleaning and maintenance to run at peak efficiency, it requires almost no day-to-day upkeep, making it a convenient "tenant" for you. An expert solar developer can help you maintain your solar PV system to get the most out of it.
3. Improved grid security
If there are multiple power plants spread out over the grid, it is less sensitive to blackouts. A system with a high solar penetration has hundreds of energy production centres that are widely dispersed. This increases grid security in the event of overload, natural disasters, or human-caused calamities.
4. Doesn't require any additional area.
Rooftop solar panels have the advantage of being able to be put on any style of roof. As a result, installing rooftop solar panels does not necessitate vacating a property or investing in extra land. In addition, the panels protect the roof of the structure in which they are put.
What do you mean by the free solar panel scheme?
Since many states provide different versions of the free solar panel scheme, the qualifications vary depending on your location. The fundamental idea is that the state provides low-income families, pensioners, and the elderly with free solar panels.
If you've been looking for a solar panel system, I'm sure you've heard at least one company advertising 'free solar panels,' which means they'll install a solar energy system on your roof at no charge. However, remember that there is no such thing as a free or a free solar panel.
Although, after decoding the sales pitch, you will get the solar lease or solar power purchase agreements that are occasionally advertised with words like "free solar panels" or "no-cost solar program" (PPAs).
In both cases, a business will install solar panels on your roof at no cost upfront, but you will be charged for the electricity they generate. Most offers will save you money, but not all of them will. So make sure you examine all of your options completely. Consider purchasing solar panels outright or using a zero-down solar loan to finance them.
Several state governments and several large energy corporations usually execute the free solar PV for low-income families initiative. This implies that each state's application process and eligibility standards are unique. However, there are certain basic eligibility requirements.
Should be a citizen of Australia.
currently receive the Low Income Household Rebate
agree not to receive the rebate for ten years
hold a valid Pensioner Concession Card or Department of Veterans' Affairs Gold Card
own your house
not already have a solar PV system