5KW Solar System Price Brisbane
Updated: May 3, 2022
Solar power is increasingly becoming affordable to most households in Brisbane due to the government rebates. 5kW systems are especially popular for medium to large households looking to cut down their monthly electricity bills.
On average, a 5kW solar system in Brisbane costs about $5,130, inclusive of the QLD government solar rebate. This price could be higher or lower depending on the quality and brand of the solar panels and inverters.
Solar panel prices vary depending on the state you live in. Learn more about solar system prices in Australia here.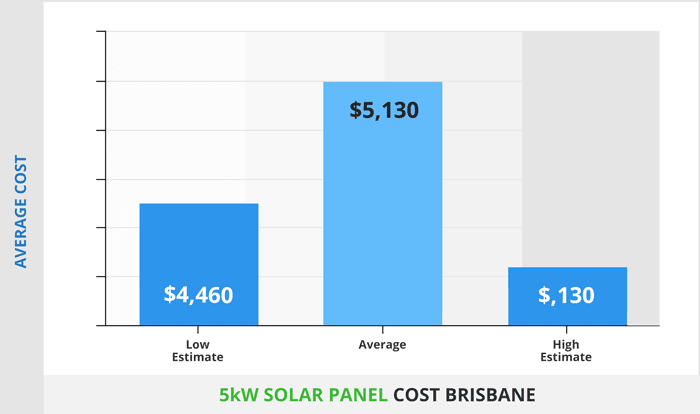 | System | Average Cost of the solar system installed |
| --- | --- |
| 5kW solar system | $5,130 |
| Solar Cost per kW | $1,033 |
| National Average Cost per kW | $911 |
The Australian government offers solar rebates to all eligible households in Australia. The rebate amount you receive depends on the size of your system.
The federal government rebate in QLD varies depending on the STC zone your city falls in. According to the STC (small scale technology certificates) rating, most cities in QLD fall in zone 1. However, Brisbane, which is the capital city of QLD, falls in zone 3, which is much cooler than most cities.
Due to this lower STC rating, solar rates may be slightly higher in Brisbane for a solar panels than in other cities.
So, with the current STC value of $38.50, a 5kW solar system will receive 62 STCs and a rebate amount of $2,387.
What is the solar panel output of a 5kW solar system in Brisbane?
In Brisbane, a good quality 5kW solar system generates about 22kWh per day and 7,117kWh per year.
Brisbane receives about 5 to 8 hours of sunshine per day, which makes it excellent for homeowners looking to install solar panels.
However, several factors may affect the solar system's output. These include:
Solar system and components quality
Shading from trees and nearby buildings
Roof angle/orientation
Solar panels' orientation
Wear and tear of the solar panel system
Climate and weather condition
Maximising your power usage is the only way you can reduce your payback period. If you consume all the power your system generates, your 5kW solar system can pay for itself within 2-3 years after installation.
What Is the payback period of a 5kW solar panel system in Brisbane?
The average payback period of a 5kW solar system is between 2.5 – 4 years. There are a few factors that may dictate the payback of the system. These include:
Your power consumption during sunshine hours
The type of electrical appliances you use
Number of members in your household
The quality of your system
To minimise the payback period of your system and get a faster ROI, maximise the use of your solar power during peak sunshine hours.
Installing a 5kW solar power system in Brisbane is of great benefit as you will reduce your electricity bills significantly. Also, your dependency on power supply from the electricity grid will be reduced.
How much can a 5kW solar system save you in Brisbane?
Brisbane gets plenty of sunshine per day, making it an excellent place for going solar.
With an average of 9 hours of sunshine per day, your 5kW solar system guarantees you a daily power output of 22kWh. This will save you an average of $1,947 per year off your power bill.
The amount of money the system can save you depends on how much power you use per day and the solar feed-in-tariffs you get from your electricity retailer.
Daily power consumption rate
Suppose your electricity costs 25 cents per kWh. So, for every kWh you use, you save 25 cents.
If you use all the power your system generates, you will save about $5 per day, $150 per month and $1,825 – $2,364 per year. By the end of the 25th year, the time when the performance warranty of most solar panels expires, you will have saved a total of about 45,000+.
This is a great ROI and you can eliminate your electricity bill as you enjoy the perks of using renewable energy.
A more practical scenario, you may not use all the power generated by your solar system, so the excess solar energy is sent to the grid.
Different solar companies offer different solar FIT rates but the average rate is 10 cents per kWh.
So, if you are not able to utilise all the power your solar system generates, you will save about 10 cents per kWh ( solar FIT rate).
How much roof space for a 5kW solar pv system in Brisbane?
A 5kW solar system in Brisbane requires between 16 to 18 solar panels. The exact number will depend on the wattage and efficiency of the panels you use.
320 watts = 16 solar panels
275 watts = 18 solar panels
Typically, each solar panel measures about 1.6m x 1m. So, your 5kW solar system will need about 30 to 40 square metres of roof space.
Are solar panels worth it in Brisbane?
Yes. solar panels offer an average homeowner annual savings of between $2,000 to $3,000 with a payback period of about 3 to 5 years. As long as you use more than 40% of the power generated by your system you will reduce your monthly power bills by a considerable amount.
5kW solar system in Brisbane with battery backup
Solar batteries are an ideal addition for homeowners looking to store excess power for use when the system is not producing enough power, and for those planning to go off the grid.
However, the return on investment of solar backup is lower than that of solar panels. This is because solar batteries cost a lot more than solar panels, and there is no available battery rebate in Queensland or in Australia.
Are solar batteries worth it?
Solar batteries are beneficial if:
You live in areas that experience frequent power outages
You have access to battery storage incentives
You do not have access to full net metering
If you fall in any of the above categories, then you will get the most out of your battery system.
How much does battery backup cost in Brisbane?
Battery systems are quite expensive. For instance, a 5kW solar system will require a battery system with a capacity of 14kWh. Such a solar battery system will cost around $14,000 to $15,000 depending on the brand you choose.
If you add the total amount of the battery storage to the cost of a 5kW solar system, you will spend around $19,000 to $20,000.
Solar batteries have a long payback period, and last between 5 and 15 years. This means that your battery system will not last the entirety of your solar system and will need a replacement to catch up with your solar system's lifespan. This, of course, will cost more.
Brisbane solar panel installers
Finding a reliable solar installer in Brisbane can be quite challenging especially if you are installing a solar system for the first time.
Here is a guide to help you find a reliable solar installer near you.
Check the accreditation credentials of your solar provider
Assess the history/background and experience of the company
Compare the solar system warranties before the installation
Get multiple quotes to get the right estimate of the installation
The fastest and easiest way to get connected to three of the most reliable and affordable solar installers in your area would be using this FREE service.
GoSolarQuotes.com quickly matches you with three local solar installers voted #1 by previous users in your area. It's really easy!
Scroll up to the top of the page and enter your ZIP Code in the blue form at the top of the page.
Give us a few details about your solar installation or replacement job plus some contact information.
Your solar job details are forwarded on to the closest three solar installers all voted best priced who will also price your solar job.
In slightly under three minutes, you'll have your installers!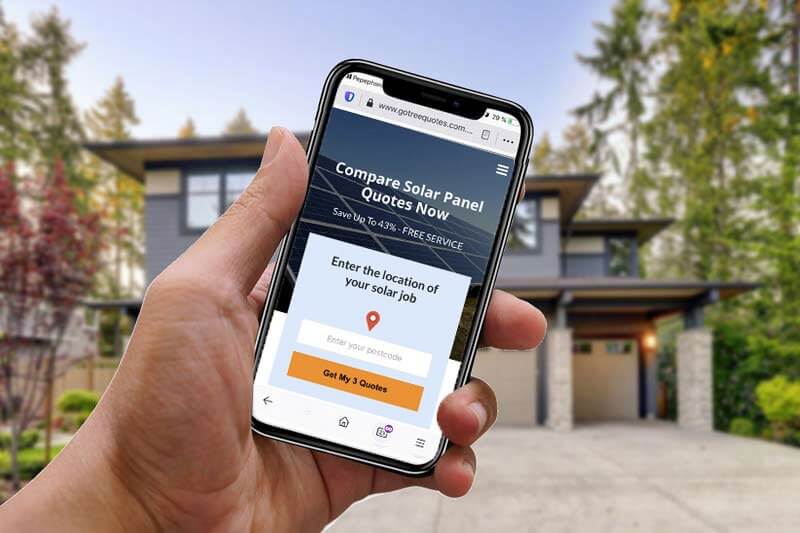 What are the benefits of installing a 5kW solar system in Brisbane?
Here are some of the benefits you get from installing solar power in Brisbane.
Installing a 5kW solar system will help you save on your monthly electricity bill. Solar is cheaper than electricity and has a good ROI.
Solar panels are easy and cheap to maintain. On average, you can spend about $300 to $700 for solar panel maintenance. The cost can be as low as $150 and as high as $1,000 depending on the size of your system.
Use the solar system anywhere
Solar systems are flexible, so you can use your system anywhere. Solar panels can generate electricity in any region even with low sunlight. As long as you understand and plan your daily power consumption profile, you can benefit from solar panels anywhere.
Solar panels give you the opportunity to go green and conserve the environment. Besides, the energy is renewable, so you will never run out of it.
Yes. Solar panels are an excellent investment. A good quality system can last for about 25 to 30 years, b y which time the panels will have paid for themselves. So, you will enjoy free electricity for several years before replacing the solar panel system.