5 Biggest Solar Farms in Australia
Updated: December 6, 2023
Solar has become the largest source of renewable energy in Australia. With the country having a lot of desert space, it has positioned itself well to continue being a global solar energy exporter.
The biggest solar farms in Australia include:
Limondale Solar Project
Darlington Point Solar Project
Bungala Solar Project
Sunraysia Solar Project
Wellington Solar Project
Australia has continued to build its global solar energy credentials by utilizing large-scale solar (LSS) power plants. Since 2019, the generation produced by these LSS power plants has increased expeditiously.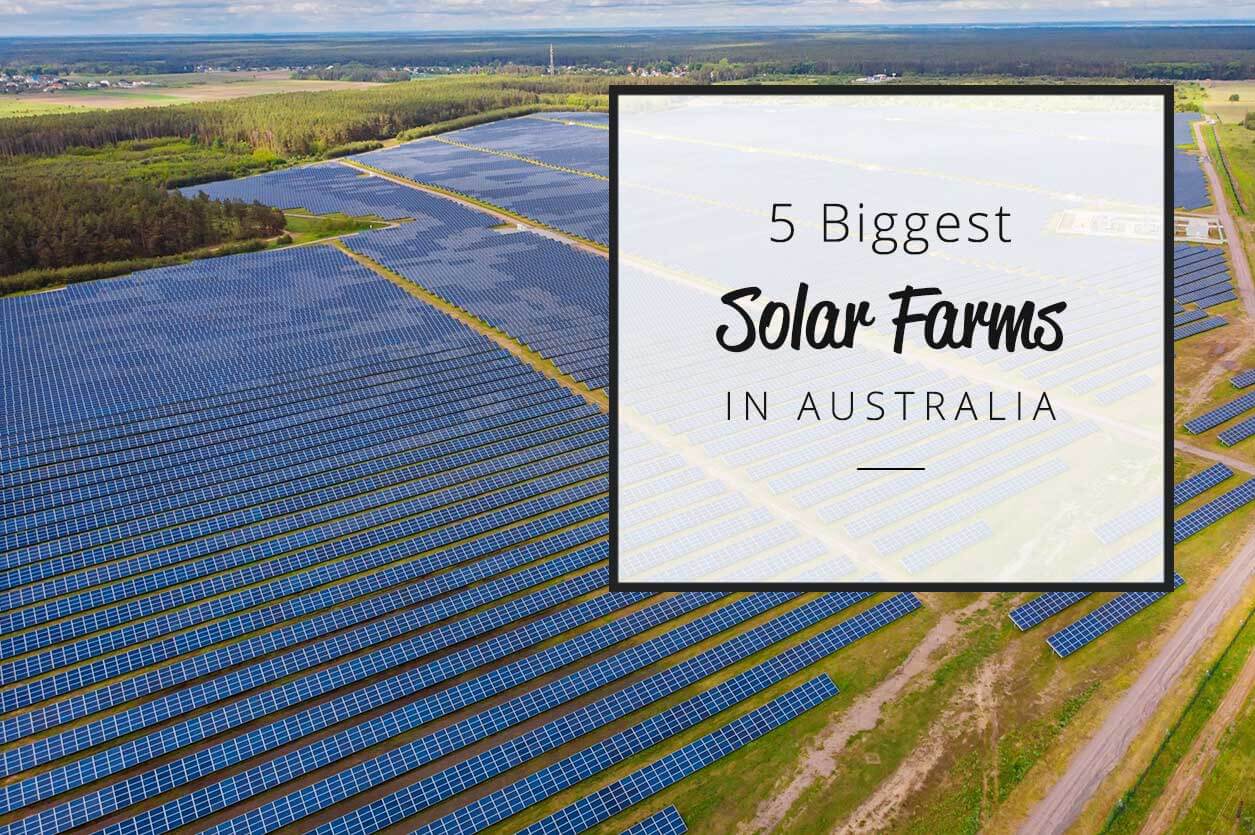 35% of Australia receives very little to no rain. These practically desert places in the country are perfect spaces for these large-scale solar farms.
1. Limondale Solar Project
The Limondale solar farm is being developed by Innogy, a German energy company, in Balranald, New South Wales. This solar photovoltaic (PV) power plant has a planned installed capacity of 349 MW.
The construction of Limondale began in 2018. In December 2020, the solar farm had successfully been installed with 876,000 panels, covering an area of 900 hectares or the equivalent of 415 football fields.
Full commercial operation of the solar farm began in the third quarter of 2021, generating sufficient electricity for 105,000 homes every year and creating employment opportunities.
300 to 400 job positions for contractors during construction could be opened during operations.
2. Darlington Point Solar Project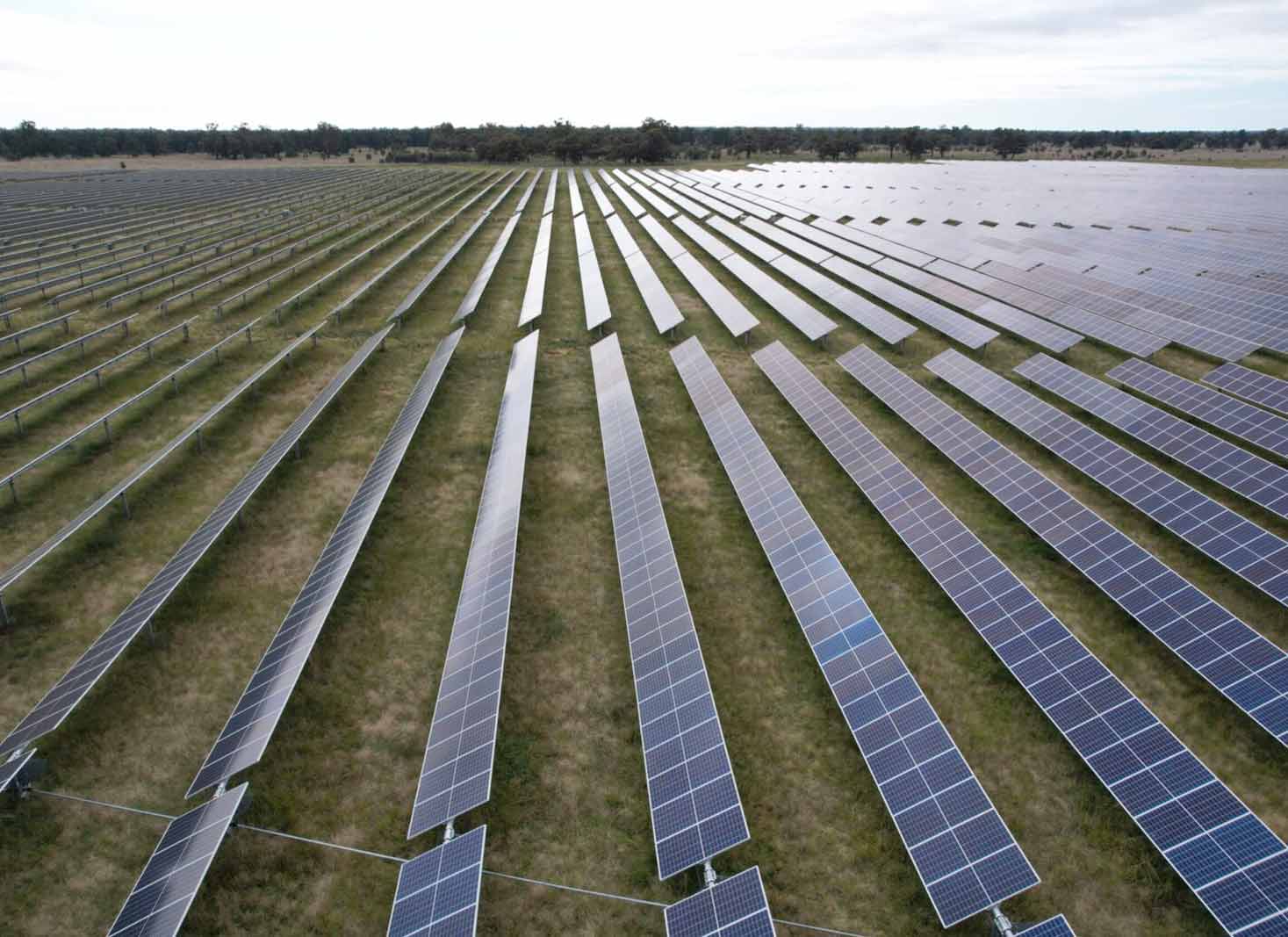 The Darlington Point Solar project is located in the Riverina area of New South Wales. Approximately 6 miles (10 km) south of Darlington Point, this solar farm is situated on the traditional lands of the Wiradjuri people with 1,993 acres of land.
The solar farm has more than 1 million solar panels. A power purchase agreement with Delta Electricity has required Darlington Point solar farm to supply 150 MW of renewable energy.
More than 110,000 homes (5% of households in NSW) are being provided with cheap, clean green energy by Darlington Point. It has created 500 construction jobs and a local micro-economy.
Every year, renewable energy generated by the Darlington Point solar farm reaches 685,000 MWh. With this generation, it is expected to offset the equivalent of 154,000 tonnes of CO2 emissions in 35 years.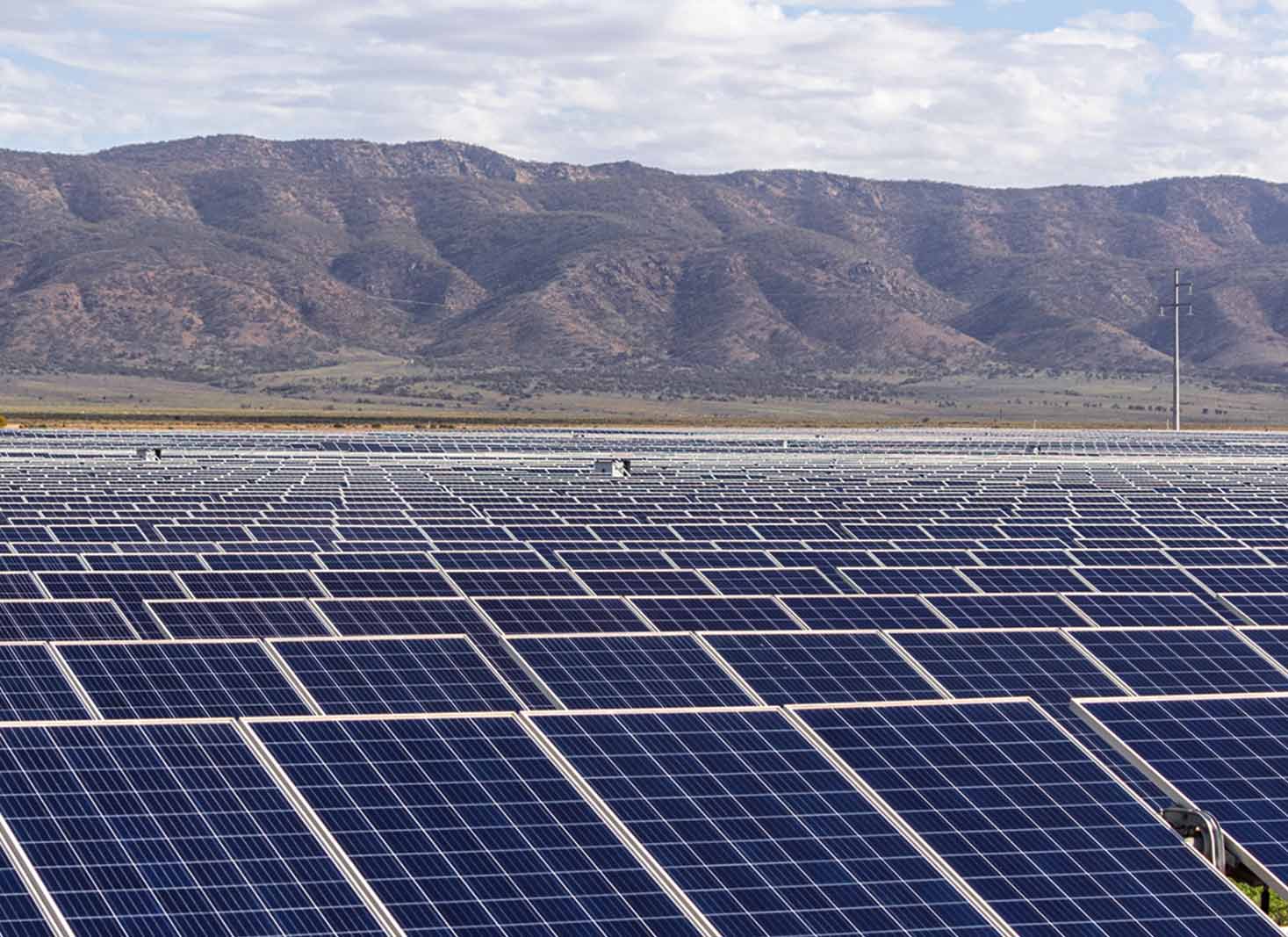 The Bungala solar farm is a photovoltaic (PV) power plant located around 6 miles (10 km) northeast of Port Augusta in South Australia. It has a total capacity of 275 MW with approximately 800,000 PV modules.
The solar farm started construction in 2017 on over 800 hectares of rural land owned by Bungala Aboriginal Corporation (BAC). Bungala was developed in two phases which are Bungala Solar One and Bungala Solar Two.
In 2020, full production of the solar farm commenced. It has created an estimated 350 jobs and is now powering approximately 113,000 homes every year. With this, it is expected to offset 520,000 tonnes of CO2 emissions.
4. Sunraysia Solar Project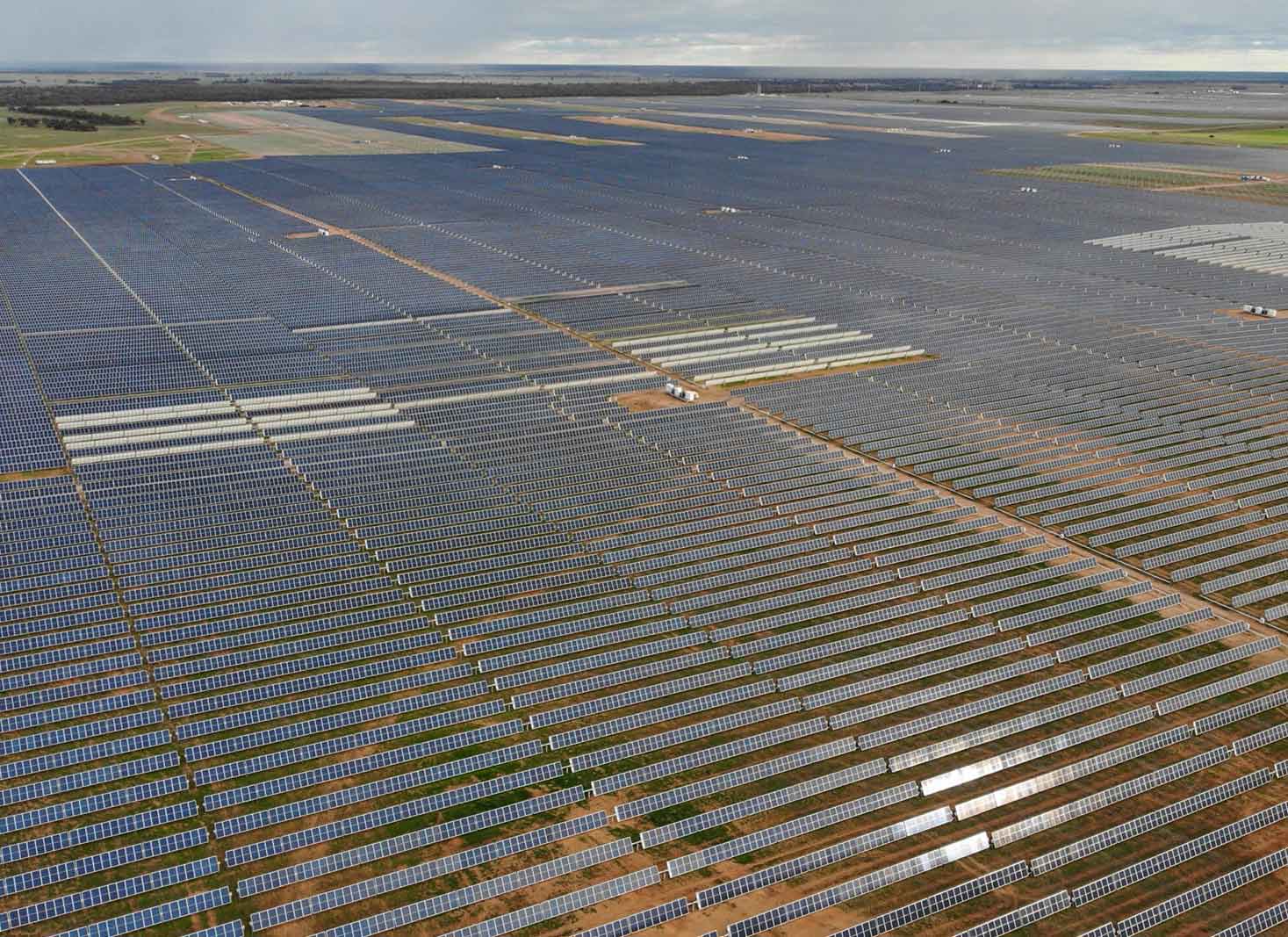 Located near Balranald in southern New South Wales, Sunraysia is a utility-scale solar photovoltaic (PV) farm. It has a total capacity of 255 MWdc, generating approximately 529 GWh of energy each year.
The construction of Sunraysia only took 12 months; it began in early 2019 and was completed in December 2019. Due to delays caused by technical and transmission issues, the production of Sunraysia had not begun as expected.
Despite court disputes regarding the contracted date for substantial completion, the Sunraysia solar farm is able to power 50,000 households with more than 750,000 solar modules installed.
Sunraysia is spread over an 800-hectare site in NSW.
5. Wellington Solar Project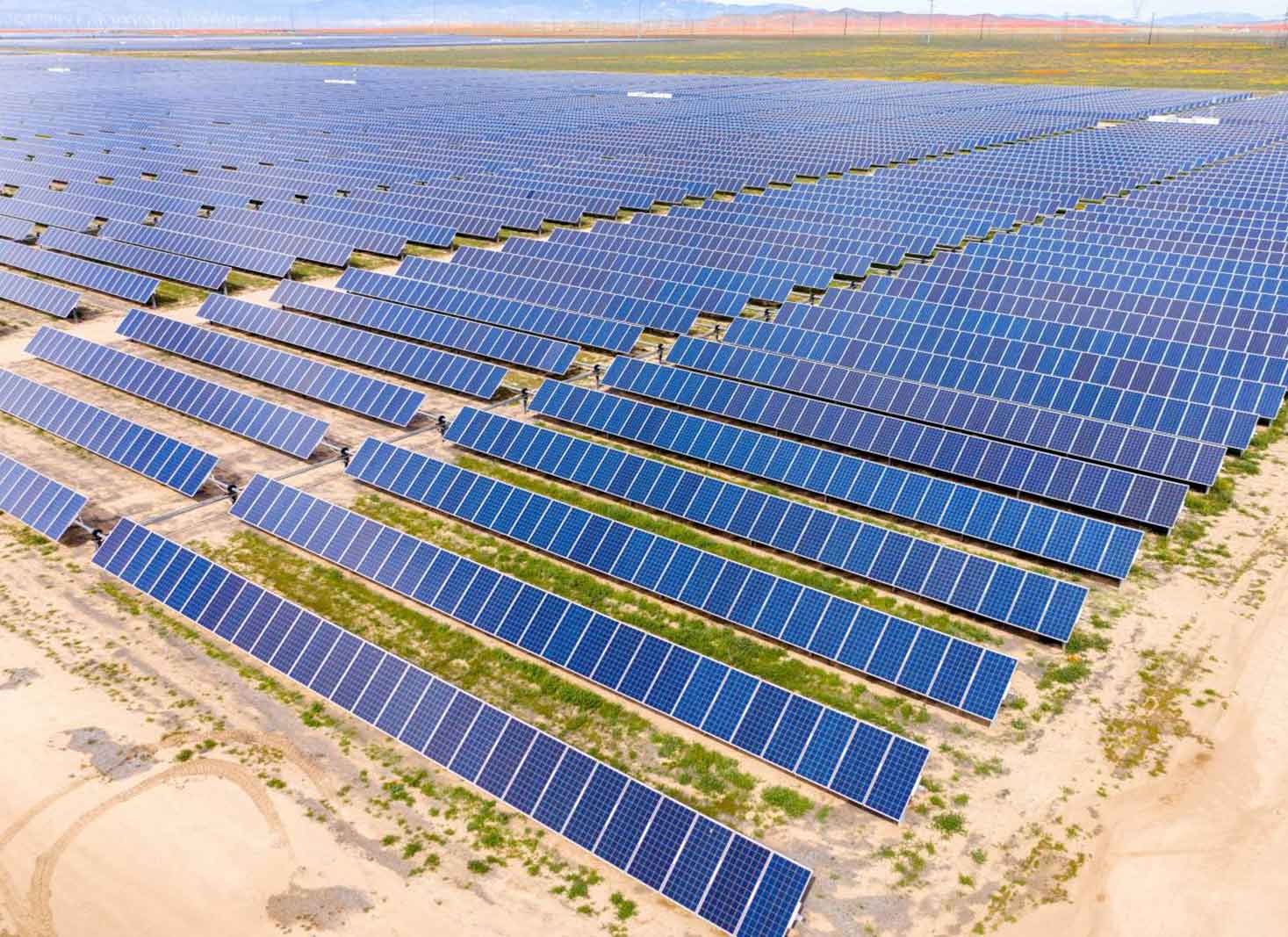 The Wellington solar farm is being developed by Lightsource 4 miles (7 km) northeast of Wellington, New South Wales. It is situated on 316 hectares of grazed agricultural land.
The solar farm is proposed to have a total generation capacity of 300 megawatts with approximately 1.3 million solar panels fixed and with single-axis tracking features.
Once operational, the project will be able to generate 435,000 MWh of electricity per year that could power up to 72,500 homes. It could also offset a total of 348,000 tonnes of CO2 emissions.
The Welling solar farm is only adjacent to the 400MWdc Wellington North solar project.
What will be the largest solar farm in Australia?
The world's largest planned solar farm will be situated in the Northern Territory of Australia. Sun Cable, its developer, has now submitted an environmental impact statement (EIS) to the Northern Territory Environment Protection Authority.
It will be the world's biggest solar farm and the largest construction project in Australia. This large-scale solar farm will spread over more than 20,000 soccer fields.
When operational and successful, the solar farm will include a 10GW-capacity array of panels across 15,000 hectares. It will be backed by 22GWh battery storage to assure its power supply 24/7.
The construction of the solar farm is believed to create thousands of job opportunities for the people in Australia and could contribute billions to the country's economy.
How many solar farms are there in Australia in 2022?
According to the Australian Energy Market Operator (AEMO), as of July 2022, there are currently 128 proposed solar projects with 39 committed and under construction.
Australia's large-scale solar energy capacity has increased to 5.8 GW across 80 solar projects.
The solar power industry continues to grow rapidly in Australia. With their ambitious plan to run on 100% renewable energy by 2030, the need to optimize and manage operations has become imperative.
Solar Cities, like Townsville, Queensland, have demonstrated programs that are designed to promote solar power and energy conservation. These are usually located in urban areas throughout Australia.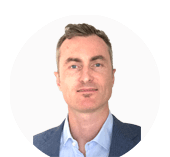 Author: Ben McInerney is a renewable energy enthusiast with the goal of helping more Australians understand solar systems to make the best choice before they purchase. Having an accredited solar installer in the family helps give Ben access to the correct information, which allows him to break it down and make it easily understandable to the average homeowner.