Solar Panels in Geelong, VIC – 2023 Cost & Rebate Guide
Updated: December 6, 2023
It's never been a better time to install solar panels in Geelong. The Victorian government has THE best rebates in the country as well as a solar battery rebate and great feed-in tariffs.
The return on investment most homeowners are seeing is 3.5 years on average. That means the system will pay for itself in just a few years, while you reap the benefits of almost no power bill for the next 25 years.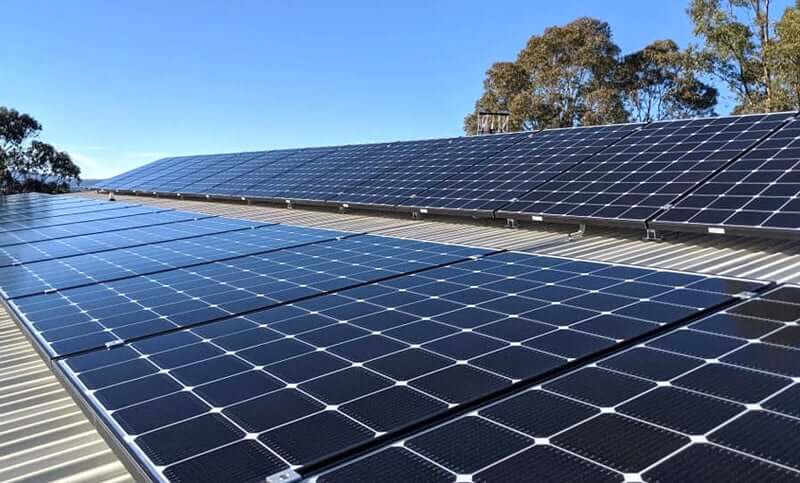 The cost of solar panels varies depending on the quality and size. On average, the 5kW solar system costs around $6,045 in Australia after applying for the rebate. This price also differs slightly from state to state because of the different zones.
The cost of the popular 5kw solar system in Geelong, Victoria is $6,045 including the rebate. The feed-in tariffs also vary depending on your state and your FiT provider. For instance, if you choose a provider like Origin Energy, you can get as high as 25c/kWh in Victoria. The tariffs you receive depend on your solar panel size.
| Service/ system | Size | Cost |
| --- | --- | --- |
| Solar cost per KW Geelong | 1 kW | $1,852 |
| National average cost per KW | 1 kW | $1,767 |
| 3kW solar cost Geelong | 3 kW | $4,294 |
| 5kW solar cost Geelong | 5 kW | $6,045 |
| 6kW solar cost Geelong | 6 kW | $7,108 |
Government solar panel rebate in VIC
The government rebates on solar panel installations vary from state to state. Some states like Victoria are independent, which means they provide rebates directly to their residents. Other states are still dependent on the federal government.
The rebates are usually awarded depending on the STC zone your state falls in and your system's size. Below are some examples of solar rebates by system size in VIC.
| System Size | Rebate Amount |
| --- | --- |
| 2kW | $1,718 |
| 3kW | $1,117 |
| 4kW | $1,476 |
| 5kW | $1,875 |
| 6kW | $2,234 |
| 10kW | $3,751 |
VIC Government State Rebates
With the recent elections on the labor government in Victoria, a lot of changes have taken effect concerning the new rebates and schemes. Victoria is currently the only state offering rebates on solar panels, batteries, and inverters. All the eligible homes receive up to 50% rebates depending on their system size.
For instance, a 5kW solar system gets a rebate of $1,875, while a 10kW system receives a rebate of $3,751. The bigger the system, the higher the rebate, and vice versa.
All Victoria residents should note that the solar rebate will be reduced every year for the next 13 years. This scheme will end in 2032, which means the best time to install solar power is now.
VIC rebate on battery storage
All VIC residents installing solar panels can get a separate rebate on batteries. This rebate goes hand in hand with the solar panels rebate, and the maximum value can go up to $4, 839. So, you can also acquire a battery alongside your solar panels because you will get a substantial rebate on both.
Solar system output in Geelong VIC
Different solar panels have different outputs. Knowing how much energy your system produces is essential as it will help you calculate your rebate. Check out the various solar panels sizes and their outputs below.
| System Size | Output |
| --- | --- |
| 1kW | 4.3kWh |
| 1.5kW | 6.45 kWh |
| 2kW | 8.6 kWh |
| 3kW | 12.9 kWh |
| 4kW | 17.2 kWh |
| 5kW | 21.5 kWh |
| 6kW | 25.24 kWh |
| 10kW | 38.5kWh |
Geelong is in zone 4, according to the federal STC rebate initiative. This means that it will receive an STC rating of 1.185.
You can calculate your rebate by multiplying your system's size, the deeming period, zone rating, and spot STC price. As long as you know your zone, the STC spot price, and deeming period in your state, you can easily calculate your rebate.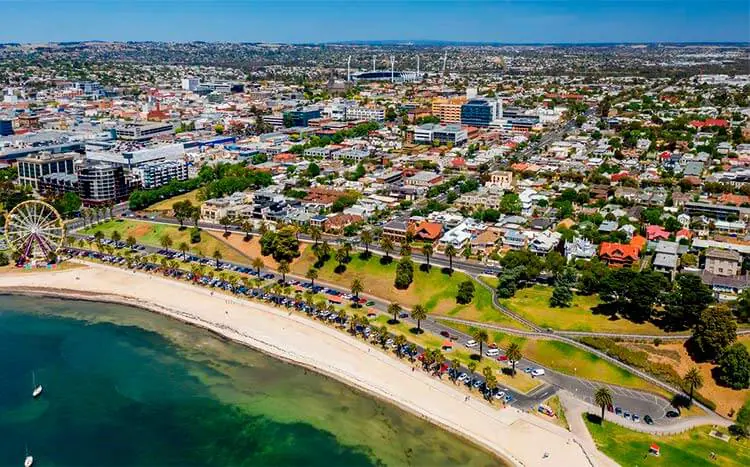 Solar Feed-in tariffs VIC
As mentioned earlier, different utility companies offer different Feed-in Tariffs in VIC. The FiT you receive will also depend on the area you live in. Below are a few good FiT providers you should consider.

If you are looking for an excellent FiT provider, Diamond Energy is a perfect place to start. It offers an outstanding Feed-in rate of 10.2c/kWh and it can go up to 12.0c/kWh. This company is among the best FiT companies, and it will provide outstanding services for a long time.
The best thing about this company is that it does not lock you into any unwanted contracts. Also, it does not ask for exit or administration fees. Therefore, you have the freedom to stay or move to another provider whenever you want.

Dodo Energy is another FiT provider that offers 12.0c/kWh both on the minimum and maximum. This provider is highly reliable and transparent, which means you will get the best price for your excess energy.
Dodo Energy also offers its providers an online management tool known as 'my dodo' that allows you to calculate your FiT rates.

| Min FiT | Max FiT |
| --- | --- |
| 11.6c | 11.6c |
Commander Energy offers you an 11.6c/kWh for your power. It is also a reputable company that provides reliable energy solutions in Victoria and Australia at large.
This company offers outstanding customer service, which handles all the clients' questions and issues. With this company, your excess power will not go to waste.
Is Geelong a good climate for solar?
Although Geelong is in zone 4 in the STC zoning scheme does not mean that it does not receive enough sunlight. The temperature in this region has a maximum average high of about 25 degrees Celsius and an average low of about 12 degrees. This means that Geelong receives a fair share of sunlight, making it a good climate for solar.
Percentage of Geelong VIC households with solar installed
According to the Australian PV Institute data, approximately 15.5% of eligible households in Geelong have installed rooftop solar panels. This means that more and more people are switching to green power every year, taking advantage of the government rebate and FiT from utility companies.
Optimal solar panel orientation and angle in Geelong VIC
Most homes in Australia have a roof pitch of 20 to 30 degrees. This is considered the optimum angle for maximizing your panel's solar power generation. The panels can be tilted between 10 to 35 degrees depending on your location and allow them to self-clean during rainy seasons.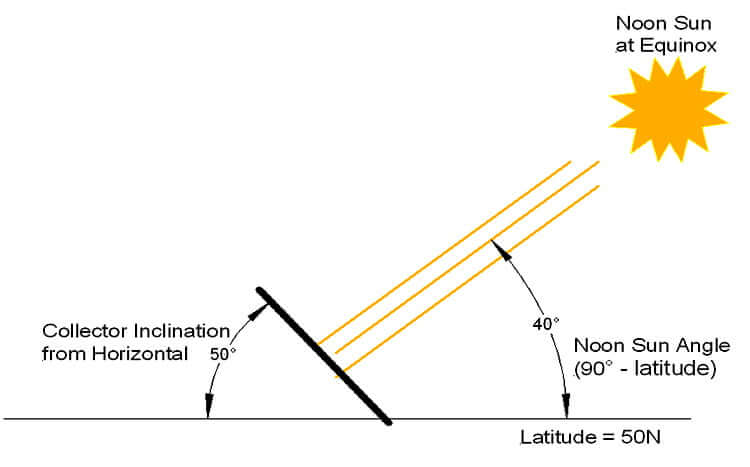 Geelong solar installer review
Installing solar energy may seem like a simple process, but there are so many steps involved. For instance, you need to find a reliable installer, calculate your rebate and decide what size will be enough for your home.
With a reliable installer, all the other processes become easy. We have selected three companies that we think you should consider during your search. These companies are all CEC-approved and have a star rating of 4.5 and above from at least 50 reviews.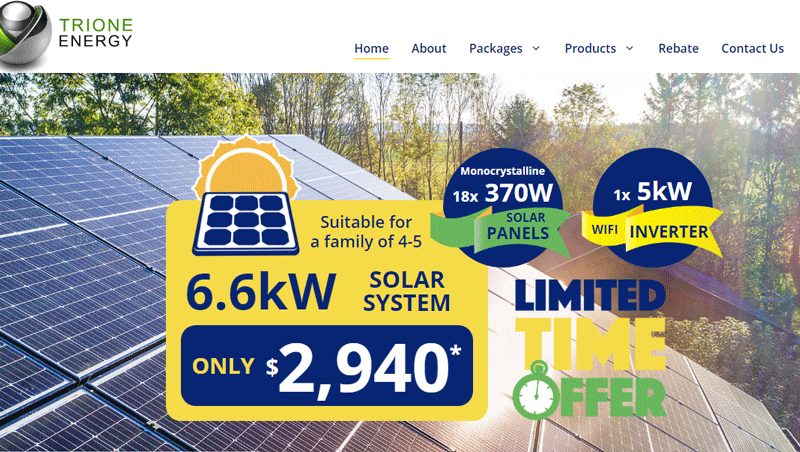 Trione Energy has been operating for 10 years now, and it is dedicated to supplying the highest quality products at affordable prices. It aids Australian homes to save on electricity bills which are usually stressful for most households.
This company takes the initiative to explain everything concerning solar power, how it works, and the installation process to potential customers. It empowers homes to make sound decisions regarding solar power installations.
This company is CEC approved, which means it is accredited to install solar energy to Australian homes. It is established as it has been practicing for ten years now.
It provides ethical business practices to ensure public trust. It also strives to ensure all its employees uphold high integrity to all clients.
Trione selects only the highest quality products to ensure they provide lasting solutions to Australian homes.
This company has a high level of professionalism both before and after-sales. It has friendly and experienced CEC installers that handle all customers' issues.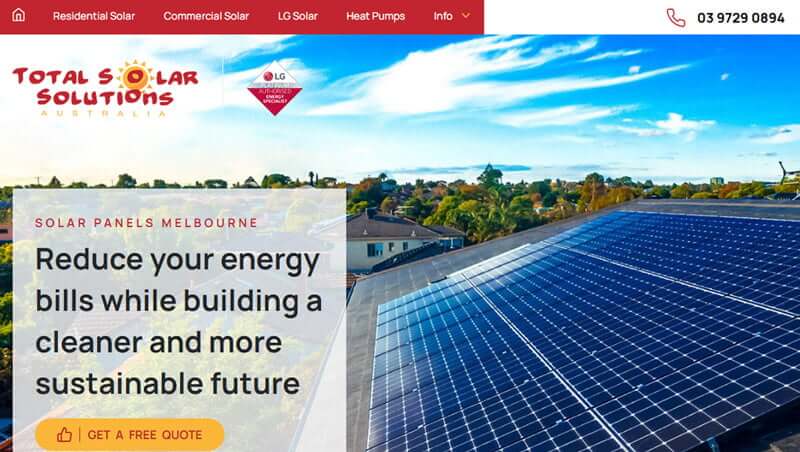 About Total Solar Solutions
Total Solar Solutions was founded by Reece Kennedy and was CEC approved in 2016. Reece Kennedy saw the divide between solar installation companies and decided to bring a better and higher customer service in the industry.
His aim was not to be the largest company but the best when it comes to attention to detail.
Total Solar Solutions is now a big team that provides energy solutions to most households and businesses in Australia. It is also a platinum-authorized installation partner for LD.
Why Total Solar Solutions
Total Solar Solutions is CEC approved since 2016, which assures you of top-notch services. They have outstanding customer service, and their attention to detail is on another level.
It advises customers before the installations so that they can decide what system will be best for them.
Total Solar Solutions is an experienced commercial and residential solar installer, and it has partnered with LG to offer the highest quality products.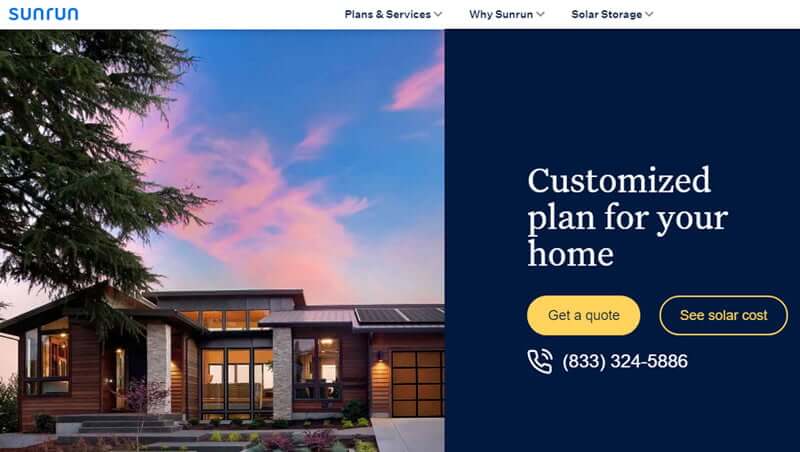 Sunrun is an Australian based Solar installation company that has been operating for several years. It aims at helping people have sustainable energy, not only now but also in the future.
It offers clean energy solutions to households and ensures they understand what system will be ideal for their home/family size.
Sunrun is a CEC approved retailer, meaning you will have peace of mind when they handle your installation. You will be in safe hands, and the installations will be top-notch.
It offers affordable solutions that are accessible to more families in Australia.
This company explains everything to its customers before any installation. This ensures all people understand how solar power works and how they can conserve energy.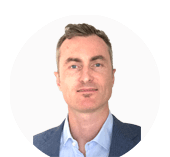 Author: Ben McInerney is a renewable energy enthusiast with the goal of helping more Australians understand solar systems to make the best choice before they purchase. Having an accredited solar installer in the family helps give Ben access to the correct information, which allows him to break it down and make it easily understandable to the average homeowner.