Solar Panels in Adelaide: 2023 Cost Guide
Updated: December 6, 2023
With the generous government rebates and rising energy prices and solar panels falling prices, Adelaide residents have been installing solar at a rate of knots.
Get up-to-the-minute information on costs, rebates, and feed-in tariffs, so you can make the best decision for your home.
The cost of solar panels depends on their size. The 6.6kW system, which is the most popular solar system in Australian homes, goes for $7,013. This is the average cost in Adelaide, SA.
The average cost of a solar system of the same size in Australia is $6,893. This puts the price of the system in Adelaide on the lower end of the national price.
Below is a table showing the different rates of panels in Adelaide.
| Service/ system | Size | Cost |
| --- | --- | --- |
| Cost per kW | 1.5 kW | $3,198 |
| National average cost per kW | 1.5 kW | $3,167 |
| 3kW | 3kW | $4,094 |
| 5kW | 5 kW | $5,726 |
| 6.6kW | 6.6 kW | $7,013 |
Government solar panel rebate in SA
The Australian government provides rebates to its residents through an initiative called the Small-scale Renewable Energy Scheme. All eligible people will receive a rebate by claiming the STCs (Small-scale Technology Certificates).
The STCs are technically tradable certificates that you can calculate and trade to get a discount on the solar panels. A registered agent can claim the discount for you as well.
Different solar systems come at different costs and rebates. For instance, a 5kW system in SA costs about $ 5,726 and has a rebate of $2,195 and its STCs are 55.
Below is a table showing the different rebates for different solar panel sizes.
| System Size | Rebate Amount |
| --- | --- |
| 2kW | $878 |
| 3kW | $1,317 |
| 4kW | $1,756 |
| 5kW | $2,195 |
| 6kW | $2,633 |
| 10kW | $4,389 |
SA Government State Rebates
The SA state government is offering solar rebates of up to $6,000 for the installation of batteries. This amount will be higher for low-income households to support them to install solar power and batteries. Residents installing more than 20kW panels for a 1.5kW system will get 20% rebates.
SA government has rebates for solar panels, and it has set aside $100 million for solar panels and batteries. These rebates are expected to assist more than 40,000 households in installing solar power and reducing electricity bills.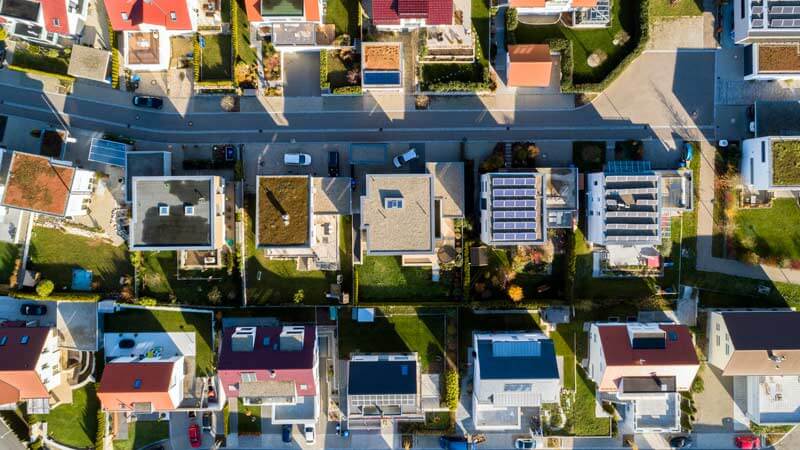 Solar system output in Adelaide SA
The table below illustrates the different solar panel sizes and their outputs. This information will guide you when looking for the perfect solar system.
| System Size | Output |
| --- | --- |
| 1kW | 4.3kWh |
| 1.5kW | 6.45 kWh |
| 2kW | 8.6 kWh |
| 3kW | 12.9 kWh |
| 4kW | 17.2 kWh |
| 5kW | 21.5 kWh |
| 6kW | 25.24 kWh |
| 10kW | 38.5kWh |
SA is in Zone 3, according to the STC zones in Australia. Adelaide is also in zone 3, which means it is awarded 1.382 STCs with an STC spot price of $39.90. With the STCs and the panel size you would like to install, you can calculate your rebate without a hassle.
With a good quality solar system, you will get enough power to support your household needs. However, you may not exhaust the energy, which means it might go to waste. To avoid losing your excess power, you should look for a good Feed-in tariff provider.
These providers will give you incentives for your excess power. Below are the best FiT providers you should consider working with.

If you are searching for a FiT that will give you every cent for your power, Dodo is the best to work with. It has high 8.6c/kWh rates as the minimum rate and 44.0c/kWh as the max rate. This means that you will get good incentives that will be very handy in reducing your solar system's payback time.
With Dodo, you can easily monitor your activity and earnings through 'My Dodo' an online account management system. The system is easy to use and will help you monitor rates and incentives.

| Min FiT | Max FiT |
| --- | --- |
| 15.0c | 59.0c |
Red Energy gives you FiT rates ranging from 15.0c/kWh to 59.0c/kWh depending on your system's size. These rates are higher than most companies, making Red Energy one of the best companies to work with.
Red Energy is a transparent and reliable company that provides you with quality services at all times.

| Min FiT | Max FiT |
| --- | --- |
| 12.0c | 56.0c |
With Click Energy, you will get high rates of 12.0c/kWh to 56.0c/kWh for your surplus power. With the incentives you get, it is possible to reduce your system's payback time.
This company is also very transparent and does not offer lock-in contracts. This means you have the freedom to move to another FiT provider at any time.
Is Adelaide a good climate for solar?
Yes, Adelaide is a good climate for solar. It has a fairly warm climate throughout the year, with summers being hot and dry and winters being mild and rainy. The temperatures can be as high as 29 degrees and can go as low as 11 degrees. Generally, Australia is a good climate for solar installation, that is why it is one of the best places to install solar.
Percentage of Adelaide households with solar installed
Adelaide, SA has about 30-40% of homes with solar installations. It is a great place for solar installation, that is why there is a very high percentage of solar installations. With the panels' rates lower than ever, and the rising electricity rates, many Adelaide residents and businesses are moving to solar power every day.
Optimal solar panel orientation and angle in Adelaide
The best panel orientation and angle in Adelaide and generally Australia is about 30 to 40 degrees. This is considered the optimum angle for maximizing the solar energy generation. Any angle between 10 to 35 degrees also works perfectly for Australian homes. To allow for self-cleaning during rainy days, a minimum tilt of 10 degrees is recommended.
Adelaide solar installer review
One of the most important things you should consider when installing solar panels is finding a good installer. With a good installation company, you will have peace of mind knowing the panels will be of the best quality.
We have selected and reviewed three companies that are worth considering. We have checked their reviews, ratings, and accreditation, and they have all passed the test.
All the companies are members of the Clean Energy Council, the largest Solar Power organization in Australia. They also have a star rating of over 4.5 with over 40 Google reviews each.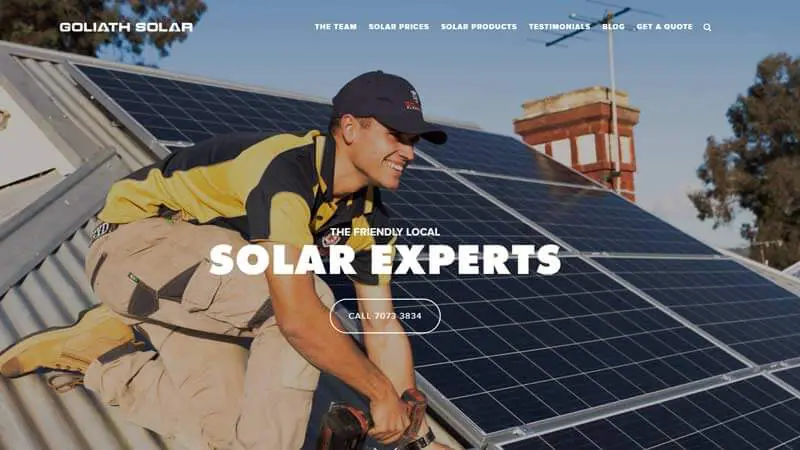 About Goliath Solar Adelaide
Goliath Solar Adelaide has experienced 9 years in business. It has installed over 4,000 solar panels, which have all been successful. Its solar installation expertise is high due to its many years in the industry.
This company cares about its clients and ensures they are always satisfied with the installations.
Why Goliath Solar Adelaide
This company is CEC accredited and has its own accredited electricians. The employees have worked closely with David Stevens, the business owner, and they have all learned how to install solar panels according to the company and industry standards.
The solar consultants at Goliath Solar have customer service knowledge and have been technically trained in the solar industry. They are friendly and do not use pushy sales techniques to win new clients. These professionals understand the whole solar installation process and are always ready to help in case of any issues.
Goliath Solar designs solar systems for homes and businesses. It uses only the highest quality panels and inverters for the clients to make sure the products last for many years.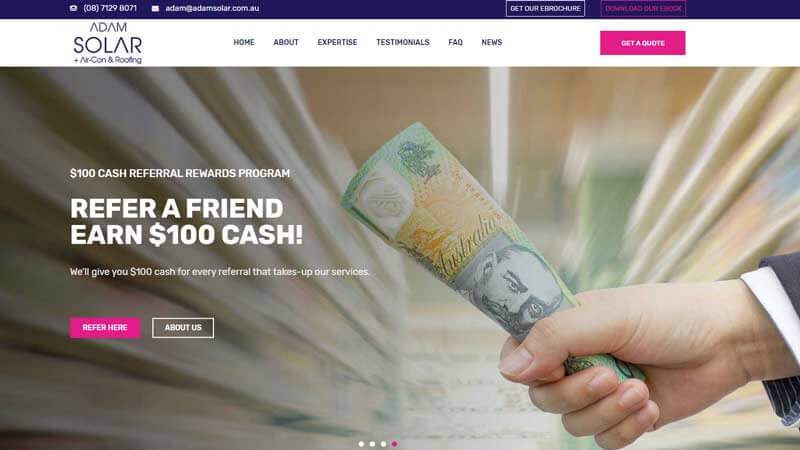 Adam Solar was established in 2011, and it is an Australia-owned commercial and residential solar installation company. It is based in Adelaide, SA, and it is ranked as the best solar installer in this region.
This company is committed to installing solar systems to the highest industry standards using only premium brands. This will give you confidence knowing you are getting the highest quality products.
Adam Solar values its clients and ensures they are satisfied after the installation. Its customer service team is friendly and experienced.
Adam Solar is an accredited installer, which means it is a member of the largest solar power body in Australia, CEC. You will feel confident working with this company as it meets and exceeds the industry standards.
It is ranked the number one solar Installation Company in Australia, and it strives to maintain this position for 8 years now.
This company has 96% customer satisfaction which means it is a great company to work with. It has over 400 customer reviews and 4.8 to 5 stars.
You will work directly with the company's managing director, Adam Karroum. He will oversee every aspect of the panels' installations before, during, and even after the installation. Adam Solar was a top ten finalist out of 360 entrants in the Australian Startup Awards in 2014.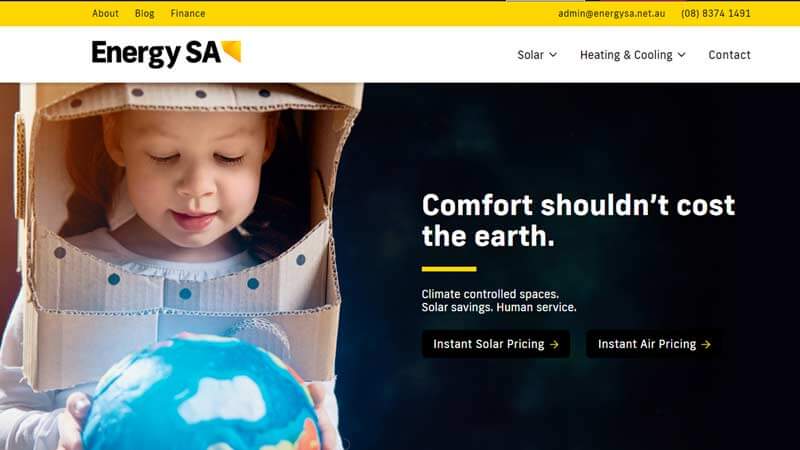 Energy SA is an Australian-owned company that installs high-quality solar panels. It is committed to quality and ensures all clients are happy with the installations.
This company tailors the installations according to the needs of the customers. Whether you want solar for your home or office, Energy SA ensures you get exactly what you asked for.
Energy SA has a friendly customer service that listens and responds with a high level of expertise. The needs of customers are put first to make sure they are satisfied with the products and services.
This company is CEC accredited and a certified installer for Tesla Powerwall. It is Australia owned, which means it understands the needs of the residents.
It only employs and contracts trained, reliable, and licensed installers and electricians. This assures that you will get the best installations from the best solar installers.
The products have a 10-year guarantee on workmanship. So, if they develop any issues with quality or installation, you will get free services from these installers. This company also has a minimum of a 5-year warranty on all products. You will also benefit from the 25-year output warranty on all the products.
Coupled with the 10-year workmanship warranty, you will not worry about your installations because the installers and the manufacturers will sort out all issues.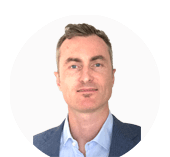 Author: Ben McInerney is a renewable energy enthusiast with the goal of helping more Australians understand solar systems to make the best choice before they purchase. Having an accredited solar installer in the family helps give Ben access to the correct information, which allows him to break it down and make it easily understandable to the average homeowner.