Solar Panels in Newcastle, NSW - Cost and Rebate Guide 2023
Updated: December 6, 2023
Australia is a big advocate for solar power and has proved to be one of the best places to install solar energy. Many people are going solar every day due to the generous government rebates, the falling panels' prices, and the reliable feed-in tariffs.
Many households, businesses, and industries in Newcastle are installing solar power every day to reduce or eliminate power bills. The government's Small-scale Renewable Energy Scheme aims at supporting homes to install solar panels and lower power bills.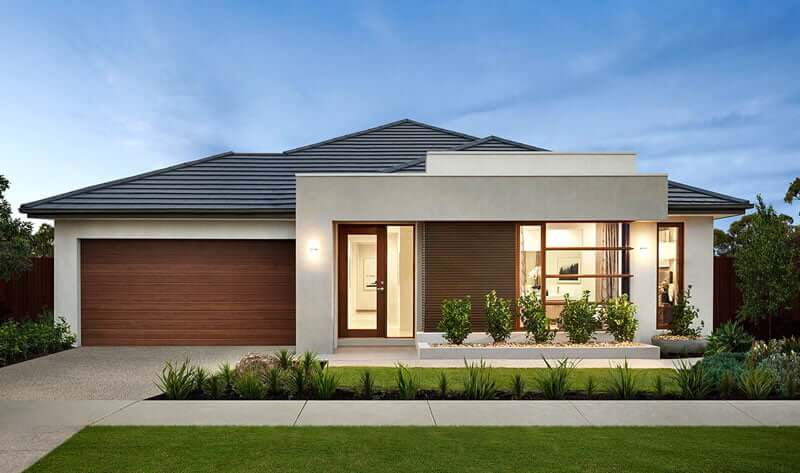 The cost of solar panels is dependent mainly on the size of your solar panels. For instance, a 5kW system, the most popular solar system in Australian homes, goes for approximately $5,726.
The national average of solar systems of the same size is about $5,655, which means the cost of a 5kW system in Newcastle is on the lower end. This price is inclusive of the government rebate, which makes it affordable to install.
The table below shows the average cost of solar panels in Newcastle.
| Service/ system | Size | Cost |
| --- | --- | --- |
| Solar cost per KW Newcastle | 1 kW | $1,145 |
| National average cost per KW | 1 kW | $1,131 |
| 3kW solar cost Newcastle | 3 kW | $4,094 |
| 5kW solar cost Newcastle | 5 kW | $5,726 |
| 6.6kW solar cost Newcastle | 6.6 kW | $7,013 |
Government solar panel rebate in NSW
All homes in Newcastle looking to install solar panels will receive incentives through the federal government's rebate program. These incentives will be provided through the Small-scale Technology Certificates program. These STCs are tradable certificates that you or your installer can exchange for a discount on the solar panels you wish to install.
The STCs you receive depend on your solar system's size. For instance, a 5kW solar system receives 55 STCs and a rebate of $2,195 in NSW. Since NSW is in zone 3, its STC rating is 1.382, and the STC spot price is $39.90. The rebate varies from system to system and increases as the solar system size increases.
The following table shows the average rebate amount for various solar panels in NSW.
| System Size | Rebate Amount |
| --- | --- |
| 2kW | $878 |
| 3kW | $1,317 |
| 4kW | $1,756 |
| 5kW | $2,195 |
| 6kW | $2,633 |
| 10kW | $4,389 |
NSW Government State Rebates
Besides the federal government rebates, NSW offers rebates on solar for low-income households. This scheme aims to reduce the electricity bills for low-income houses, supporting up to 3,400 homes. These people can forego the rebate and get a 2.5kW solar system installed at zero cost.
This scheme will work better than the federal government rebates because all the beneficiaries will save over $600 annually from the electricity bill cost.
NSW is also providing an appliance replacement scheme for low-income houses. It offers 50% off the cost of a new refrigerator and 50% off for a new TV if these appliances have a high energy rating. This means the residents do not need to wait for solar installations to save power bills.
Solar system output in Newcastle NSW
When looking to buy a solar system, it is essential to know the output of the system you intend to install. Below is a table illustrating the different power outputs for different solar system sizes in NSW.
| System Size | Output |
| --- | --- |
| 1kW | 4.3kWh |
| 1.5kW | 6.45 kWh |
| 2kW | 8.6 kWh |
| 3kW | 12.9 kWh |
| 4kW | 17.2 kWh |
| 5kW | 21.5 kWh |
| 6kW | 25.24 kWh |
| 10kW | 38.5kWh |
STC zone in Newcastle NSW
Newcastle is in zone 3, according to the STC zoning. This means it receives a rating of 1.382 for the STCs and a spot price of $39.90. Being in Zone 3 means the region gets a fair amount of sunshine but not as high as Zone 1 and 2 and not as low as Zone 4.
The STC zone matters a lot when calculating the rebates. The government uses the zone rating to provide rebates to all Australian residents. People in zone 1 thus get the highest rebates while those in zone 4 receive the least.
Solar Feed-in tariffs NSW
Solar feed-in tariffs are essential for all households with solar installations. This is because you may not exhaust all the energy your panels produce in one day. This means that the power you will not use will go to waste.
Instead of letting all that excess energy go to waste, you can translate it into money using the right feed-in tariff. You will feedback on all the surplus power and get incentives in return. Below are the best FiTs you should consider.

This FiT provider offers very high FiT rates for your surplus power. You will get 11.2c/kWh with a maximum of 16c/kWh. This is quite a reasonable offer, and the incentives you receive will drastically reduce your panels' payback time.
Click Energy is very transparent in its operations and does not provide any lock-in contracts. This leaves you with the decision of whether to stay or leave.

| Min FiT | Max FiT |
| --- | --- |
| 10.2c | 10.2c |
Red Energy is also a great FiT provider that offers very high rates per Kwh. You will get a minimum of 15.0c/kWh with a maximum of up to 16.0c/kWh. This means you can get high incentives for your surplus solar energy, especially if you have a larger system.
This company is highly reliable and transparent and ensures all its clients get quality services around the clock.

Dodo is another great provider that will offer high FiT rates with a minimum of 8.5c/kWh and a maximum of 44.0c. With Dodo, you will be able to monitor your account through an easy-to-use online account management system known as 'my dodo.'
This management tool allows you to navigate your site and see how the operations are handled. This means this company is straightforward and will not take advantage of its clients.
Is Newcastle a good climate for solar?
Yes, Newcastle is a good climate for solar installation. The weather is relatively warm, with long sunny summers and moderate showers. It is warm all year round, which makes it an excellent climate for solar. The temperatures can reach 27 to 28 degrees Celsius and can go as low as 10 to 12 degrees during the cold months.
Percentage of Newcastle households with solar installed
According to the Australian PV, approximately 24.6% of homes in Australia have installed solar systems. This means that the New Castle alone has more than 20% of households with solar power because almost twice the homes in this city have solar power.
Optimal solar panel orientation and angle in Newcastle
Solar panels in Newcastle should have an orientation of about 17 to 27 degrees. The optimal range is 22 degrees if the panels face a northerly direction. At this angle, the panels absorb optimum sunlight and produce the most energy. To allow for self-cleaning during the rainy days, you should apply a minimum of 10 degrees tilt.
Newcastle solar installer review
If you are looking for an excellent solar installation company, we have three options we think you should consider. We selected these installers based on several factors, such as their ratings and accreditation.
First, we checked whether the companies are members of the Clean Energy Council, the biggest renewable energy association in Australia. All the recommendations are accredited, which makes them a safe choice.
We also checked their star ratings and reviews, and they all have over 20 Google reviews with a star rating of 4.5 and above.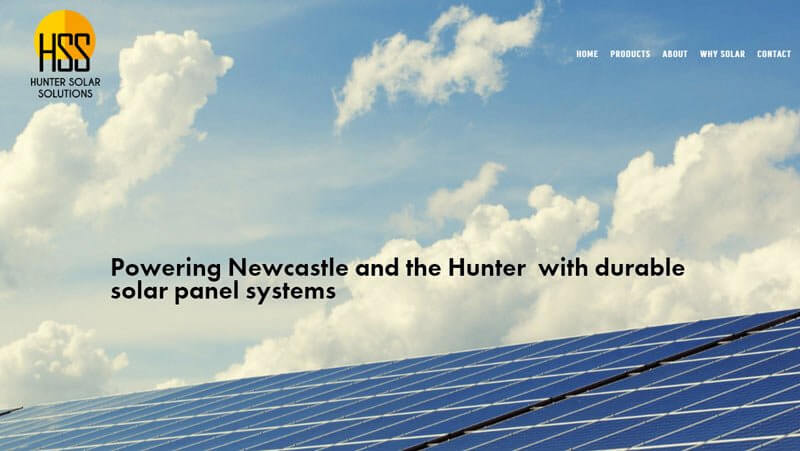 About Hunter Solar Solutions
Hunter Solar Solutions is a locally owned solar installation company that has been around for over 5 years now. It offers high-quality products and services and aims at reducing your power bills years into the future.
Luke and Michael are the founders of Hunter Solar Solutions. They are both CEC accredited with 35 years of electrical installations and over 18 years of solar experience.
This company has installed thousands of solar systems, and the largest they have installed is one megawatt in size.
Why Hunter Solar Solutions
Hunter Solar Solutions is CEC accredited, which assures you of reliability and quality. All the team members are also accredited, which means you will get the best solar installations in Newcastle.
Hunter Solar Solutions' sales team is knowledgeable and provides an obligation-free assessment and honest recommendations based on their experience in the locality. It does not pressure potential customers to make certain choices. It only offers advice and leaves the customers to make the final decision.
This installer provides residential and commercial solar solutions in Newcastle, Macquarie, Maitland, Port Stephens, and Hunter Valley.
This company offers tailor-made solar solutions to various residences and businesses, depending on the power needs. The solar systems are of the highest quality and will stand the test of time.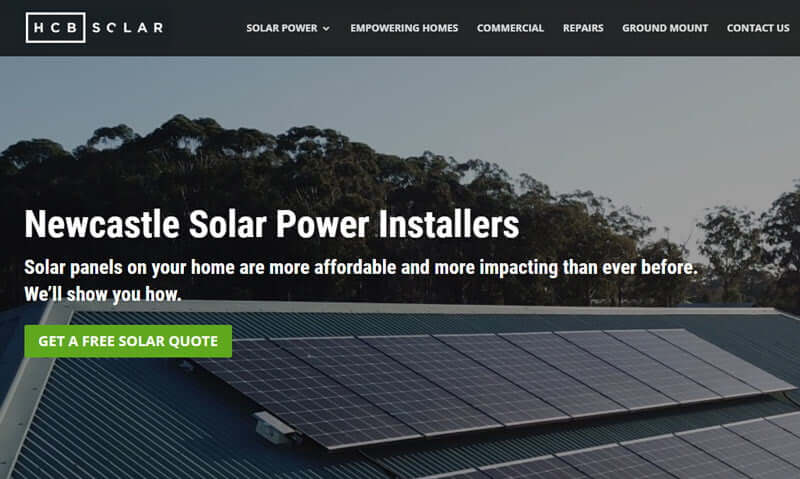 HCB Solar has been powering many residential homes and businesses in Newcastle since 2007. It only uses trusted products such as LG and Tesla and ensures the clients are satisfied with the installations.
This company will not compromise on the quality by substituting cheaper products to make the prices lower. This is because it believes that quality matters, and the best quality solar panels will serve you for a long time.
The installations are simple as you will deal with one partner only. Also, you will get excellent customer service as well as after-sales services.
HCB Solar is a local solar installation company that cares about the community. It offers tailor-made solutions in Newcastle and has been around since 2007.
It provides long-lasting products that will last for a long time. This means you will only get the best solar panels.
This company has installed dozens of solar systems in numerous homes and schools. Their products have been proven to be reliable and long-lasting.
HCB Solar has its own solar panel testing site and offers advice to all potential clients before installing it.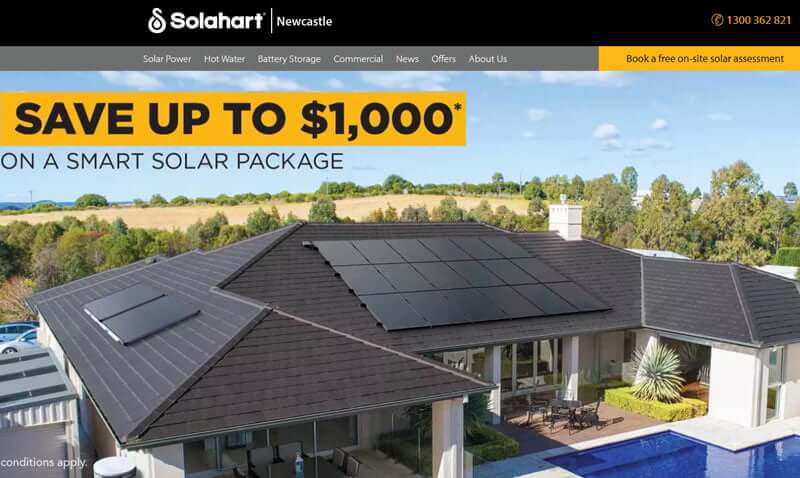 About Solarhart Newcastle
Solarhart Newcastle has been operating for 10 years now. It has been serving the Newcastle and Hunter community for many years, making it one of the best local experts.
Its experienced team of experts is highly knowledgeable and experienced. Solarhart has installed solar hot water systems and solar power systems for many residential homes and businesses with this team.
This company offers personal and in-home appointments to all local areas at zero cost. During these appointments, the company explains everything you need to know about solar installation and the benefits you will get from the same.
Solarhart is one of the best companies in Newcastle that offers free in-home assessments and provides advice and recommendations to all potential customers.
This company is approved by CEC and offers high-quality installations.
It has partnered with the best brands such as LG, SolarEdge, Rheem, Tesla, and ABB. So, you are assured of quality products as well as services if you choose this company.
This company offers the best solar solutions based on the needs of the customer. Therefore, you will get the best panel size that will be enough to cater to your household's power needs.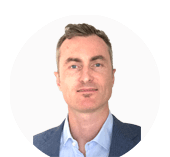 Author: Ben McInerney is a renewable energy enthusiast with the goal of helping more Australians understand solar systems to make the best choice before they purchase. Having an accredited solar installer in the family helps give Ben access to the correct information, which allows him to break it down and make it easily understandable to the average homeowner.