Solar Panels in Wollongong – 2023 Cost & Rebate Guide
Updated: December 6, 2023
It has never been a better time to install solar panels with the generous rebates, falling panel prices, and rising power prices. If you have been thinking about installing solar panels, this is the best time to do it.
Two main financial incentives for solar panel installation exist in NSW. These include:
Small-scale Technology Certificates – that you can use to reduce the buying price of your solar panels and
The feed-in tariff – an agreement between the customer and the solar energy retailer. It allows you to feed back excess energy into your grid. The excess Solar can be helpful during harsh weather such as winter as it can charge your panels when solar energy is minimal.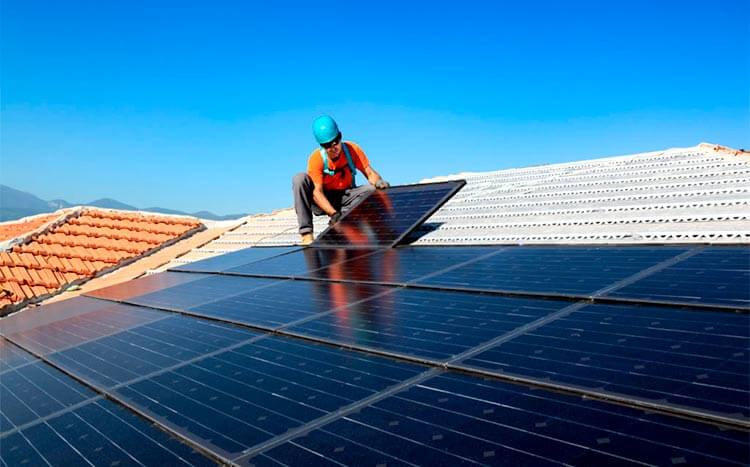 Typically, the 5kW solar system's average cost is around AUD 5,726 while the cost per kWh is AUD 1,145. This price is inclusive of the government rebate and GST.
The average government rebate across the country is around $600 per KW of the installed solar panels. For a 5kW solar system, you will be eligible for 55 STCs, which you can multiply with the current solar price in the market to get your subsidized value.
| Service/ system | Size | Cost |
| --- | --- | --- |
| Solar cost per KW Wollongong | 1 kW | $1,772 |
| National average cost per KW | 1 kW | $1,767 |
| 3kW solar cost Wollongong | 3kW | $4,094 |
| 5kW solar cost Wollongong | 5kW | $5,726 |
| 6.6kW solar cost Wollongong | 6.6kW | $7,013 |
Government solar panel rebate in NSW
The solar panel rebate is generally an Australian Government initiative known as the Small-scale Renewable Energy Scheme. Once you install a solar panel, you will claim the STCs to receive the rebate. The STCs are tradable certificates you or a certified agent create to trade for a discount on your system's cost. This scheme allows you to save lots of cash for solar power installation.
If you are installing a 5kW solar system, you can pay with an average of $5,726 installed. Without any government rebates or incentives, you can pay up to $10,000AUD.
| System Size | Rebate Amount |
| --- | --- |
| 2kW | $878 |
| 3kW | $1,317 |
| 4kW | $1,756 |
| 5kW | $2,195 |
| 6kW | $2,633 |
| 10kW | $4,389 |
NSW Government State Rebates
The government rebates awarded in NSW will depend on the solar system you install and the number of STCs in your zone. For NSW, the STC prices are around $39.90.
Therefore, a 5kW system gives you a rebate of approximately $2,195AUD while a 6kW and 10kW will give you a rebate of $2,633 and $4,389, respectively. The rebate increases depending on how big the solar system is.
| System Size | Output |
| --- | --- |
| 1kW | 4.3kWh |
| 1.5kW | 6.45 kWh |
| 2kW | 8.6 kWh |
| 3kW | 12.9 kWh |
| 4kW | 17.2 kWh |
| 5kW | 21.5 kWh |
| 6kW | 25.24 kWh |
| 10kW | 38.5kWh |
STC zone in Wollongong NSW
The STC zone in Wollongong NSW varies depending on the size of the system. For instance, a typical 5kW solar panel will have 55 STCs, which leads to a rebate of $2,195AUD while a 7kW solar system gets 77 STCs with a rebate of AUD 3,072.
It is critical to know your zone and the STCs you will be awarded so that you can calculate your rebate without difficulties.
Solar Feed-in tariffs NSW
There are several solar energy retailers in NSW that provide feed-in tariffs with solar systems. The tariffs allow you to store the excess power generated so that you can use it later. Below are the three best solar feed-in tariffs you should consider.
| Min FiT | Max FiT |
| --- | --- |
| 15.0c | 15.0c |
This feed-in tariff provides a 15c net metering FiT for a basic residential home. This company also offers reliable services and ensures you get exactly what you need.
DC Power Co offers the most transparent pricing, which means you will not find any hidden costs in the future. So, if you are looking for the best FiT, this one makes an excellent choice.

| Min FiT | Max FiT |
| --- | --- |
| 13.5c | 13.5c |
Momentum Energy Feed in Tariff is the second on our list as it offers 13.5c FiT. This allows you to store all the excess solar energy for use later when the weather is not favorable.
With this FiT, you will no longer lose surplus energy, and it guarantees you reliable services at all times.

| Min FiT | Max FiT |
| --- | --- |
| 12.0c | 16.0c |
This is another FiT you should consider for your solar system. This company is dedicated to giving you 12c to 16c for your panels, and ensures your solar energy is accessible and affordable. 
Therefore, it offers you a lasting solution for feeding back surplus solar energy at an affordable cost.
Is Wollongong a good climate for solar?
Yes, Wollongong is a good climate for solar because the climate is generally warm and sunny all year round. This means it can support solar panels without any issues. The LG and Sunpower solar panels have been rated the best in Australia generally as they provide the highest performance ratio and have highly efficient modules.
Percentage of Wollongong households with solar installed
Around 21% of households in Wollongong have installed rooftop solar energy PV. The combined capacity exceeds 10GW, which means many homes are now actively using solar energy as the main energy source.
Optimal solar panel orientation and angle in Wollongong NSW
Most homes in Wollongong have roofs inclined at 20 to 30 degrees. This is considered as the best angle for optimum solar power generation. However, the solar panels can be installed between 10 to 35 degrees to ensure no energy is lost. The panels are then tilted at a 10 degrees angle to allow for self-cleaning when it rains.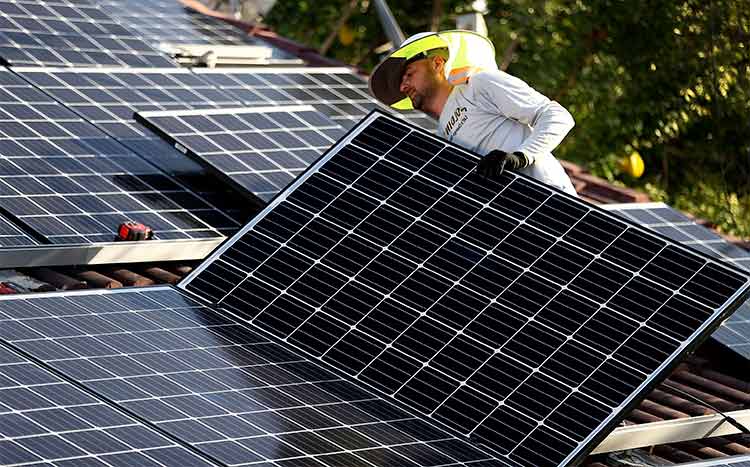 Wollongong solar installer review
Below are the three best solar installers in Sydney that you should consider when looking for a solar installation company for your home or business.
We have reviewed every company to make sure it is reliable and experienced. We have checked the qualifications of each company as well as their reviews and star ratings. The three companies have a star rating of above 4.0 and have at least 50 reviews.
More so, each company must be a member of the Clean Energy Council association in Australia. This body is the largest in Australia, and it accredits all solar companies and trained experts.
The following three companies have met all our minimum requirements.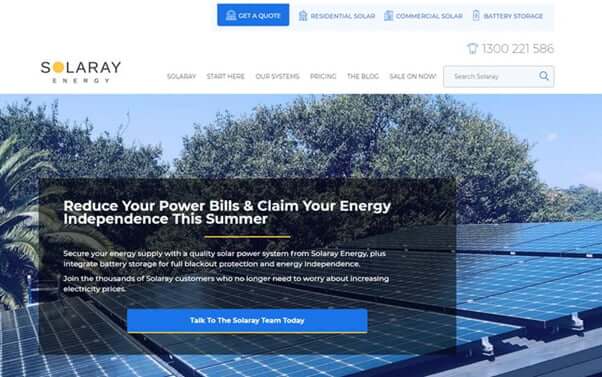 Site: https://solaray.com.au/
Average score: 4.2 (139 reviews)
Based in: Glendenning NSW, Australia
Contact: (02) 8090 4299
Solaray is the leading solar power and battery storage installer in Australia. It has been operating for over ten years, and all its systems work perfectly. Besides, Solaray offers excellent services and follows up to know whether the installation is functional.
This company prides itself on its fast and friendly customer support team that ensures customers are satisfied at all times. The support team is local, which means customers get direct help, not through call centers.
Why Company Solaray Energy
Solaray offers high-quality products only, meaning it selects the best products to maximize energy output and offer longevity and reliability. You are assured that you will get the best quality products that will last for many years.
It offers free system monitoring for the lifetime of your solar system. This ensures you have a seamless service while using your system until it needs a replacement.
Besides, Solaray offers full-service warranties, which means you are guaranteed of quality. In case of any issues with your solar panels, which is unlikely, you will get a replacement immediately.
This company continues to stay at the top because its highly effective and reliable customer care service offers around-the-clock support. So, all your questions and issues will be immediately handled by the best customer service in the industry.
If you want the best system, this company ensures you have a seamless experience when choosing your solar system. It does not pressure you into buying their products or services but rather guides you in choosing the best system for your home or business.
Global Solar World is an Australian solar company based in Silverwater NSW. It aims to provide techno-economical and reliable solar energy solutions for all retail, industrial, and commercial customers.
The mission of this company is to promote reliable green and economical energy around the world. It offers long-lasting green energy solutions to many households, businesses, and industries across the globe.
This company offers price transparency which makes it highly reliable. The prices declared on their website are not exceeding prices. Customers can purchase their orders depending on the actual price that prevails on that day.
GSW evaluates your energy requirements and establishes a sustainable energy solution tailored to your household's or company's specific requirements. This ensures you get the energy you can consume without any wastage.
GSW offers energy audit events that inform its customers how to save power in premises and facilities. It submits a brief report that covers all the aspects of Energy Audit to its customers. Therefore, it leaves the customer with the decision to implement the recommendations to save energy.
GSM also offers in-depth Operations and Maintenance services at nominal monthly costs. It also offers warranties backed up with insurance coverage from Lloyds of London.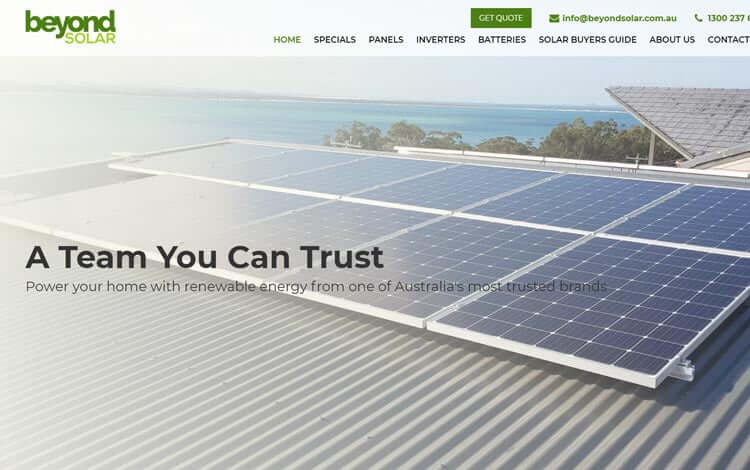 Beyond Solar is a big and trusted name in the industry for clean and sustainable solar energy. It prides itself on its capability to offer renewable energy to all its clients around Australia.
Beyond Solar is a locally-owned Solar Company that commits itself to providing high-quality customer services built on a foundation of honesty and transparency. Although the solar energy industry is confusing, this company ensures all its customers know what solar energy is and its benefits.
Beyond Solar has a ten-year warranty on all its workmanship, which assures you of quality and reliability. It provides all its clients with lifetime access to its after-sales support that guides the customers in case of any issues.
Besides, the team is Clean Energy Council accredited to install solar panels. It thus installs durable solar panels regardless of where anywhere you are in NSW.
Beyond solar prides itself in its top-notch and experienced team that ensures all installations meets the company's high internal standards. This company also offers lasting solutions to residential, commercial, and government facilities around the clock.
If you plan to install solar panels in your residence or business, it will offer you the best services. It also offers you a customized solar power solution for your home or residence.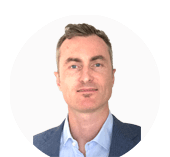 Author: Ben McInerney is a renewable energy enthusiast with the goal of helping more Australians understand solar systems to make the best choice before they purchase. Having an accredited solar installer in the family helps give Ben access to the correct information, which allows him to break it down and make it easily understandable to the average homeowner.