How Much Do Solar Panels Cost in 2023
Updated: December 6, 2023
This guide will give you a quick run-down of solar panel costs and everything involved with installing solar on your home. We also include some handy ways to save money on installation.
Solar panels cost $7,212 on average in Australia. This price is for the most common size system (6.6kWh) after applying the government rebate.
Below we look at different size systems and what each state costs
Size
Cost


(NSW, QLD, WA, SA, NT, ACT)

Cost


(VIC, TAS)

1.5kW
$3,198
$3,277
2kW
$3,545
$3,705
3 kW
$4,094
$4,294
4 kW
$4,929
$5,209
5 kW
$5,726
$6,045
6.6 kW
$7,013
$7,412
7 kW
$6,607
$6,852
8 kW
$7,468
$7,907
9 kW
$8,945
$9,504
10 kW
$9,623
$10,261
12 kW
$13,021
$13,779
15 kW
$13,917
$14,834
20 kW
$21,332
$20,813
30 kW
$33,957
$31,443
40 kW
$35,950
$38,464
50 kW
$43,562
$46,674
100 kW
$75,833
$82,097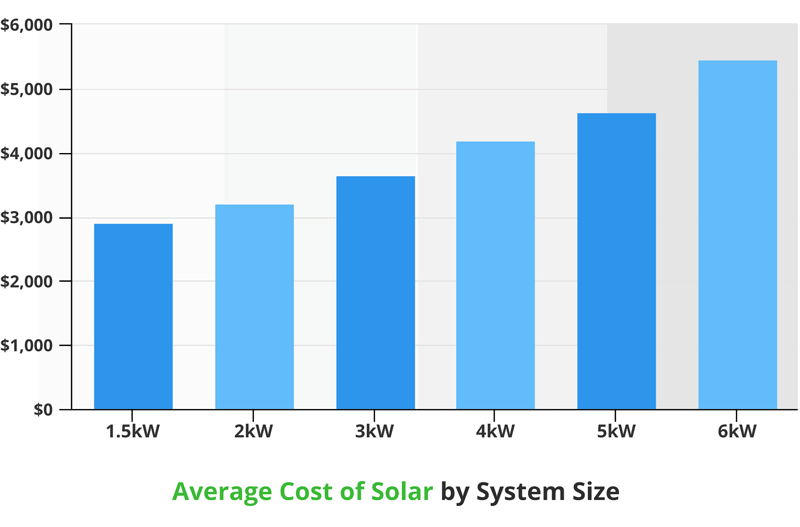 How much does solar panel installation cost?
The cost of installing a solar panel system is factored into the price of the solar system.
If a company is advertising a 6.6kWh solar panel system's price as $7,212, this price includes installation after the rebate.
Some solar panel installations near you might try to pay an extra install price, but it's a scam. Be sure to get everything in writing before they start.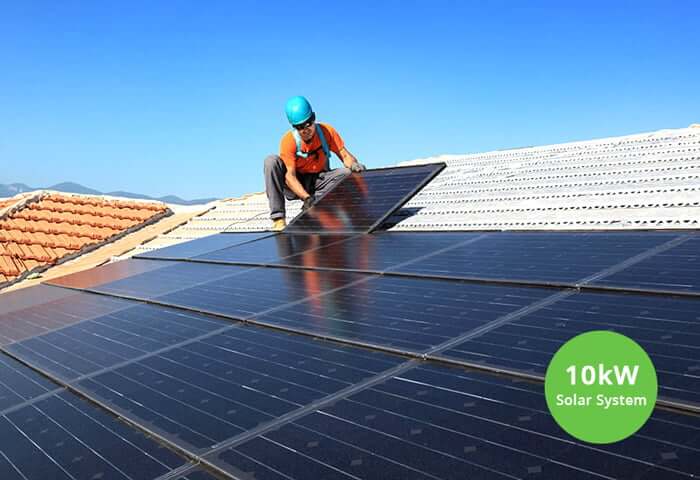 Solar panel cost per watt
How much solar panels cost to install per Watt will depend on the size of the system and the local rebates.
Solar panel prices per Watt in Australia are $0.98 AUD based on the average price of a 6.6kWh solar system. If you compare this to $3.40 AUD paid in the USA, it's easy to see how much of a good deal you are getting.
Formula: $6,190 divided by 6,600 Watts = $0.98
When you buy larger systems the price per Watt comes down. Kind of like a buy in bulk and save. The reason is the labor cost to install 20 panels is about the same as installing 15, so you are just really paying extra for the panels.
The cost of a 10kWh solar system per Watt is $0.89 AUD.
Solar panel prices by home size
We have created this table to quickly and easily show you the solar PV system prices for an average home. We have included the system's size, the required roof size, the number of people per home this system can support, and the saving per year you will enjoy off your power bill.
Visit our homepage for links to more articles on the cost and ROI of solar panels.
| Suits homesize | System size | No. of panels | No. of People | Average yearly saving |
| --- | --- | --- | --- | --- |
| Small | 1.5KW | 6 | 1 – 2 | $690 |
| Small – Med | 2KW | 8 | 2 – 3 | $986 |
| Medium | 3KW | 12 | 3 – 4 | $1,478 |
| Med – Large | 4KW | 16 | 4 – 5 | $1,971 |
| Large | 5KW | 20 | 5 – 6 | $2,364 |
| X Large | 6KW | 24 | 6 – 7 | $2,981 |
| XX Large | 7KW | 28 | 7 – 9 | $3,565 |
| Space Ship | 8KW | 32 | 9 – 12 | $3,952 |
Cost of solar for a 3 bedroom house
The cost of solar for a 3 bedroom house will depend on the size of the system you install. Generally, you would go for a 5 – 6.6kWh system depending on your home's specific power needs.
That means you will pay $5,130 to $6,190 on average. If you have any kids and a pool, you might be better going for a 6.6.kW system. If you are just a couple living there then a 5kW system would be ideal.
Factors that affect installation cost
Electricity consumption of your home
Basically, if you use more power, you are going to need a bigger system to keep up with demand. It kind of cons with the territory with larger families. More lights, televisions, fridges, etc. The more power you need, the more your solar power system will cost.
Depending on where you live in Australia, will have an effect on the price to install your solar PV system. Different states have different rebates so this affects the overall cost of system installation. Also, the amount of sunlight you get in Tasmania will be different from that in Darwin, so the number of panels can vary to produce the same amount of power.
The quality of panels and inverter you invest in
If you don't do your research, you can end up paying twice as much for the same quality solar system, depending on the brands of the panel and inverter your installer talks you into. If you are paying more, be sure it's with a tier 1 branded panels nd inverter combo.
Some homes are a bit of a nightmare to install panels on and it simply takes longer. For example, a 2 story house with a flat roof is going to take longer than a single-story home with a pitch that requires less work. Labour costs are a factor, but not as much as the hardware itself.
Most solar panels are imported so if we have a weak Australian dollar, it can affect the cost of imports.  Even though the dollar is currently strong, current world wide inflation levels are likely to have an effect on solar panels. That being said, it is still not really worth it to wait as the solar rebate is reduced every eyar.
Rebate amount reduces every year
The solar rebate is not here to stay forever, it is going to phase out completely by 2030. Each year the rebate gets smaller and the cost of installing solar increases. The ROI however, remains relatively the same as electricity costs seem to creep up each year with the cost of installing solar.
Solar panel cost by state
The cost of solar does vary from state to state, but this is mostly due to local government programs and, and where you fall on the STC map. 
The cost of solar in Queensland is generally cheaper than Tasmania because of larger rebates from the federal government. 
You are best researching your individual case in your local state and postcode to determine the cost of a solar system.
How long will it take for solar panels to pay for themselves?
On average, it will take you about 4 years for the system to have generated enough value in electricity production to have covered its own cost outright.
This payback period or ROI for your solar system can be a little longer for small units and for households that consume less power.
How much will I save each year?
Below is a table that outlines the yearly saving per system size, as well as the life time saving for the same system. Bear in mind these are averages, but it will give you a good idea.
| System size | No. of panels | Average yearly saving | Lifetime Saving |
| --- | --- | --- | --- |
| 1.5KW | 6 | $690 | $15,525 |
| 2KW | 8 | $986 | $22,185 |
| 3KW | 12 | $1,478 | $33,255 |
| 4KW | 16 | $1,971 | $44,437 |
| 5KW | 20 | $2,364 | $53,190 |
| 6KW | 24 | $2,981 | $67,072 |
| 7KW | 28 | $3,565 | $80,212 |
| 8KW | 32 | $3,952 | $88,920 |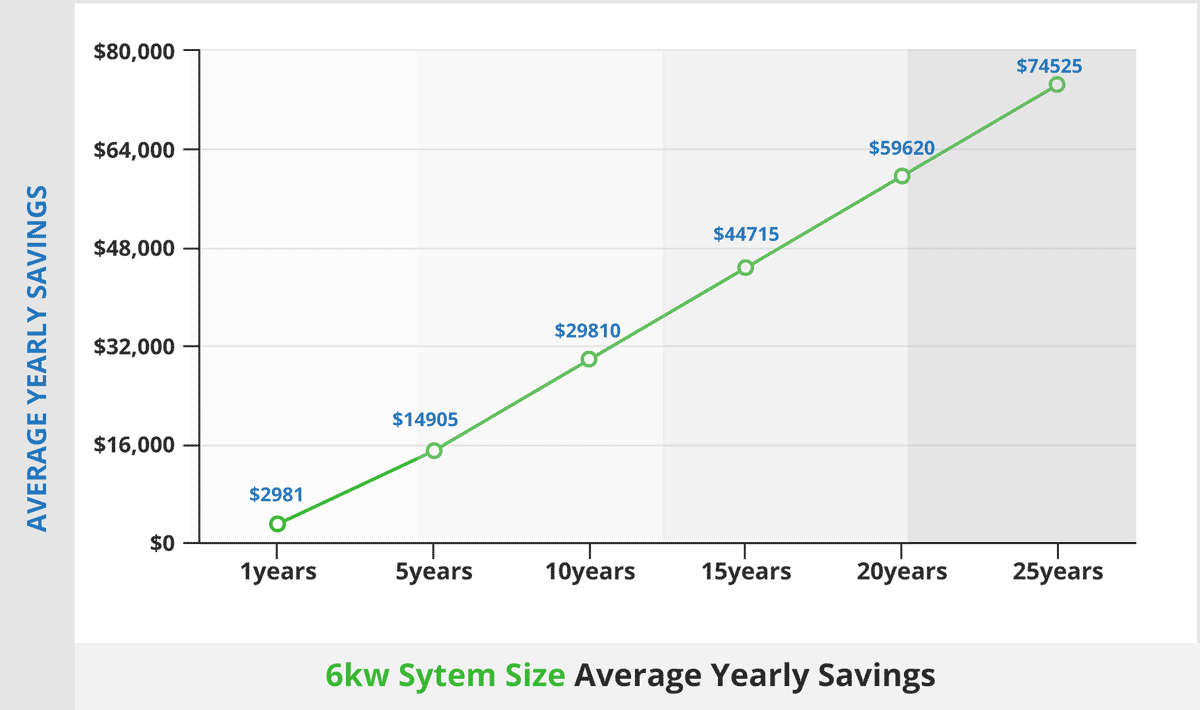 How much is the solar rebate
The government solar rebate initiative reduces the cost of solar by a whopping 30 – 40%% depending on the state. 
The rebate is based on the size of the system you install and the current Small-scale Technology Certificate price (STC). The price usually hovers around the $38.50 price. 
You are awarded a certain number of STC's depending on which of the 4 UV zones you live in Australia.
System size
STC's
States
Rebate
1.5 kW
16

14
NSW, QLD, SA, WA,

VIC, TAS
$638

$559
4 kW
44

37
NSW, QLD, SA, WA

VIC, TAS
$1,756

$1,476
5 kW
55

47
NSW, QLD, SA, WA

VIC, TAS
$2,195

$1,875
6 kW
66

56
NSW, QLD, SA, WA

VIC, TAS
$2,633

$2,234
7 kW
77

66
NSW, QLD, SA, WA

VIC, TAS
$3,072

$2,633
10 kW
110

94
NSW, QLD, SA, WA

VIC, TAS
$4,389

$3,751
Solar panel cost after rebates applied
Below are up-to-date prices of solar systems after the rebate has been applied based on the zone you live in. See map for zone details
Zone 1
Zone 2
Zone 3
Zone 4
Zone 1
System size
Gross Price
Rebate
Net price after
rebate
1.5kW
$3,836
$758
$3,078
3kW
$5,411
$1,516
$3,895
5kW
$7,902
$2,554
$5,366
6.6kW
$9,342
$3,072
$6,270
7kW
$10,540
$3,591
$6,949
8kW
$11,740
$4,110
$7,630
9.9kW
$12,895
$4,628
$8,267
10kW
$14,012
$5,147
$8,865
15kW
$20,500
$7,741
$12,759
20kW
$28,354
$10,334
$18,020
Cities include: Darwin, Cairns, Townsville, Mackey, Rockhampton, Hervey bay
Zone 2
Zone 3
Zone 4
Commercial solar panel cost by size and state
Commercial solar panels vary depending on the size of the system you install and the state you live in.
Below are the average costs of the most popular commercial solar system sizes.
| System Size | Average Rebate | Average Price |
| --- | --- | --- |
| 15kW | $6,833 | 13,667 |
| 20kW | $8,668 | 19,686 |
| 30kW | $16,825 | 30,186 |
| 40kW | $12,588 | 35,321 |
| 50kW | $22,823 | 42,764 |
| 100kW | $45,665 | 74,256 |
Commercial solar panel cost per watt
The bigger the system, the cheaper the cost per Watt. For a 15kW system you will pay about $0.85 per watt installed, while for a 100kW system you will pay closer to $0.68 per Watt.
Prices for commercial systems do vary depending on the quality of equipment used and the installer, but the above prices are a great gauge to go by.
How many solar panels are needed to power a home?
At the risk of stating the obvious, this all depends on the size of your home and the amount of power you consume. It will also depend on how much physical space you have on your roof to lay the panels. A typical rooftop solar has about 24 panels, but some larger systems have up to 40 panels.
Below is a breakdown of system sizes in kW and the number of solar panels required.
Is solar getting cheaper and should I wait?
Solar is getting cheaper as every year passes due to the large spike in Chinese production, and market hyper-consumption. This along with the Australian government's Small-scale Renewable Energy Scheme (SRES) has meant that installers have struggled to keep up with the demand of the last few years, and for good reason.
Should you wait? Not really. With the cost of power steadily on the rise in Australia and the interest-free finance available specifically for solar installs, there is no reason why you should not get a solar system installed taking advantage now of this far cheaper form of energy production.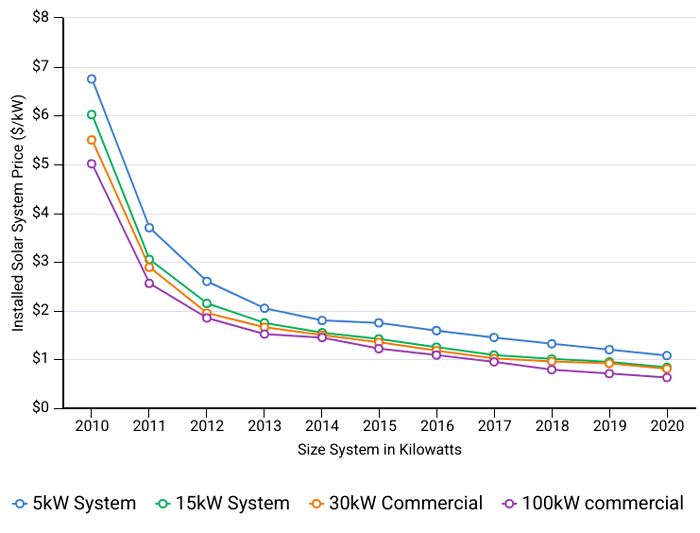 Solar panels tier 1, tier 2 & tier 3 cost comparison
Solar panel manufacturers are broken up into tier 1, tier 2, and tier 3. These tiers separate the larger companies from the smaller ones. Another way to say it is Tier 1 is bigger and more well-known producers like Panasonic, Trina, LG, Canadian Solar, etc., and their solar panels cost more than tiers 2 and 3.
This is not to say other manufacturers produce solar panels of lower quality, it's just the tier ones have been at it for a while, not as with a warranty that lasts 25 years, you want to be sure the company is still going to be here if you want to claim in 10 years. So you will pay less for tier 2 and 3 panels, but what is the real cost if you can't claim the warranty?
Are batteries worth it if I use consume most of my power at night?
In that case yes, over the long term installing a battery with your rooftop solar system will be worth the extra cost. The biggest misconception about solar is that your electricity bill drops to zero. You need to remember solar only works when the sun is out. At night you pay for all the electricity you consume unless you can store the power with a battery.
What are the upfront costs of getting solar installed and is finance worth it?
These days there are loads of companies that offer no deposit and zero-interest for the first couple of years on solar installation. That means you can walk right into a solar system with nothing down. The payments will be very similar or less than your current electricity bill, so there really is no reason not to get a system installed.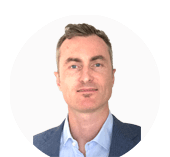 Author: Ben McInerney is a renewable energy enthusiast with the goal of helping more Australians understand solar systems to make the best choice before they purchase. Having an accredited solar installer in the family helps give Ben access to the correct information, which allows him to break it down and make it easily understandable to the average homeowner.