Updated: June 16, 2022
When it comes to a green sustainable future, the Australian federal government and most state governments are committed to ensuring that every homeowner has access to this green energy.
Among the most recent ways they're doing this is through the inception of free solar panel schemes for low-income households, seniors, and pensioners.
Although the schemes are mostly trial programs in most states, their implementation is bound to benefit thousands of Australians.
Here is a guide to find out if you're eligible for the program.
Since the free solar panel scheme is offered by different states, requirements are different depending on where you live. However, the general idea is that the state installs solar panels for free to low-income households, pensioners, and seniors.
In exchange, these households give up their concession payments or the annual rebate they receive on their electricity bills for up to 10 years.
The objective is to ensure that homeowners who'll benefit most from reduced electricity bills get access to solar energy. Free solar panels also help the country achieve its goal of improved adoption of renewable energy sources.
Free solar PV for low-income households (By state)
The free solar PV for low-income households scheme is usually implemented by several state governments and some big energy companies. This means that the application process and eligibility requirements are different for every state.
Here's what you should know depending on your state:
The Victorian state government is determined to remove the barriers for their low-income households to access solar power. They're doing this by offering a series of solar schemes under their Solar Homes Program that make solar panels and batteries more affordable.
While there's no scheme specifically designed for low-income households, the state offers rebates exclusive to Victorian residents (up to $1,400), as well as an interest-free loan to further reduce the utility costs incurred by these families.
Note: Earlier this month, the state minister for solar homes announced that the government will be offering a $1,000 solar rebate to all VIC eligible low-income households which should help them upgrade their home energy systems.
They also intend to increase the funding for rooftop solar and batteries rebates which is good news to all residents. Here's how to apply.
How it works
The NSW Low Income Household Rebate was designed to help 3,000 residents with eligible concession cards pay their energy bills. Homeowners who successfully apply for this program will receive a 3kW solar system installed on their house for free.
During the application, you'll need to contact your energy provider, provide the details of your concession cards or health care cards then ask for the rebate to be applied to your account.
As well to this there is an interest-free loan program in NSW that could be an alternative if you don't qualify for the above.
Eligibility
To be eligible for this rebate:
You must be an NSW resident
You must live in any of the following places: Central Coast, Sydney – South, South Coast, North Coast, Illawarra- Shoalhaven
You must own your house
You must not already have a solar PV
You must already be receiving the Low Income Household Rebate
You must be a holder of either of these cards:
A pensioner concession card from the Department of Veterans Affairs (DVA) or Services Australia.
Health Care Card from Services Australia
DVA Gold Card marked with either 'Disability Pension' (EDA), 'Totally and Permanently Incapacitated' (TPI), or 'War Widow' or 'War Widower Pension.'
You must be an account holder of an energy retailer
It's important to note that holders of the Commonwealth Seniors Health Card aren't eligible for this rebate. However, you might be considered if you're not the registered homeowner but your spouse is.
How to apply
If you're interested in this program, you can make your application online by visiting the government website here. You'll be asked to upload the following documents:
A recent electricity bill confirming you receive the Low-Income Household Rebate.
Your Council rates notice or similar document to prove you're the owner of your home
An image of your Pensioner Concession Card or Department of Veterans' Affairs Gold Card to confirm it's still active and valid
It may take anywhere from 2 – 3 weeks to complete the eligibility checks for this program. From verification to the final installation of the solar systems may take 2 – 3 months in total.
Installers allowed
For this program, the NSW state government has chosen five installers to handle each region of the state. The selected installers include:
North Coast
Central Coast
Sydney – South
Illawarra – Shoalhaven
South Coast
SAE Group Pty Ltd
Origin Energy Electricity Limited
Origin Energy Electricity Limited
Origin Energy Electricity Limited
Smart Renewables Pty Ltd (SolarHub)
Any other solar company not mentioned in the table above isn't authorized to help facilitate the implementation of this program on behalf of the state government.
You are advised to contact the NSW Fair Trading and report a scam if you've been contacted by such solar installers.
How it works
In ACT, the state government also runs a Solar for Low Income Program which seeks to make solar systems more affordable for their residents.
Under this program, the state government offers eligible residents up to $2,500 off the cost of solar systems in Canberra and its surrounds. They can also receive an interest-free loan to be paid over 3 years with no deposits. All these are provided by the state government's contractor ActewAGL.
While the first round of this scheme is already over, homeowners should be on the lookout to take advantage of the second round.
Eligibility
To qualify for this program, you'll need to satisfy these requirements:
Be a resident and own a home in the ACT
Not already be an owner of a solar PV system
Be a holder of an Australian Government Pensioner Concession Card
The home must be in good condition i.e., roof condition, orientation, and size.
How to apply
The application process for this program is very easy. Just email Access Canberra at Actsmart@act.gov.au or call them at 13 22 81. One installer will contact you after receiving your details and they'll quote the job for you.
Solar installers allowed
Unlike in NSW, the Australian Capital Territory government hasn't subcontracted the installation work to any contractors. Generally, you'll only have the installer who'll contact you after the application.
Nevertheless, you don't have to work with them if you think they're trying to cheat you. Get a second and third quote from different installers then go with the one you're comfortable with.
How it works
The South Australian state government runs its Switch for Solar program for low-income households. The project aims at enabling the residents to save hundreds of dollars every year using clean solar energy.
Under this scheme, the eligible households will receive a 4.4kW solar PV system installed at the expense of 10 years of their annual Energy concession ($231.40) and Cost of Living Concession ($215.10).
This scheme expires in May 2022 and is available for up to 1000 households.
Eligibility
To be eligible for this program, you must satisfy these requirements:
Live at and own a semi-detached or a detached house in any of these 17 suburbs:
Banksia Park
Athelstone
Campbelltown
Felixstow
Goolwa
Dernancourt
Goolwa North
Goolwa South
Holden hill
Goolwa Beach
Highbury
Hope Valley
Modbury
Modbury North
Modbury Heights
Paradise
Hindmarsh Island
Newton
Redwood Park
Ridgehaven
Tea Tree Gully
Vista
Not already own a solar PV system
Have not already claimed the South Australian Solar Rebate
Hold a DVA card, eligible Centrelink, or receive an eligible payment
Consume more than 2,000 kilowatt-hours of electricity annually
Agree to forsake your energy concession and Cost of Living Concession for 10 years
Note: you're also eligible if you're not the registered owner of the house but your partner agrees to all terms of the program.
How to apply
To apply, all participants will need to have a Centrelink Customer Reference Number (CRN) or the Department of Veterans' Affairs (DVA) File Number.
Alternatively, you can also contact the Switch for Solar department through their hotline 82 26 31 00, or email them at switchforsolar@sa.gov.au.
Your application will be reviewed by the ConcessionsSA and if you're successful, another program partner will contact you to arrange a site inspection. This will confirm whether your home is right for solar installation.
The concession payments will then stop immediately the solar PV system is installed. You'll get a notification for this.
The state government of Western Australia doesn't offer any rebates or solar schemes besides those offered by the Federal government. Their state government has openly expressed its opposition to any solar subsidy program and even the existing feed-in tariff programs may soon be scrapped.
Nevertheless, Low-income households can still rely on the feed-in tariffs, at the moment, as well as the upfront rebates from the national government through the Small-scale Renewable Energy Scheme.
Despite being Australia's largest uptake of solar, the state government of Queensland doesn't run any free solar panels scheme targeting their low-income household residents.
However, the QLD government does offer interest-free loans for solar and solar battery installations.
However, the residents can still take advantage of the QLD solar rebate program which gives them higher value STCs due to the sunshine intensity within the state.
The solar buyback program or 'feed-in tariffs' are also available within the state and can help reduce the payback period of your solar PV System.
Like QLD and WA, the Tasmanian state government currently isn't running any free solar panel scheme for low-income households. However, the federal government rebate is still available under the Renewable Energy Target Scheme (RET).
The feed-in tariffs are also offered to residents enabling them to save on their power costs. There was however a trial for the solar for low-income households program back in 2017 where 100 households benefited.
The state government of Northern Territory doesn't offer any solar for low-income families scheme. It also doesn't run any other solar or battery storage rebates for its residents.
Nevertheless, the federal government STCs are still available and are valued highest within this sunny region. Low-income households may also opt for the feed-in tariff program which is offered by several energy companies in the state.
Free solar PV for seniors & Pensioners (By state)
Besides the solar for low-income households program, some state governments also run free solar panel schemes to help seniors and pensioners. Here's a breakdown of each of the states that offer this program and its eligibility requirements.
While Victoria's state government can boast of offering several solar rebate schemes, it doesn't have one exclusive to pensioners. The state rebates available to everyone, including the federal government rebate, may however be enough for seniors & pensioners to enjoy cheaper energy bills.
The ACT government is currently offering rebates to pensioners under their solar for low-income households program. In the program, the pensioners stand to receive a rebate of up to 50% for the complete installation of their solar system.
They'll also have access to an interest-free loan to be paid back over a 3-year period. The only requirements to qualify for this scheme include:
Must be a holder of an Australian Government Pensioner Concession Card
Must own and occupy a home in ACT
Must not already have an installed solar PV system
To apply, visit the ACT's government website or call 13 22 81.
Pensioners in New South Wales are also covered under the Solar for Low-income households scheme. The program grants eligible pensioners a 3kW solar system to help them earn long-term energy savings.
The qualifications for this program include:
You must be a homeowner in either Central Coast, South Coast, North Coast, Sidney-South or Illawarra-Shoalhaven
You must not already have a solar PV system
You must be a holder of a valid Pensioner Concession Card or Department of Veterans' Affairs Gold Card
You must be willing to opt-out of the Low-Income Household rebate for 10 years
You shouldn't be living in a retirement village or a Strata building
The Western Australian state government doesn't run any free solar panel scheme exclusive to pensioners or seniors. It however offers a concession for pensioners or seniors for their underground electricity connection charge.
Besides their Switch to Solar program, the South Australian state government doesn't offer any other solar panel incentives or schemes targeting pensioners or seniors.
Like most other states, the Queensland state government doesn't offer a free solar panel scheme exclusive to pensioners and seniors. However, they run alternative programs where they offer energy concessions to help reduce their expenditures on electricity and gas.
The state of Tasmania doesn't run any solar schemes or incentives for pensioners or seniors besides the federal government's rebate program.
The Northern Territory state government is currently not running any free solar panel scheme for pensioners and seniors.
Is my house right for solar?
Even before rushing to get the free solar offered in your state, one of the key factors you should consider is the state of your house. You need to be sure that your roof is in good condition to handle the solar installation.
Some of the key things a solar installer will look at to determine the suitability of the house include:
The direction your roof faces will determine whether or not you'll be able to maximize the output of your solar system. Generally, North-facing solar panels have the highest energy output while the south and west-facing roofs have a lower energy output.
Solar panels need to be mounted at a specific angle (around 30 degrees) to enable them generate the most electricity. Flat roofs, on the other hand, may also work but they limit the output capacity of your solar system.
Before installation, you need to be sure that the space available is enough to handle around 12 solar panels. This is about 20m2 of roof space.
Weight the roof can handle
How much weight your roof could handle will depend on the condition of your roof. You'll have to ensure that your roofing is stable and can support the extra weight the solar panels will add.
Depending on the location of your roof, there is a possibility that your solar panels will experience shading and this will reduce their output capacity. Your solar installer will assess your roofing environs to identify whether any buildings or trees may cause shading to determine if the home is a good fit.
Safety of your current electrical wiring
The current electrical installation in your home should also be safe and able to accommodate a solar system.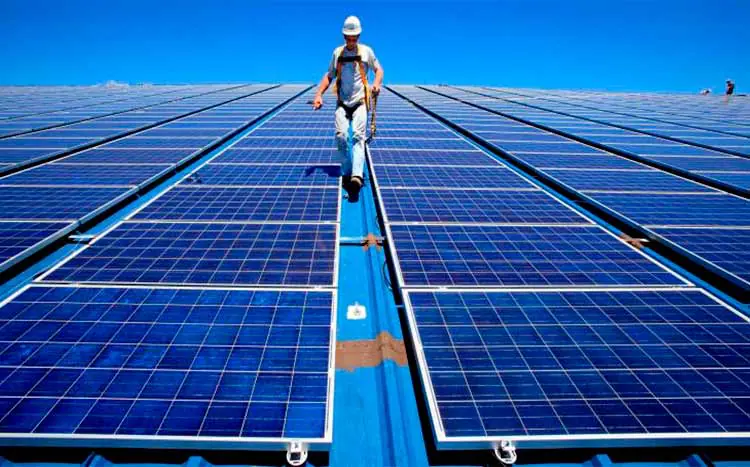 Can I up-size the solar system?
Yes! If you find that the free solar panels offered by your state government don't satisfy your energy requirements, you can choose to up-size. For instance, if you receive a 3kW solar system, you can add extra panels to make it a 6kW solar PV system.
However, you'll have to cover the costs for the extra solar system you want, in our case, the extra 3kW.
Note: Up-sizing your solar system may not always guarantee you more savings on your energy bills. This is because while you'll enjoy more from the feed-in tariffs, it won't compare to what you'll spend from the grid during the night.
A larger solar system will only be a good investment if you utilize most of your electricity during the day when most of the power will be generated.