Solar panels Central Coast - Cost and Rebate Guide 2021
Updated: March 8, 2021
Solar power is installed on almost ¼ of all Australian homes. With the rising electricity costs, the generous solar rebates from the government, and the reliable feed-in tariffs from local utility companies, solar power has become more affordable for most low-income homes.
Many people are moving to solar installation to reduce electricity bills, reduce global warming, and positively impact the environment. If you are planning to install solar power on Central Coast, this article will provide you with everything you need to know for a successful installation.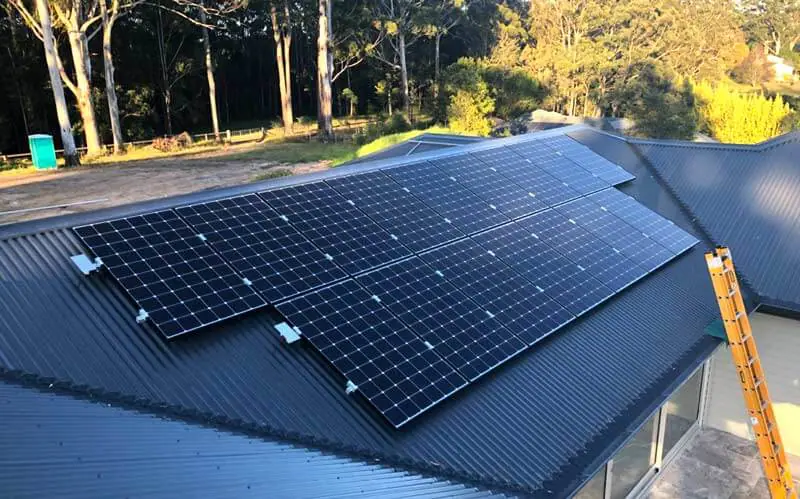 Different solar systems come at different prices. For instance, if you want to install a 5kWh solar system, you will pay about $4,450 inclusive of the rebate. The government rebate makes the solar systems affordable, while the incentives you receive from FiT providers incredibly reduce the panels' payback time.
With a 5kWh system, you will be awarded a rebate of approximately $2,870. This means you will buy the system at a much lower cost than when the rebate is not applied. Below is a table showing the prices of different solar systems.
| Service/ system | Size | Cost |
| --- | --- | --- |
| Solar cost per KW Central Coast | 1 kW | $861 |
| The national average cost per KW | 1 kW | $911 |
| 3kW solar cost Central Coast | 3Kw | $3,690 |
| 5kW solar cost Central Coast | 5Kw | $4,450 |
| 6.6kW solar cost Central Coast | 6.6Kw | $5,682 |
Government solar panel rebate in NSW
The solar rebate in NSW depends on the size of the system and STCs you get. For a few years now, the STC spot price ranges between $35 and $40. So, for a 5kW system, you will get 82 STCs and a rebate of $2,870. For a 10kW system, you will get 165 STCs and a rebate of $5,775. The bigger your solar system, the bigger your rebate.
The government rebates in NSW are expected to last for 10 years, and about 300,000 homes are expected to undertake the rebates by 2030. The following are the rebates awarded for different sizes of solar systems.
| System Size | Rebate Amount |
| --- | --- |
| 2kW | $1,148 |
| 3kW | $1,730 |
| 4kW | $2,310 |
| 5kW | $2,870 |
| 6kW | $3,477 |
| 10kW | $5,775 |
NSW Government State Rebates
The NSW state rebates vary depending on the size of the solar system. The local government will award all eligible residents the rebates according to their system's size. This scheme is designed to be beneficial to both the government as well as the public. It allows people to install high-quality solar panels at an affordable cost.
This scheme commenced in the 2019/2020 financial year, and it is expected to run up to 2030. It aims at providing reliable and long-lasting power solutions for all households in NSW and Australia in general.
NSW rebate on battery storage
In NSW, all eligible owner-occupiers with an annual income of approximately $180,000 or less will get interest-free loans for a solar system and battery. The loan is up to $14,000 for solar plus battery, or up to $9,000 for people looking to add battery storage to an existing system. This program is open to up to 300,000 homes for over ten years.
Solar system output in Central Coast NSW
The table below shows different solar system sizes and their output. With this information, you can effortlessly calculate your rebate and the number of panels you need for your household.
| System Size | Output |
| --- | --- |
| 1kW | 4.3kWh |
| 1.5kW | 6.45 kWh |
| 2kW | 8.6 kWh |
| 3kW | 12.9 kWh |
| 4kW | 17.2 kWh |
| 5kW | 21.5 kWh |
| 6kW | 25.24 kWh |
| 10kW | 38.5kWh |
STC zone in Central Coast NSW
Australia is divided into four STC zones, each with a different rating depending on the amount of sunlight each zone receives. Central Coast is in zone 3, which means it gets an STC rating of 1.382. This means it gets a fair rebate than the cities in Zone 4 but a lesser rebate than zone 1 and 2. Cities in zone 1 receive the highest amount of sunlight, which means they get the highest rebates.
Best Solar Feed-in tariffs NSW
Feed-in tariffs are a great way to store all the excess power and get paid for it. You can get incentives from local utility companies in exchange for the extra energy your system produces. So, if you cannot exhaust your daily system's output, worry not because it will not go to waste.
The following are three of the best feed-in tariff providers you should consider.

Click Energy is another great FiT provider that offers high rates for your surplus energy. With this company, you will get a minimum of 11.2c per kWh with a maximum of 16c per kWh. These rates are very promising and will help you reduce the payback time of your system.
This company does not have any lock-in contracts, which allows you the freedom to move to another provider whenever you wish.

| Min FiT | Max FiT |
| --- | --- |
| 10.2c | 10.2c |
Red Energy is one of the best in the market as it offers outstanding rates per kWh. For every kWh, you will receive 10.2c. This is a good solid market price from this well-known market leader in green energy.
This company is reliable, and its operations are transparent to all its customers. So, you will not be surprised by any hidden costs or sudden changes in the rates.

DC Power is also an excellent company to work with if you are looking for a reliable FiT provider. It offers a minimum of 9.9c/kWh and a maximum of 15.0c/kWh. So, you will get incentives for your excess power, and you can use the money you get to reduce your system's payback time.
DC Power is a transparent operator and ensures all its customers receive impeccable services around the clock. With this company, you can easily translate your excess energy into money instead of wasting it.
Is the Central Coast a good climate for solar?
Yes, Central Coast is a sweet spot for solar power, just like the rest of Australia. The Central Coast climate is generally warm around the year, with few and sustainable showers and not too cold winters. This makes it an excellent climate for solar energy as the panels will get sufficient sunlight throughout the year.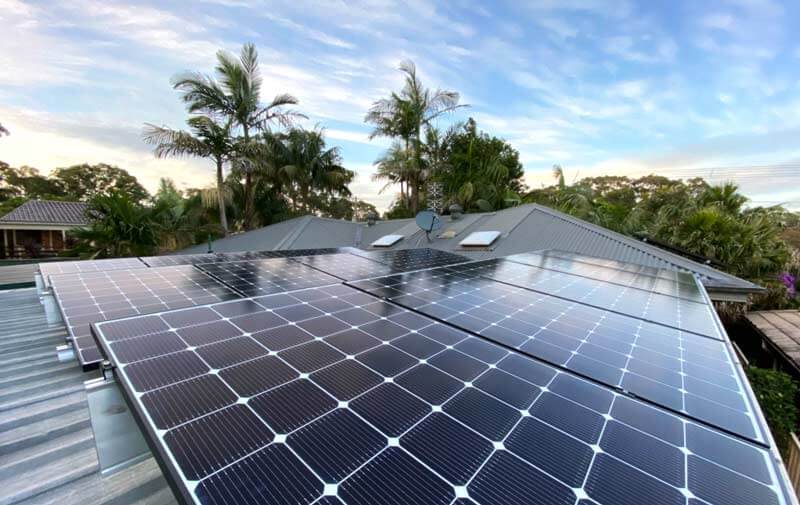 Percentage of Central Coast households with solar installed
Over 20% of households on the Central Coast have installed solar energy. In general, NSW has about 24.6% of homes that have installed solar power, according to the Australian PV Institute.
Optimal solar panel orientation and angle in Central Coast
Pitch angles of approximately 30 and 45 degrees work well with most regions. For Central Coast, a roof pitch of 20-30 degrees will be perfect for solar installation. However, there should be a minimum tilt of about 10 degrees to allow the panels to self-clean when it rains.
Central Coast solar installer review
We have recommended 3 solar installers on Central Coast, which we think are worth considering if you are looking for a reliable solar installer.
The criteria we used to choose these companies were based on their google reviews, ratings, and whether they are members of the Clean Energy Council, the biggest renewable energy organization in Australia.
All these companies are CEC approved, and they have a star rating of 4.5 and above with a minimum of 40 google reviews.
Superior Solar has been on Central Coast for more than 20 years, and it has made so many installations for different homes, businesses, and industries.
This company is one of the best in NSW and offers the highest quality solar panels. This company's workmanship is also top-notch, and it ensures the customers are satisfied with the installations before they leave the site.
This company offers high-quality products and services and will never compromise on the quality of the panels. It has excellent attention to detail to ensure every aspect of the installation is handled with high professionalism.
This company is also a member of the Clean Energy Council, which assures you of quality products and services.
It has formed partnerships with many established companies to provide its clients with the best panels.
All Green Environmental Solutions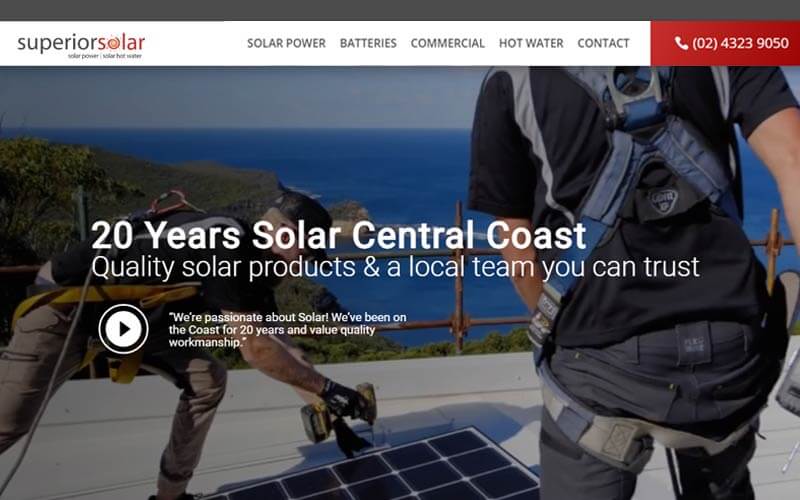 About All Green Environmental Solutions
All Green Environmental Solutions was initially founded in Central Coast, NSW. It has exceptionally grown over the years, and it now covers Hunter, Sydney, and Newcastle.
This company has been in business for the last 10 years and has benefitted many homes, businesses, and industries. It has an impeccable customer and after-sales service that leaves the customers feeling happy and satisfied.
It can survive in all kinds of situations and knows how to handle all sorts of jobs, from big to small and even the most complicated ones.
Why All Green Environmental Solutions
This company offers you the best solar solutions on the Central Coast and the whole of NSW at large. It has been in the market for a long time, which means it is experienced and reputable.
This company is Australia owned and operated, meaning you will get the best local solar solutions.
It also offers a 10-year guarantee for the products to make sure you do not spend any additional money in case of faults or issues with the system's quality or installations.
It has a highly trained team that handles all the installations with a high level of expertise. You will also get tailored solutions to meet your needs and level of investment.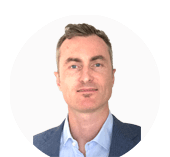 Author: Ben McInerney is a renewable energy enthusiast with the goal of helping more Australians understand solar systems to make the best choice before they purchase. Having an accredited solar installer in the family helps give Ben access to the correct information, which allows him to break it down and make it easily understandable to the average homeowner.