Solar Panels Gold Coast - 2023 Cost Guide & Installer Review
Updated: August 29, 2023
The Gold Coast, Queensland has one of Australia's highest densities for household solar installation with 25% of all homes with solar.
Many homes in the area are taking advantage of the falling solar panel prices to cut down their power costs and reduce their carbon footprint in the environment.
The average cost of solar panels in Gold Coast ranges between $3,000 and $10,000, depending on the size of your solar system. Smaller solar systems, 1 – 3kW, can vary anywhere lower than $4,000, while the larger systems will cost you no less than $5,000.
The most popular solar system on the Gold Coast, the 5kW system, goes for an average of $5,726, which is cheaper than in Brisbane. Due to the high rebates in this area, the price of solar panels is slightly lower than the national average, that stands at $5,655.
The table below shows the price of solar panels in Gold Coast, depending on the solar systems' sizes. (These prices may vary depending on the brand).
| Service/ system | Size | Cost |
| --- | --- | --- |
| Solar cost per KW Gold Coast | 1 kW | $1,145 |
| National average cost per KW | 1 kW | $1,131 |
| 3kW solar cost Gold Coast | 3Kw | $4,094 |
| 5kW solar cost Gold Coast | 5kW | $5,726 |
| 6.6kW solar cost Gold Coast | 6.6kW | $7,013 |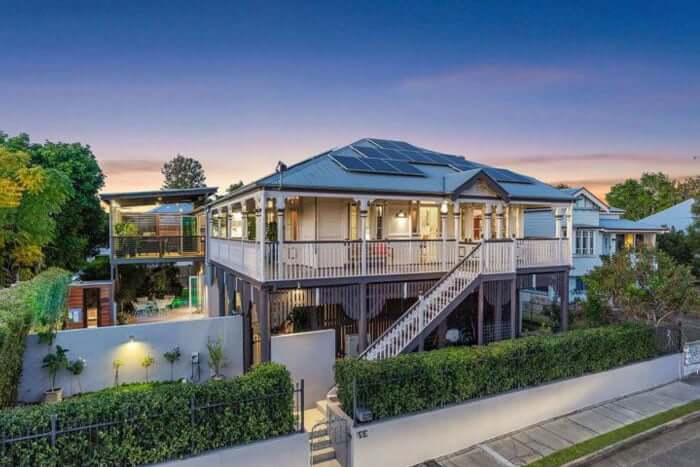 Among the key reasons for the massive solar energy adoption on the Gold Coast is the generous rebates offered in Queensland. All Queensland homeowners are eligible for the federal government solar rebate program, which seeks to make solar panels cheaper and improve their ROI.
The rebate program allows homeowners to enjoy numerous discounts through selling their Small-scale Technology certificates (STCs).
Once you complete the solar panel installation in your home, you receive a specific number of STCs depending on the size of your system, valued at around $37 each.
You can exchange these certificates for money that goes towards offsetting the total price of your solar system.
Unlike other states, Queensland state government doesn't run its solar rebate program. Instead, it offers interest-free grants and loans for solar installation to all eligible QLD residents.
The table below shows the rebate amount you can expect on the Gold Coast.
| System Size | STC's | STC spot price | Rebate |
| --- | --- | --- | --- |
| 2 kW | 22 | $39.90 | $878 |
| 4 kW | 44 | $39.90 | $1,756 |
| 5 kW | 55 | $39.90 | $2,195 |
| 6.6 kW | 72 | $39.90 | $2,873 |
| 7 kW | 77 | $39.90 | $3,072 |
| 10 KW | 110 | $39.90 | $4,389 |
Solar system output on the Gold Coast
Being a relatively hot and sunny area, solar panels in Gold Coast tend to have a high output. Depending on the size of your solar system, you can expect an output of between 8.4 – 42 kWh from your solar system.
Here's a table showing the average system output for different solar panels.
| Solar system | Output |
| --- | --- |
| 2kW | 8.4 kWh |
| 3kW | 12.6kWh |
| 4kW | 16.8 kWh |
| 5kW | 22.65 kWh |
| 6.6kW | 27.7 kWh |
| 10kW | 42 kWh |
Solar Feed-in tariffs QLD
Besides the federal government rebate, Queensland also provides incentives through the solar feed-in tariffs. Under this program, homeowners generating solar power can feedback the surplus energy from their systems to the grid.
In exchange, your utility company credits your account with energy credits depending on the kilowatts you send to the grid.
Feed-in tariff rates in Queensland range between 6 cents/kWh to 20 cents/kWh. The average rate varies with the different energy companies, but you'll receive the best feed-in rates from Energy Australia at 16.0 cents/kWh.
Below are some of the options you'll find in the market.
Is the Gold Coast a good climate for solar?
Yes! Gold Coast enjoys a warm and sunny climate with up to 300 days of sunshine throughout the year. The summers here are quite warm, with temperatures averaging highs of 28.3°C and sunny winters averaging lows of up to 21.2°C. This has made it one of Australia's most visited holiday destinations.
Gold coast also prides itself in irradiation levels of about 4.81kWh per square meter daily. Solar power is, therefore, an excellent investment in this city.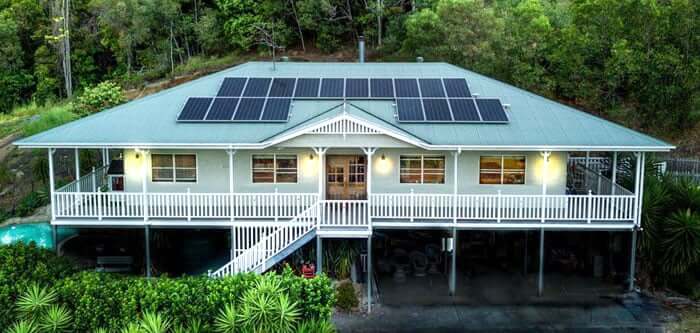 What is the payback period for solar installation?
4 to 5 years. Unlike most parts of the world, Australia receives a relatively high sunlight intensity throughout the year, which means that solar panel investments pay back quickly.
Some factors that affect your installation's payback period include the size of the system, the sunlight intensity in your area, and your monthly power consumption.
Typically, households with large solar systems and those with massive monthly power bills have the shortest payback period – about 3 years.
Households with smaller solar systems and those with lower monthly bills will have an extended payback period – between 6 to 8 years.
Here's the average payback period of solar installations for Gold Coast residents.
| Solar system size | Payback Period |
| --- | --- |
| 1.5kWh | 4.75 years |
| 2kWh | 3.7 years |
| 3kWh | 2.6 years |
| 4kWh | 2.4 years |
| 5kWh | 2.1 years |
| 6kWh | 1.9 years |
Percentage of Gold Coast households with solar installed
According to data from the PV institute, about 31.8% of all Gold Coast households have mounted rooftop solar panels – making it one of the largest percentages in the country.
This massive uptake of solar in the state is primarily attributed to solar panels' falling prices, the rising cost of electricity, attractive incentives from the state, and the favorable sunlight hours received in the area.
Optimal solar panel orientation and angle in Gold Coast
The perfect tilt angle for your solar panels in Gold Coast is 27°, with the panel oriented to face North. However, you can opt for alternative directions if you don't utilize most of your power during midday.
The East-West direction, for instance, is a good orientation direction if you utilize most of the energy early in the morning and later in the evening.
If your roof is flat, you'll need some tilt frames to achieve maximum energy production.
Gold Coast solar installer review
I have decided to recommend 4 installers on the Gold Coast, which in my view, are worth a second look.
These recommendations are based on several factors. First, we look at their qualifications. All installers needed to be members of the Clean Energy Council, which is Australia's largest renewable energy association.
Next is the reviews. They needed at least 20 reviews and an average higher than 4.5 Stars. All of the following companies fit that criterion.
Gold Coast Solar Power Solutions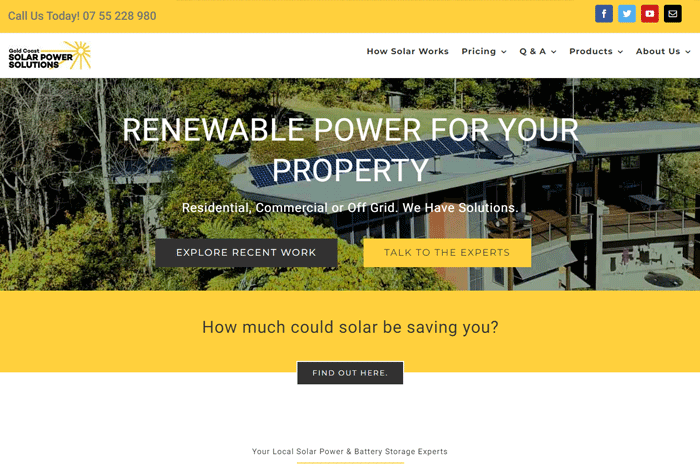 About Gold Coast Solar Solutions
Founded in 2008, Gold Coast solar solutions is one of the longest-serving solar power solutions companies in Gold Coast. The company, based in Worongary, offers supply, installation, and consultation services on solar and battery systems.
They boast of a team of carefully selected, trained and REC certified professionals who have adequate experience in the solar industry.
Why Gold Coast Solar Solutions?
Being a local company that's served Gold Coast for more than a decade, Gold Coast Solar Solutions understands the best installation models for residents in the area.
You can therefore trust them to recommend the perfect solar panels, inverters, and solar batteries for your home.
The company has also been certified by REC and Solar Edge, proving that they have what it takes to provide high-quality solar panel installations on any solar project, whether residential or commercial.
As a customer, you'll also benefit from the company's partnerships with companies such as REC Solar. This includes the extra two-year product warranty on any REC products.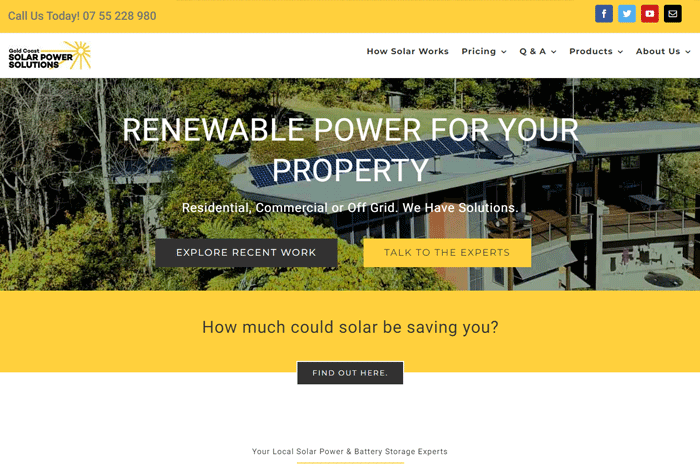 Qvolt Solar is another great solar power solutions company in Gold Coast. The family-owned company has been in operation for over 10 years now and offers four main services:
Advice and Guidance
Sales and Packages
Installation and Configuration
Repairs and Maintenance
Unlike other solar installers in the market, Qvolt solar connects you with real solar experts when you call, and not a salesperson. This ensures that you receive the best possible solar advice at no cost!
Qvolt also understands that every home comes with different solar power needs. So, instead of offering set packages, they tailor unique solutions for every home – ensuring you receive maximum benefits from your system.
With more than a decade-worth of experience and a 10-year warranty for all their services, Qvolt ensures that you never receive any faulty products in the market.
The company is also one of the most affordable in the market. Thanks to their small team, they focus on providing high-quality solar solutions suited for homes at a budget friendly price.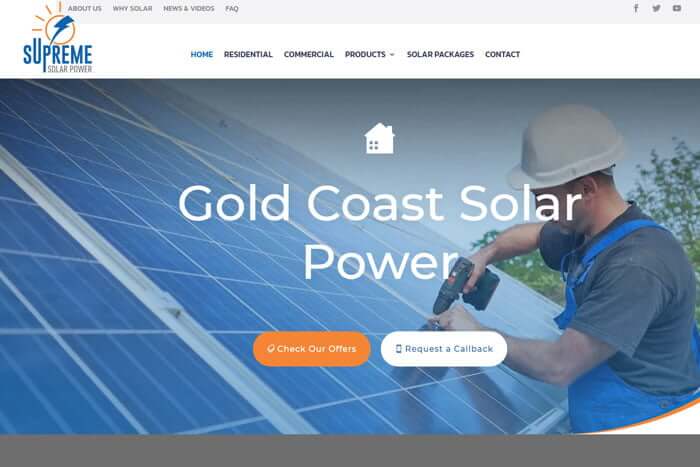 Supreme solar is an Australian owned solar solutions company that focuses on solar installation for both residential and commercial properties. The company has been in the Australian market for a long time serving most parts of Queensland.
In 2014, 2015, 2016, and 2018, Supreme Solar received recognition as the 3rd highest rated solar supplier in Australia. Moreover, since 2016 – 2018, the company has maintained a 4.9 out of 5 ratings on Product Review. This shows the high-quality of services the installers offer.
The company also focuses on a diverse range of solar panels and inverters, ensuring that customers receive the best quality products.
All Supreme solar professionals are also CEC accredited and have a wealth of experience in the solar industry. This enables them to provide good and quality customer service.
When consulting with Supreme solar, the company knows the need to customize solar solutions depending on your problem. You'll, therefore, receive a solar solution that meets your needs at a friendly price.
Wrapping up our list is Gold coast energy. This solar installer has been an industry leader in solar solutions for over a decade, having started in 2008. The company deals with residential solar, batteries, and maintenance way beyond the installation.
Having been in the market for many years, Gold Coast Energy has served numerous Gold coast residents, receiving high praise from their clients.
They boast of experienced and well-trained experts who are knowledgeable in a wide array of grid connects, hybrid solar solutions, and off-grid connections.
Customers of this company can also take advantage of their 7-point diamond guarantee, which includes:
Servicing you properly
Being on time
Safe installations
Zero hidden costs
To be fully insured
To provide value
This guarantee proves the company's focus on providing quality work at reasonable prices. Their knowledge of the Gold Coast market and their partnerships with various solar brands ensures that all their customers never have to deal with faulty products.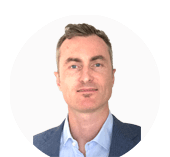 Author: Ben McInerney is a renewable energy enthusiast with the goal of helping more Australians understand solar systems to make the best choice before they purchase. Having an accredited solar installer in the family helps give Ben access to the correct information, which allows him to break it down and make it easily understandable to the average homeowner.