Compare Solar Panel Quotes Now
Updated: December 6, 2023
15kW solar systems are an excellent choice for households with extremely high energy consumption levels or businesses with small to medium energy needs. Due to the Australian government rebate system, many households can now afford solar power.
The average cost of a fully installed 15kW solar power system is about $14,917, or around $0.994 per watt.
The price may vary slightly depending on your city and the solar installer you choose. Some installers may offer a higher price, while some may offer a lower price.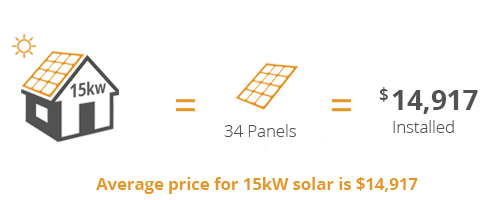 15kW solar systems offer great value due to their size.
When selecting a solar system that is right for you, remember that quality products come at a higher price. However, take the time to evaluate the panels and compare their quality and price before purchasing them.
The table below outlines the average cost for a 15kW solar system in Australia's capital cities.
| City | Average cost (GST and incentives included) | Average cost per watt (installed) |
| --- | --- | --- |
| Adelaide | $13,339 | $0.89 |
| Brisbane | $13,150 | $0.87 |
| Canberra | $13,900 | $0.92 |
| Hobart | $15,350 | $1.02 |
| Melbourne | $14,800 | $0.99 |
| Sydney | $13,250 | $0.88 |
| Perth | $13,339 | $0.89 |
| Average | $13,875 | $0.93 |
How Much Energy Will a 15kW Solar System Produce?
An efficient, good quality 15kW produces an average of 65kWh per day. However, the actual power output varies depending on the following variables:
Geographical location
Climate
The performance of the panels and inverter
Partial shading
Orientation and tilt angle of the solar panel system
Below are indicative figures of kilowatt-hours of electricity a 15kW north-facing solar system generates per day in Australia's capital cities.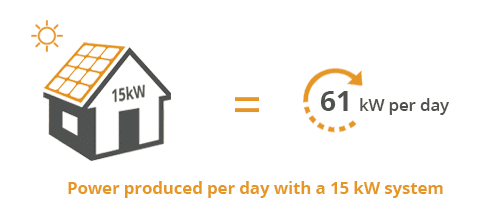 15kW Solar System Output in Australia's Capital Cities
| Capital City | Approximate Average Daily Energy Yield |
| --- | --- |
| Adelaide | 54 - 61kWh |
| Brisbane | 58 - 61kWh |
| Darwin | 61 - 67kWh |
| Canberra | 54 - 62kWh |
| Melbourne | 47 - 54kWh |
| Perth | 60 - 65kWh |
| Hobart | 43 - 49kWh |
| Sydney | 51 - 56kWh |
How Many Solar Panels Does a 15kW Solar System Have?
A 15kW system consists of about 45 to 60 solar panels. The actual number will depend on the size of solar panels you choose. If you choose panels with higher power output, you will have fewer panels on your roof. Common panel sizes that can make up a 15kW solar system include:
300W (50 x solar panels to produce 15,000 Watts)
330W (46 x solar panels to produce, 15,000 Watts)
370W (41 x solar panels to produce, 15,000 Watts)
400w (38 x solar panels to produce, 15,000 Watts)
450w (34 x solar panels to produce, 15,000 Watts)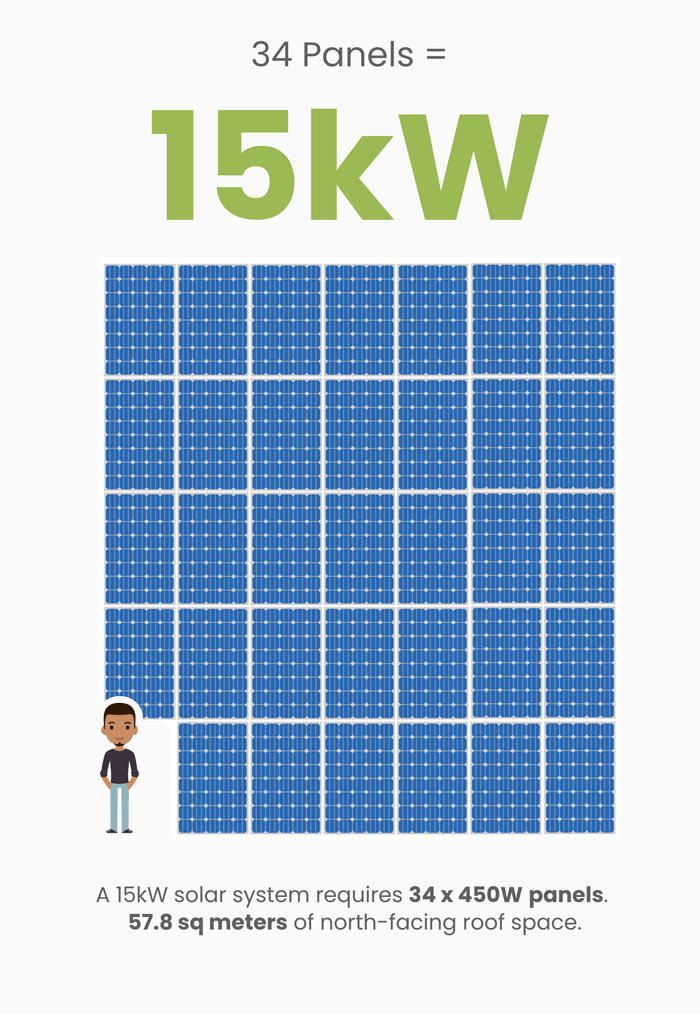 How Much Space Is Required for a 15kW Solar Power System?
Most solar panels measure between 1.7m x 1m in size, which means you will need about 57m2 of roof space to accommodate the 34 panels for your 15kW system. Since most panels' power output is between 450W each, the roof space required will depend on the wattage of your panels.
15kW systems are large and require lots of space. So, unless the system is mounted to the ground, it may not be an option for most Australian households.
Is 15kW the Right Solar System Size for Your Business or Home?
To decide whether the 15kW solar system is the right size, you need to determine your average daily electricity consumption and choose a reliable solar provider.
Know Your Daily Power Consumption Rate
If your energy consumption is consistently high, then a 15kW system is right for you. However, this system may be too large for an average home, judging from the amount of roof space required.
Besides, this system generates between 40kWh to 60kWh on average per day, making it more suitable for a business than a home. This system may be perfect for households whose electricity consumption is low and want to go off-grid.
The 15kW system is quite complex, so you should know how to balance your power usage by auditing your current energy usage habits.
You can start by identifying activities and appliances that consume a lot of power and develop a plan that ensures these activities/appliances are conducted only when the sun is out.
Also, try to avoid running your heavy appliances such as dryer, washing machine, and dishwasher at the same time. You can spread your timing to ensure your system meets your daily power needs.
Choose a Reliable Solar Power Company
Another essential thing that you should keep in mind is your solar provider.
Some solar companies may have a limit on solar power system sizes. Such companies may require extra paperwork or inspections for homeowners who wish to connect solar systems larger than 5kW to the grid.
Your local network company or solar installer should guide you regarding such matters before you install any system.
What's the Average Payback Period for a 15kW Solar System?
The payback period for a high-quality, efficient, and reliable 15kW solar system averages between 3 to 5 years. However, the real savings start upon installing your system once it starts generating power.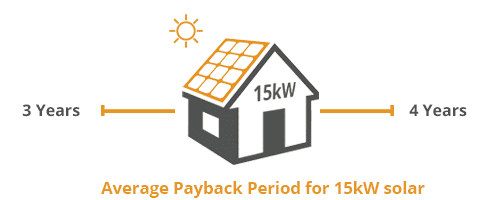 How Much Will a 15kW Solar Energy System Save Me?
Typically, the savings you can get from your 15kW solar system depend on the amount of solar power you use in your home or business when it is being generated.
These days, you may not benefit much from solar feed-in tariff credits because the rates tend to be lower than what you pay for electricity from the grid.
So, your solar energy will benefit you if you use as much energy as possible – the more power you use, the more you will save.
The surplus energy will be sent to the grid from which you will earn credits to help reduce your overall electricity bills.
Depending on how much money you pay for your electricity, you can save between 22 cents to 30 cents. Also, depending on your solar provider, you will be paid between 5 cents to 13 cents per kWh for the surplus power sent to the grid.
This translates to about $1,100 to $1,500 per quarterly bill.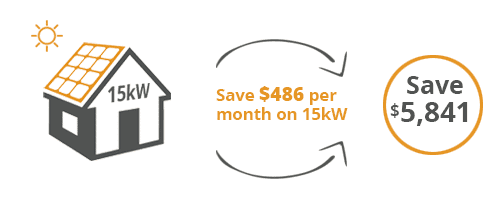 What Kind of Business/Household Does a 15kW Solar System Suit Best?
The 15kW solar power system is best suited for large households or small businesses. If your daily power consumption averages at 40kWh to 60kWh during sunshine hours, have large appliances, home automation, a large pool, and your electricity budget is about $1,000, then a 15kW system should be enough to meet your daily energy needs.
15kW Solar Panel System With Battery Storage
Since a 15kW solar power system generates an average of 60kWh of energy per day, you will need battery storage with a capacity of 42kWh.
If you decide to go with the Tesla Powerwall 2 batteries storing 14kWh each, you will need three of these batteries to generate the required capacity. These batteries allow you to use the sun's power during the day and night.
However, you should remember that battery storage options are pretty expensive and can increase your payback period. Consequently, before you invest in them, seek guidance from a professional solar installer.
Are You Ready To Switch to Solar Power?
Switching to solar power is the best decision you will ever make. With solar energy, you can reduce your monthly electricity bills and help save the planet at the same time.
Once you set your mind on the 15kW system, the next step is to look for a reliable solar installer. You do not have to spend hours on the internet looking for a provider as we can help you with that.
Gosolarquotes.com is a free service that quickly matches you with top-voted local solar installers.
You can get 3 estimates fast by real certified experts in your area in just 2 minutes.
Scroll to the top of the page and enter your Zip Code
Answer questions about your solar needs
Your details are forwarded to three local professionals. They will send you a price estimate for the installation and some friendly advice.
IMPORTANT: There is no obligation to hire. This is a free tool and service to be used at your pleasure.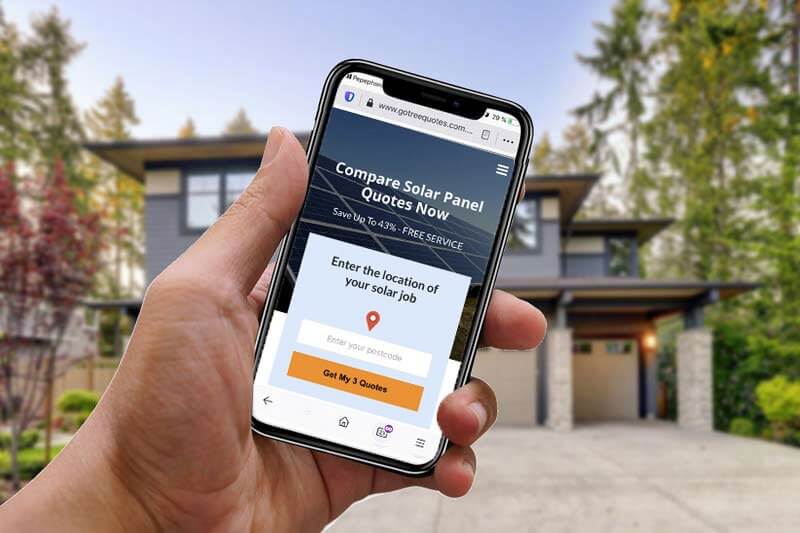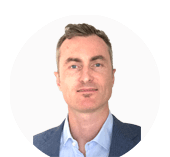 Author: Ben McInerney is a renewable energy enthusiast with the goal of helping more Australians understand solar systems to make the best choice before they purchase. Having an accredited solar installer in the family helps give Ben access to the correct information, which allows him to break it down and make it easily understandable to the average homeowner.