How do I find a good solar installer?
Updated: August 29, 2023
If you have decided to proceed with solar installation for your home or commercial building, one of the biggest challenges you'll face is choosing a solar installer. Your solar installer determines how much you'll save in both the short term and long-term from your installation.
The installer also determines whether or not you'll receive rebates on your solar systems. Choosing the right installer is therefore paramount for any solar owner.
There are numerous solar installers in the Australian market today. This makes it harder for you to weed out the phony installers from the experienced and reliable installers. Here are some things that can help you find a good installer.
The first thing you should look for from a solar installer is where they mainly operate. Different areas experience different weather and sunlight conditions, have different electrical and building codes and fall under different state inspectors.
This is why you need a local installation company. Local installers can customize your solar system to suit your home's power needs based on the various weather changes in the area.
Most of them also have a good relationship with the city's inspectors and permitting officers who can speed up the processing in case of any hold-ups. You're therefore assured of high-quality services at the end of the day.
Licensing and accreditation
Licensing and accreditation of solar installers is the next critical aspect to consider. All solar installers are expected to have certifications and accreditation from the Council of Clean Energy (CEC).
Installation companies should be able to produce their business licenses, as well as their general contracting and electrician licenses.
At the very least, the installer should have a general liability insurance.
No accreditation, no rebate
Another big reason why accreditation is important is that it's a requirement for you to receive the federal government's rebates.
Under the rebate program, you'll only receive the Small-scale Technology Certificates (STCs) if your solar system is installed by a CEC accredited solar installer. Without the accreditation, you'll have to pay the full high cost of solar panels and batteries.
Keep in mind; only individual installers can be accredited by the CEC, not companies. There are nearly 4,800 accredited solar installers on the site's list. Take a look at their website and find out which installers are legit.
As with everything else, experience is the key to getting high-quality, long-lasting solar installations. Your installer should therefore have evidence of their years in the installation business.
Ask the company about the experience of each of their installers to ensure they only send experts to handle your job. Going for cheap yet inexperienced solar installers may be cost-effective now, but the potential rookie mistakes will cost you a fortune.
Solar installers should also have a good understanding of their products. They should be able to advise on which solar panels, inverters or batteries to buy, distinguishing each component by efficiency, durability, power output etc.
Customer testimonial and online reviews
You'll learn a lot about a company by simply looking at their customer testimonials. Are their clients happy? Do they recommend their services?
If possible, look for someone in your area who has worked with the installers. Face to face testimonials will always give you an accurate idea of the installer's work.
Online reviews can also tell you how that company does its projects. Pay more attention to the negative comments and use them when negotiating with the installer. A series of bad reviews on one installer should be a sign for you to avoid that installer.
However, ensure that you're reading your reviews from credible sources.
Professional Quote Documentation
You'll know a good installer right from how they present their quote. Professional and experienced installers ensure that their quotes cover every aspect of the installation; From the system designs, to the expected power generation, to the warranty terms. Such a document leaves no room for hidden costs.
Financing options available
Different installers offer different financing models to their customers. And while some installers tend to force their packages to customers, you need to ensure that you're comfortable with the options they're offering you.
Whether you want to purchase the entire system upfront, lease it or take a loan for it, ensure that the installer explains their options in detail to ensure you find the best alternative for you.
If an installer satisfies all of these conditions, you can then move on to the next crucial installation factor, the warranty.
Finding the best warranty for your installation
Every solar installer should offer a warranty for their work. Having a warranty shows that the installer is confident in their installations. It also ensures that your installer will stand by you in case anything happens to your solar system.
Most of these workmanship warranties last for around 10 – 15 years, while the performance warranties for the solar panels mostly last for 25 years.
Before settling on a warranty, ensure that the solar installer offers at least a 90% power production guarantee by the 25th year. This assures you that your pv solar system will be productive for many decades.
If the warranty covers equipment, take a closer look at the details. A good warranty should cover both repairs and replacement costs as well as the shipment costs.
Keep in mind: There are numerous installers in the Australian market who offer you very good warranties but go out of business within the solar system's lifetime. Consequently, they can't help you when you have an issue with your solar.
You, therefore, need to ensure that your installer will be in business 20 – 30 years moving forward.
DIY vs. Professionals Solar installer?
If you have some experience in solar installation, you might be considering DIY the system – which is a good alternative.
However, DIY will only work for homeowners with smaller residential solar systems. For commercial solar systems or the bigger residential solar systems, you will need an installer to complete the installation correctly.
DIY is appealing to some homeowners because it's associated with cost-savings. Since you don't have to pay for the expensive hourly labour costs, you get to dramatically cut down your overall installation costs.
DIY also allows you to install the solar panels as soon as you want – instead of waiting for the dates a professional installation company would give you depending on their schedule. You, therefore, get to enjoy solar power much earlier.
Why Professional solar installers?
Even though professional solar installation is bashed for being quite expensive, it offers numerous benefits that you wouldn't receive in DIY. Among the best of these benefits is the installation warranty.
Most good installers usually offer solid installation warranties covering both labour, repair, and replacement costs.
Professional installers also have more experience in solar installation and can therefore deliver top-quality installations regardless of your home's energy demands. They've also forged partnerships with most suppliers in the market, which allows them to receive the best equipment for installation.
Working with pros will also save you so much time and energy which you can transfer to other activities.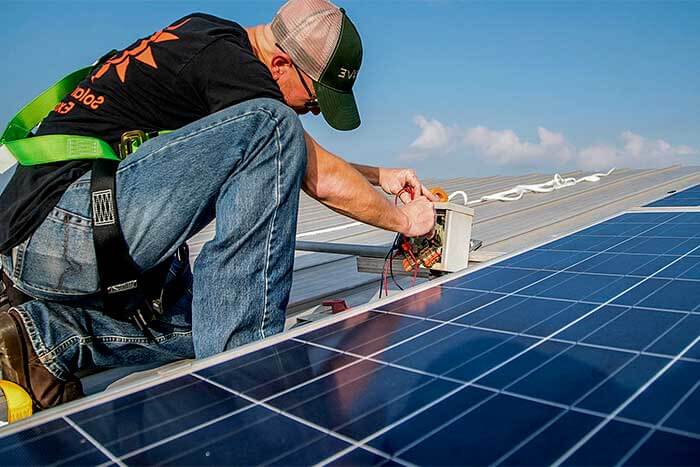 Questions to ask your installer during solar installation
Once you've settled on an installer, you need to ask them as many questions as possible to confirm that they know what they're doing. Asking questions will also help you understand how the installer intends to carry out the process.
Here's an idea of some of the questions you can ask:
What brand of solar panels/inverters/batteries are you using? Are they CEC accredited?
Do these brands have an Australian office in case I need to claim my warranty?
How many inverters will you use? Will you oversize? What size?
Where will you place the inverter? Cables?
How much power do you expect from the solar system? Will it be enough to be sold back to the grid?
What is the panel orientation and tilt angle of the solar panels? Are they facing North or the East-West direction?
Will the system allow me to incorporate solar batteries if I choose to in future?
How does the system handle shading? How does it influence the overall output of my system?
Can I monitor my energy consumption? Can I monitor the output of my system?
How will I know my solar system is performing?
What does your quote cover? Do you cover net-metering paperwork and process?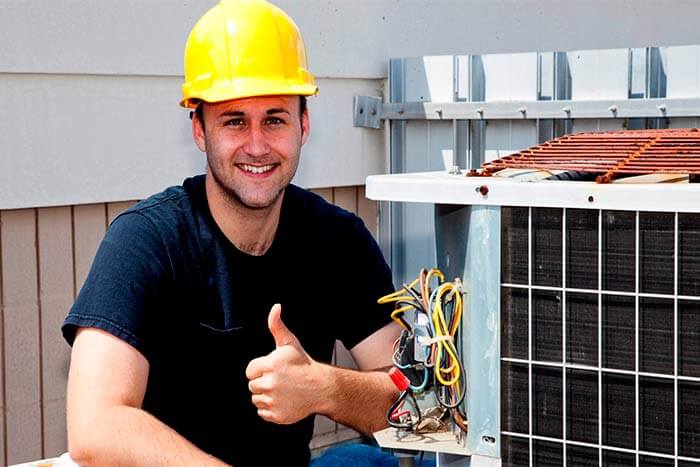 How long will the installation take?
Your solar installer only needs a day to complete the installation. If you're also installing solar batteries, the installation will take 2 – 3 days, assuming your solar system is grid-connected.
For off-grid solar systems, installation may take up to a week since the systems used are much bigger and more complicated.
However, the installation time will vary for each home or business, since each building's energy demand is different. Some factors that may extend or reduce the installation time include:
Roof type – Some roof materials are much easier to mount solar panels than others. For instance, it's much easier to install panels on Metal roofing, due to its thin composition, than on concrete and tile roofs (thicker compositions). It might therefore take more time to fix your panels on such types of roofs.
Weather – Regardless of how well you organize your solar installation days, you can never plan the weather. If it's heavily raining or snowing, you may have to wait for days before you can start the process. A smart way to avoid this is by planning the installation for the warmer seasons.
Roof Access – While accessing the roof is easier for most homes, the same can't be said for commercial buildings. Most buildings in towns are very crowded, making it hard to access the roof. This means that the installation process will take much more time than previously anticipated.
Note: While on-site installation takes 1 – 3 days, the entire process from looking for solar systems to completing the installation takes nearly three months. This is because of the time taken to obtain permits, the city inspections and the connection to the grid.
Types of solar companies in the market
When choosing a solar installer, you should also be able to differentiate between the different key players in the solar market. This will help you know who to turn to when different things go wrong.
Solar manufacturers refer to the companies responsible for the production of the PV solar panels and other equipment. They have the factories and ship the panels to different retailers or sell it directly to the consumers.
Solar financing companies
These companies provide homeowners with alternative ways to benefit from solar energy. These companies usually partner with solar installers to lease, loan or offer solar panels through the power purchase agreement (PPA).
These companies provide all solar services except manufacturing. They sell, finance and also install solar systems.
Vertically integrated companies
Vertically integrated companies are solar manufacturers who handle every aspect of solar, from manufacturing to solar installation.
Solar installers are companies that mainly handle the installation of solar panels on your roof. These companies are the most popular among homeowners as they assess a building's suitability for solar panels and even give quotes for the installation.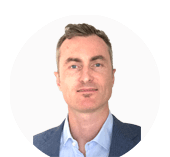 Author: Ben McInerney is a renewable energy enthusiast with the goal of helping more Australians understand solar systems to make the best choice before they purchase. Having an accredited solar installer in the family helps give Ben access to the correct information, which allows him to break it down and make it easily understandable to the average homeowner.