Updated: June 16, 2022
Opal Solar panels, manufactured by China's leading brand, Astronergy, are among the best tier 1 panels in the industry. Astronergy has been around for 15 years and is one of the most reliable PV product lines in China. In collaboration with the Chint Group, its parent company, Astronergy, is known for producing top-quality solar modules and complete BOS components such as inverters, DC protection, and transformers.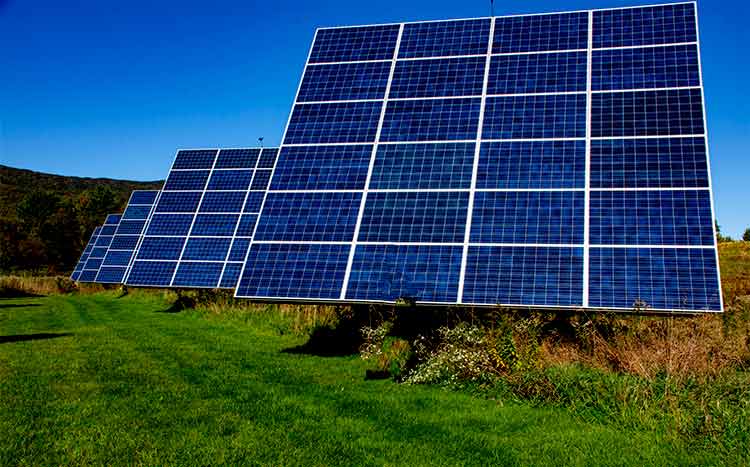 Opal solar panels are highly popular in Australia and boast a high energy efficiency of 19.55%. They are premium Tier 1 solar panels and are among the leading modules in the market.
They have a 10-year product warranty and a 25-year performance warranty that ensures you get the most out of the panels. Besides, these panels are supplied by Solar Juice, a leading PV products supplier in Australia. This means that you can get all the help you need without having to call the manufacturers in China.
Opal solar panels are a top-of-the-line brand manufactured by Astronergy. The manufacturing facilities are ISO 9001 and ISO 14001 certified, which assures you of top-quality panels.
Chint Group, the parent company of Astronergy, has been in the market since 1984 and is a leading global producer of smart energy solutions. This assures you that your investment is safe and that the company will be around to honour their warranty.
In addition, opal solar panels are ideal for rooftop installation as well as ground mounting. Their high module efficiency makes it suitable for all types of roofs, including small ones. More so, the panels are highly durable and can last for 25 to 30 years with proper maintenance.
Opal solar panels utilize inverse opal cell technology that increases their efficiency while reducing solar energy costs. This technology uses 3-D photonic crystals that absorb more light than the traditional thin-film solar cells.
The 3-D crystals have an "inverse opal" structure that uses and enhances gemstone properties to reflect and bend and diffract sunlight.
Typically, sunlight that hits thin-film silicon solar cells bounces back into the atmosphere. This means that much of the sun's energy is lost instead of being absorbed. With the inverse opal technology, the light that comes in becomes diffracted and propagates within the solar panel film in a parallel path.
This new approach increases the panels' efficiency, making opal solar panels more efficient than most silicon solar panels.
Image
Model
Features
Score
OSO
monocrystalline perc modules

19.55% module efficiency

12-year product warranty

25-year product warranty

designed for IEC DC 1500v applications

uses inverse opal cell technology-positive power tolerance(0~+5W)

44 degrees Celsius operating temperature

0.3% annual degradation

silver and black anodized Aluminum alloy frame

water resistant and dustproof

seamless design
QSA
monocrystalline perc module

18.4 module efficiency

Positive power tolerance(0~+5W)

designed for IEC DC 1000V applications

ideal for rooftop or ground mounting

10 year product warranty

aluminium and silver anodized frame

5400pa mechanical loading

0.3% annual degradation

10-year product warranty

25-year manufacturer warranty

seamless design

water and dust resistant
The Opal OSO Series is among the top tier 1 solar panels that offers optimal efficiency with a low degradation rate. These panels meet and exceed the industry standards and provide sufficient energy for over two decades.
Size: 1650mm x 992mm x 40/35mm or 1665mm x 1002mm x 40/35mm
Cell type: Monocrystalline
Cell number: 60 cells
Output: 300W – 315W
Weight: 18.5/17.5kg or 20.1/19kg
The OSO Series utilises inverse opal cell technology that enhances light-trapping capabilities. This increases the efficiency of the panels and brings about a lower solar energy cost. This technology aims at harvesting near-infrared light to increase the output of the panels.
The efficiency of the OSO Series is exceptionally high. These panels maintain efficiency of about 95% after 10 years and 85% after 20 years. This means the panels will still have an efficiency of over 80% after 25 or 30 years.
Since these solar panels have a low degradation rate of about 0.3%, you can get a good return on investment after 25 years, around the time their performance warranty expires.
With an efficiency of over 80%, the panels can still serve you for a few more years before you replace them. If you properly maintain your panels, they can serve you for three decades or more.
Opal OSO Series solar panels come with a 12-year product warranty and a 25-year performance warranty. A company that provides back-to-back warranties for their products gives you peace of mind and assures you that your investment is safe.
These panels are supplied by Solar Juice, Australia, which makes it easy to follow up on your warranty in case of issues. Also, you can get fast and reliable after sales services because you will not need to call China offices.
During the best weather conditions, the OSO Opal Series can have a peak performance of 320W. This gives it a high module efficiency of 19.55%. It is essential to know the best orientation angle of the panels to make sure they get the most sunlight.
In Australia, most homes have a 20 to 30 degrees roof pitch to optimize solar energy generation. Panels installed at an angle of about 10 to 35 degrees also absorb sunlight with undetectable efficiency loss.
Besides the angle, most solar panels in Australia face north to get the best energy output. This is because Australia is in the Southern Hemisphere, which means the sun is usually directed from the North.
Panels needed for 6.6kW solar system
These panels have a high module efficiency, which means 20 panels will be enough for a 6.6kW or 6,600W solar system. If your home has limited roof space, this system will be an ideal pick because the panels are slim and space-efficient. Your installer will measure your roof space and determine whether it is enough to support the system you want.
Datasheet: OSO Series
Opal QSA Series solar panels are another high-quality option for solar energy for Australian homes. The QSA Series is available in QSA-60M monocrystalline perc modules and QSA-60P multi-crystalline silicon modules. Both modules are highly efficient with a positive power tolerance.
The following outline is for the QSA-60M Series.
Size: 1648mm x 990mm x35mm
Cell type: Monocrystalline
Cell number: 60 cells
Output: 285W – 300W
Weight: 18.3kg
Just like the OSO Series, Opal QSA Series utilise inverse opal cell technology. This means the panels' efficiency is increased compared to the conventional solar cells. The inverse opal technology uses synthetic 3-D photonic crystals to improve sunlight absorption.
These crystals have enhanced absorption power that limits energy loss. Thus, light becomes reflected, diffracted, and bent for maximum absorption by the cells, rather than bouncing back to the atmosphere.
Getting high performance at a low cost is the dream of every homeowner and solar energy provider. With the inverse opal technology, the light-trapping capabilities in silicon thin-film cells will be substantially increased.
QSA Series has a low annual degradation rate of 0.3% per annum. During the first years, the panels' efficiency may show a degradation rate of about 2% to 3%. This rate goes down during subsequent years.
The panel may have an efficiency of about 96% for the first 10 years. By the end of 20 years, the panels will exhibit an efficiency of about 83% to 85%.
This is a good sign because the panels will still be effective even after they reach their lifespan. The system can still have an efficiency of 80% by the time it reaches 25 or 30 years. So, you can use your panels for up to 4 decades, at which time their efficiency will have gone below 80%. At this point, the efficiency of the panels will decrease significantly, so you will be required to replace them.
Opal QSA Series have a product warranty of 10 years and a performance warranty of 25 years. The warranty will cover the cost of the solar parts and labour during the entire period.
Although these panels are manufactured by Astronergy, they are supplied by an Australian company called Solar Juice. This company assumes all warranties, giving consumers an easy time if issues arise.
In case your solar installer goes out of business before the warranty period elapses, the warranty shifts to Solar Juice. Investing in Opal solar panels is, therefore, safe because the manufacturer and supplier stand behind their products.
These panels have a peak performance of 300W during the best weather conditions. Their 60-cell module has an 18.4% efficiency, which makes the panels highly effective. Solar systems should be installed at the best angle for optimal sunlight absorption.
During the installation, the contractors will examine your roof and determine what angle will provide peak performance. The energy output of the system however depends on its size. For instance, a 10kW system offers a high power output than a 5kW solar system.
Datasheet: QSA Series
Opal Solar head office is in Smithfield-Wetherill Park Industrial Estate, Sidney, Australia. This is currently the largest industrial estate in the southern hemisphere. It is also the heart of manufacturing and distribution of products in Greater Western Sydney.
Why an Australian office is important
Having an Australian office is essential to improve customer service to all Opal solar panel consumers across the country. Customers may face issues with warranties or the efficiency of the panels. Instead of calling China offices for help, customers can contact local offices in Australia for more personalised services.
Besides, customers will no longer have to rely on local installers that tend to be unreliable and unprofessional when issues arise.
Solar Juice, an Australian Company, supplies Opal Solar panels which are manufactured by Astronergy, China. Since Solar Juice is the official importer of the panels, it becomes responsible for the warranties of the panels. This means you can get all the services you want and have your issues sorted right in Australia.
Opal solar panel specification/ datasheet
| | OSO | QSA |
| --- | --- | --- |
| Cell Number | 60 cells(6 x 10) | 60 cells(6 x 10) |
| Cell Type | Monocrystalline perc module | Monocrystalline perc module |
| Power Output | 300W - 315W | 285W – 300W |
| Nominal Power Voltage | 33V | 30V |
| Power Density | 1.5 J/m3 | 1.5 J/m3 |
| Panel Efficiency | 19.55% | 18.40% |
| Annual Power Degradation | 0.3% | 0.3% |
| Dimensions | 1650mm x 992mm x 40/35mm or 1665mm x 1002mm x 40/35mm | 1648mm x 990mm x35mm |
| Weight | 18.5/17.5kg or 20.1/19kg | 18.3kg |
| Product Warranty | 12 year | 10 year |
| Performance Warranty | 25 year | 25 year |
| Operational Temperature Range | 44±2 °C | 46±2 °C |
| Made in | China | China |