Sonnen Solar Battery Cost & Review 2023
Updated: December 6, 2023
Sonnen Batteries or as their trademark goes SonnenBatterie is a rising star in the world of solar batteries in Australia, so much so they have begun building them locally in their Adelaide factory.
You can expect a 6kWh SonnenBatterie to cost $9,375 inc. GST. The price ranges all the way up to $15,175 inc. GST for a 14kWh model.
There are other factors to consider when it comes to the extra cost of a solar battery on top of the already high cost of solar installation.
The Australian government has already introduced a solar battery rebate to receive up to 50% off the price of the battery. This is going to go a long way to making a Sonnen Batterie well worth it.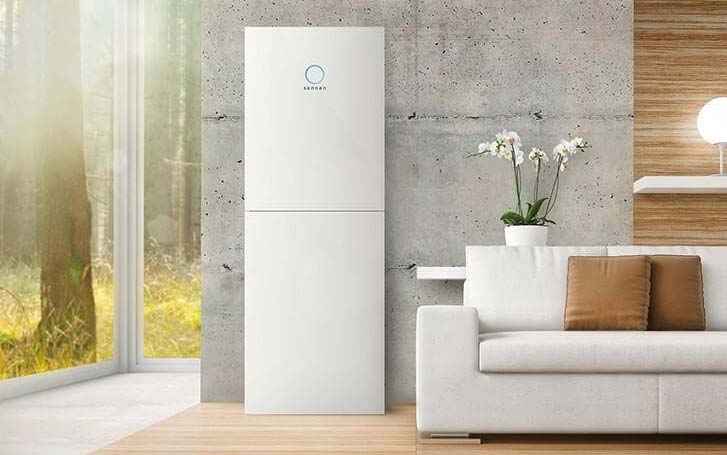 Sizes available:  5 kWh to 15 kWh. (expandable in steps of 2.5 kWh)
One-way efficiency:  98%
Batterie type: Lithium Ferro phosphate
The output: 90% of its storage capacity. (5kWh outputs 4.5kWh).
Design lifespan: 20 years
Warranty: 10 years or 10,000 charge cycles
Indoor/ Outdoor: Can be mounted outdoors
System intelligence: Predictive charging for optimal efficiency 
SonnenBatterie kWh Output?
Sonnen claims that their battery efficiency is close to 98% from all installations. So you can get the following outputs even if you derive an average of 90% output-
| Capacity | Output |
| --- | --- |
| 2.5 kWh | 2.25 kWh |
| 5.0 kWh | 4.45 kWh |
| 7.5 kWh | 6.75 kWh |
| 10.0 kWh | 9.0 kWh |
| 12.5 kWh | 11.25 kWh |
| 15.0 kWh | 13.5 kWh |
You can always get a nominal voltage of 48 V from all storage capacities.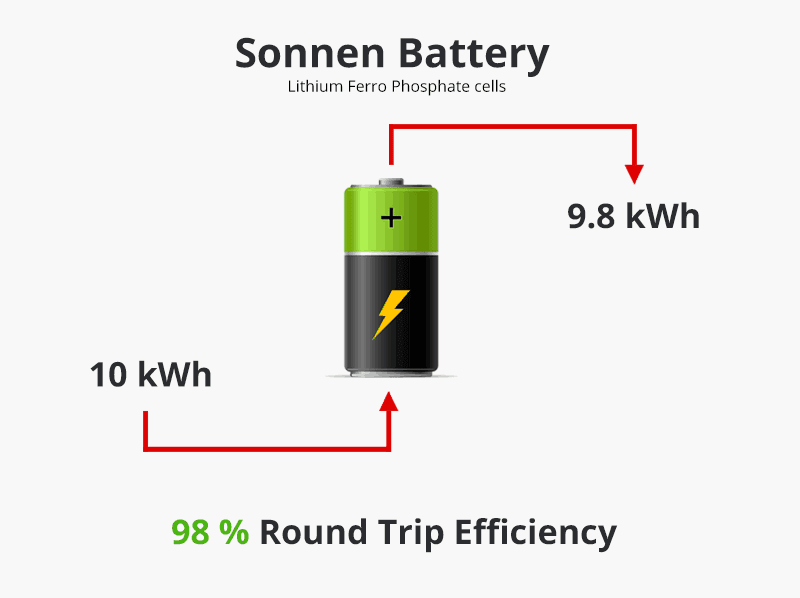 Sonnen Battery's Round Trip Efficiency
The maximum inverter efficiency for the 8th generation sonnenBatterie eco built-in inverter is 96%. The maximum battery efficiency given by the company is 98%. Sonnen doesn't confirm whether the values are round-trip efficiencies, so we will assume they are one-way.
That means the maximum round trip efficiency you can derive with respect to power into power out is around 87%. So in order to get an output of 1 kWh of energy, you will need approximately 1.15 kWh of solar energy.
The total life of a Sonnen Battery
Sonnen says that their batteries are designed to last for 20 years. They even provide a warranty for ten years or 10,000 charging cycles which are the highest in the industry. You will probably reach close to 20 years before you even complete the 10,000 cycles.
Consider this
Even if you have 2 charging cycles each day, it will take 13.7 years to reach 10,000 cycles. That means sonnenBatterie eco can have a total life of close to 20 years as claimed by the company.
However, like all rechargeable batteries, you need to maintain a controlled environment to derive a longer lifespan. Sonnen Eco models have an ambient temperature range of 5 degrees to 40-degree Celsius and even offer a cooling system in case you exceed the limits.
| Capacity (eco 8th generation) | Charging time (approx) up to 90% |
| --- | --- |
| 2 kWh | 1.5 hours |
| 4 kWh | 1.5 hours |
| 6 kWh | 2 hours |
| 8 kWh | 2.5 hours |
| 10 kWh | 3 hours |
| 12 kWh | 3.5 hours |
| 14 kWh | 4 hours |
| 16 kWh | 4.5 hours |
Note: Sonnen is a smart battery and there's no damage even if it's fully charged and your PV is still generating. The battery will cut off the power and export the energy back to the grid.
Sonnen Solar Battery Vs. Tesla Powerwall
Tesla is a reputed name in the world of renewable energy. Along with electric cars, Tesla's home energy storage systems have also gained popularity among homeowners.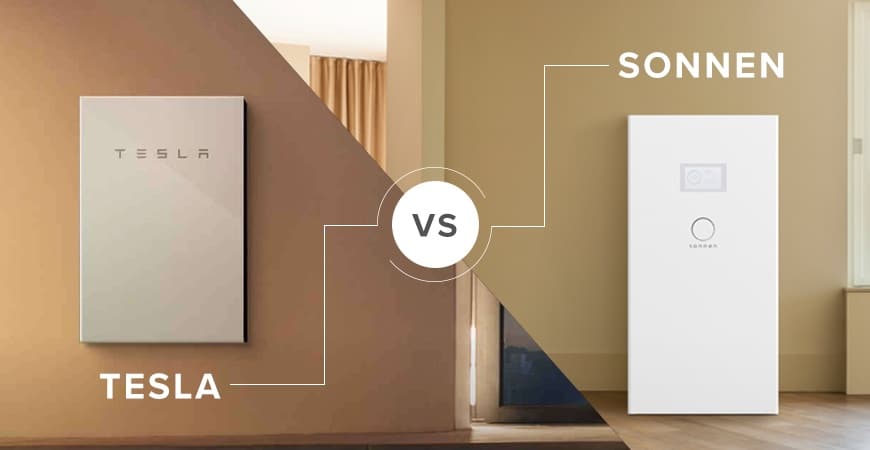 Similarities
Both are smart energy systems that optimize your solar energy consumption
You can use mobile apps to monitor and manage your energy systems
Both are automated systems and install easily with your solar panels
You get a complete setup with an inbuilt inverter
You don't need any maintenance
Both have a warranty of 10 years and ensure 70% minimum storage capacity
You can qualify for subsidies and low-interest loans on both
Differences
Sonnen batteries are available in sizes of 5 kWh to 16 kWh whereas Tesla batteries come in 13.5 kWh
Tesla can be scaled up to 10 Powerwalls whereas Sonnen can be scaled up to 3 batteries (maximum 45 kWh)
Sonnen battery has an efficiency of 98% while Tesla offers 90% round-trip efficiency
Sonnen uses superior Lithium Ferro Phosphate cells as opposed to Tesla's Lithium NMC
Tesla provides an inbuilt thermal cooling system which is not readily available in Sonnen batteries
Tesla is weather rated for outdoor installation while Sonnen can withstand up to 45-degree Celsius
Tesla 13.5 kWh system costs around $13,400 while Sonnen 12.5 kWh batteries cost around $14,200
That's about it for now from our guide on Sonnen solar batteries.
Based on the above specs, I'm a little torn. The price of each system is pretty similar and so are the rest of the specs.  I would go with a Sonnen as they can withstand more extreme temperature fluctuations when mounted outdoors. They also have superior round-trip efficiency.
Government Schemes and Rebates
New South Wales
Residents of South Australia can enjoy reduced rates on their solar panel installations with storage batteries. It's part of the $100 million Home Battery scheme from the South Australian Marshall Government. You can get direct subsidies, low-interest loans, or a combination of both on renewable energy systems.
Various financing options are also available from the Commonwealth Government's Clean Energy Finance Corporation. Sonnen systems qualify for being a safe, modern and easy-to-use technology and hence the cost savings.
So how much are we talking about?
South Australian Energy concession holders can expect a subsidy of $600 per kWh.
All other homeowners will get $500 per kWh on their installation.
You can enjoy up to $4,839 in subsidies on each battery for now.
There are 40,000 grants available from the government
What is the sonnenFlat Tariff?
Sonnen offers a unique way to lower your energy bills through the sonnenFlat scheme. You can apply to join the Sonnen community and get clean energy instead of depending on conventional providers like AGL or Origin.
When you sign up for sonnenFlat, you are giving permission to Sonnen to take control of your batteries and inverter. Sonnen becomes your energy retailer and supplies you with all the power you need in excess of your household's production. Sonnen acts as a power exchange for all its customers enabling you to draw or export power based on your needs.
Right now, sonnenFlat is available only in TAS, ACT, SA, NSW, and QLD (Energex region).
Here are the plans you can opt for-
| SonnenFlat Plans | Economy | Family | Autonomy |
| --- | --- | --- | --- |
| Minimum solar capacity | 5.0 kW | 7.5 kW | 10.0 kW |
| Minimum Sonnen battery capacity | 8 kWh | 10 kW | 12 kWh |
| Total yearly energy allowance | 7,500 kWh | 10,000 kWh | 12,500 kWh |
| Minimum annual generation (in order to qualify for sonnenFlat) | 6,515 kWh | 9,198 kWh | 12,264 kWh |
| Monthly charges | $42 | $52 | $62 |
The Economy plan will be suitable for most Australian households as the yearly energy requirement is below 7,500 kWh. But if you have high-energy needs, you should consider the Family or Autonomous plans.
If you exceed the yearly allowance, you will be charged a competitive rate by Sonnen per kWh. But in some places like SA and TS, the grid costs less than Sonnen rates.
sonnenFlat also offers feed-in tariffs, but they are generally lower compared to traditional utility companies like AGL or Aurora. You also need to exceed the Annual Export Threshold as follows-
Economy- 1,305 kWh
Family- 1,840 kWh
Autonomy- 2,453 kWh
You can register on the Sonnen website to avail of the sonnenFlat scheme.
Where can you find local Sonnen Battery distributors?
You don't need to go to a shop to buy a Sonnen battery all you need to do is phone a few local solar installers and get prices.
As you won't have the knowledge to install a solar battery yourself, there is no point in going to buy one and then ringing an installer. Plus installers get wholesale rates and sell on for a markup.
You will find most will sell for around the same price, but the installation can vary by hundreds of dollars. So shop around before committing.
How do Sonnen batteries work?
Sonnen batteries provide you with clean energy throughout the day and night. Here's how Sonnen optimizes your power supply-
Mornings
During the morning, your solar panels start generating energy. But the amount of energy is not adequate to meet the high demands during the morning. You may need to run your water heaters, cook food in the microwave and use other appliances.
The extra energy you need is supplied by Sonnen batteries from the stored energy from the previous day.
During the day
Your solar panels generate peak energy during the day when plenty of sunlight is available. But most of this energy is not used as nobody is home at this time. So most of the energy is stored in the Sonnen batteries.
Evening and night
Households have the highest energy consumption at night when solar panels are not generating electricity. But your solar panels are not producing any energy during this period. So your energy needs are met from the stored energy in the batteries charged during the daytime.
What are the specifications?
Sonnen calls its sonnenBatterie eco as the all-in-one solution for residential solar needs. The batteries are made up of lithium iron phosphate cells (LiFePO4) which offer full-proof safety and greater longevity. They are also environment-friendly as the batteries don't contain any toxic heavy metals.
Capacity
The 9th generation sonnenBatterie eco is available in a range of sizes from 5 kWh to 15 kWh. You can expand your battery system by adding 2.5 kWh modules separately with a limit of 45 kWh.
You may also be able to find 8th-generation eco models in the range of 2 kWh to 16 kWh. You can add more capacity through the addition of 2 kWh modules to your system.
Dimensions
Sonnen batteries come in different dimensions based on their capacity, connection type, and cabinet version.
The dimensions of a 9th generation 5 kWh base cabinet are 88 x 67 x 23 cm (height x width x depth). A 7.5 kWh model with cabinet option 3 measures 186 x 67 x 23 cm. The models can weigh anything from 81 kg (5 kWh base model) to 200 kg (15 kWh model).
The base model of the 8th generation 2 kWh eco version measures 70 x 64 x 22 cm. The dimension of the 16 kWh single-phase eco 8 is 184 x 64 x 22 cm. The weight of the systems can vary from 55kg to 273 kg.
Output
SonnenBatterie eco has a high output considering its storage capacity. A 5 kWh system can give you an output of 4.5 kWh. So you can say that the output of the sonnenBatterie eco is 90% of its storage capacity.
System Intelligence
sonnenBatterie eco comes with intelligent software to maximize your energy efficiency. The intelligence system automatically balances household energy consumption during durations of peak energy generation. It also features predictive and intelligent charging, optimizing energy usage based on factors like weather conditions.
System scope
SonnenBatterie eco is a complete storage system ready to be hooked up with your solar power installation.
Operating mode
You can use Sonnen batteries with a single-phase, three-phase, and hybrid connections.
Integrations
SonnenBatterie eco can be integrated with all common heat pumps and other cogeneration units.
What is the Sonnen eco solar battery warranty?
Sonnen offers a warranty of 10 years or 10,000 charge cycles on their batteries. But to enjoy the warranty you need to connect your battery to the internet so that it can receive automatic software updates.
Otherwise, the faults and defects of your battery may not be covered by Sonnen.
Can you install the Sonnen battery outdoors?
Sonnen batteries are made for installation inside a protective place like your garage or home. The systems can endure up to 45 degrees Celsius of heat and are not ideal for outdoor installation. In case you do need to install it outdoors, you need to buy a separate casing.
You may also need to install a cooling unit that is available for purchase separately.
How well does a Sonnen Battery work with an Enphase inverter?
Generally, you need to install an inverter with your solar panels when you want to store AC current in any battery storage system. Enphase Energy is a well-known microinverter manufacturer providing inverters for PV systems. So do you need to install an Enphase inverter for Sonnen batteries?
As we already said, Sonnen offers a complete package with an inbuilt inverter in Australia. So you don't need to install a separate Enphase inverter which saves you cost and effort.
If you somehow find a Sonnen system without an inverter, then you can go ahead and use an Enphase inverter without any troubles. Just make sure the size is big enough to charge your batteries adequately.
How do you tell if your Sonnen battery is not working?
You should keep your eyes on the Sonnen logo on the front of the storage unit. If anything goes wrong, you will see the logo changing colors, or it can also turn off.
When your Sonnen battery malfunctions, an automated notification is sent to the local technical team who fix your device remotely or send a technician.
Is it possible to go "Off-Grid" with Sonnen batteries?
Sonnen batteries are an ideal way to manage your energy bills, but they may not be suitable for going completely off-grid. The Sonnen batteries like other battery storage systems can store limited hours of energy. That means you won't be able to go off-grid with even a 15 kWh system as the daily household energy consumption is around 17 to 20 kW per day.
If you are really considering going off-grid, then you may need to invest in a high-capacity Sonnen system of 45 kWh. But that is a costly proposition and suitable mostly for commercial purposes.
How much backup does the SonnenBackup-Box deliver?
Sonnen provides an emergency power option to deal with power outages. The sonnenBackup-Box can be easily installed with sonnenBatterie systems and delivers up to 2.8 kW for a single phase.
If you pair the sonnenBackup-Box with a 10 kWh battery system, you can derive enough power to drive your lights, internet router, and refrigerator for the whole day.
What is the Sonnen battery app?
You can download the Sonnen battery app on your mobile or tablet to monitor, manage and view your complete energy generation and consumption. The app syncs with your Sonnen battery system and displays the status of your batteries and historical data. You can see the amount of power generated and consumed by your home with the touch of a button.
The app also offers comprehensive data about the energy consumed from the grid and the amount exported back. You can also seek assistance and resolve your queries about Sonnen installations through the app.
Sonnen battery app is available to anyone who purchases a Sonnen system in Australia.
How is Sonnen battery using blockchain technology?
The use of blockchain is becoming popular in the energy sector. The aim of the technology is to bring decentralization in the industry and enable the peer-to-peer sale of electricity between households. The concept is really simple- the extra energy your solar panels produce in excess of household consumption is sold to other homes connected to the same network.
This is also the basis of the Sonnen Community and the sonnenFlat scheme where households sell power to their neighborhoods and also stabilize the local grid (discussed later).
Blockchain technology was initially developed to record the transactions of cryptocurrencies. But the technology proved to be useful for any application where you need a transparent and decentralized way to record information.
The use of the technology will enable both Sonnen and the homeowners to track every kWh traded on the platform. Additionally, the transactions will also be transparent and need no extra costs for energy trading.
Sonnen has already started the project in Europe and now testing it out in Australia.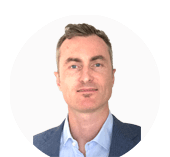 Author: Ben McInerney is a renewable energy enthusiast with the goal of helping more Australians understand solar systems to make the best choice before they purchase. Having an accredited solar installer in the family helps give Ben access to the correct information, which allows him to break it down and make it easily understandable to the average homeowner.