Step 1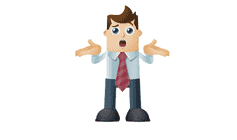 Tell Us About
Your Solar Job
Step 2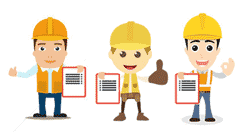 Up to 4 Solar Installers Compete
For Your Business
Step 3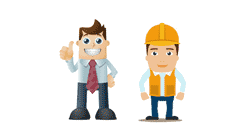 You Choose
The Best One
How it works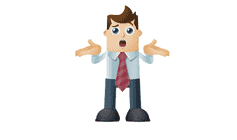 Tell Us About
Your Solar Job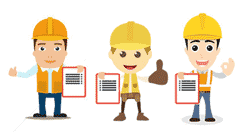 Up to 4 Solar Installers Compete
For Your Business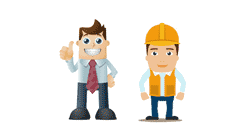 You Choose
The Best One




Solar Battery Storage
With solar energy, of course, comes the inevitable question regarding solar battery storage. Should you get solar battery storage in Australia, and if yes, what do you need to consider before making the financial commitment?
This is a comprehensive but simple to follow guide for Aussie homeowners and small businesses looking to buy solar battery storage for their existing or new solar PV system. We show you, among other important things: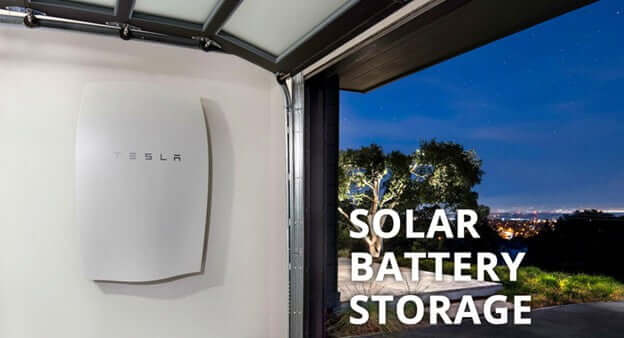 How to select solar battery storage – This answers questions regarding the type of batteries you should go for, such as; lithium-ion, lead-acid, among others.
How much do batteries cost in Australia – Solar batteries can be cheap or expensive depending on where you live and the type or brand you go for. There is a price guide in this guide to help you make the right choice.
Sizing your batteries for maximum efficiency and ROIs
Solar battery rebates you might be eligible for in your state or city across Australia, and so much more.
If you are thinking about buying solar batteries in Australia and need some useful information, you've definitely come to the right place. Let's start with some advice about solar battery types used in Australia, shall we?
What Is the Best Battery for Solar Storage?
Most salespeople will be quick to point you towards one solar battery over the other without really caring how it fits your needs or current solar PV system. For instance, many guides often mention, in very particular, but often incorrect terms that lithium-ion batteries are the best.
Factors to consider:
Depth of Charge
Capacity & power rating
Number of charge cycles
Maintenance
Lithium ion batters do last longer and hold more change in a smaller space, but they do cost more than other battery alternative like salt water and lead acid batteries.
The truth is, there are several criteria you should use to decide is solar storage product is right for you as we shall explain now:
Depth of Discharge - How Much Can You Use?
The depth of charge refers to the percentage of battery capacity used while the battery in use. Every solar battery out there has a fixed depth of discharge that dictates how much of the saved-up juice you can use before you need to discharge. For instance, low-quality solar battery storage may have as low as 50% depth of discharge. This means if you bought 5kw of this type of battery, you wouldn't be able to use more than 2.5 of its capacity without affecting its rated lifespan.
Ideally, you should go for a solar storage battery with a high depth of discharge (DOD) as you can afford. Of course, the higher the DOD, the higher the cost of battery – but it's clearly worth it. With this consideration, lithium-ion batteries tend to be superior in terms of depth of discharge as they can be fully charged and discharged without much performance degradation. On the other hand, you might have to make do with not fully utilizing full charge on cheap lead-acid batteries.
Below are some graphical comparisons between lithium batteries vs. lead-acid batteries as far as depth of discharge percentages is concerned.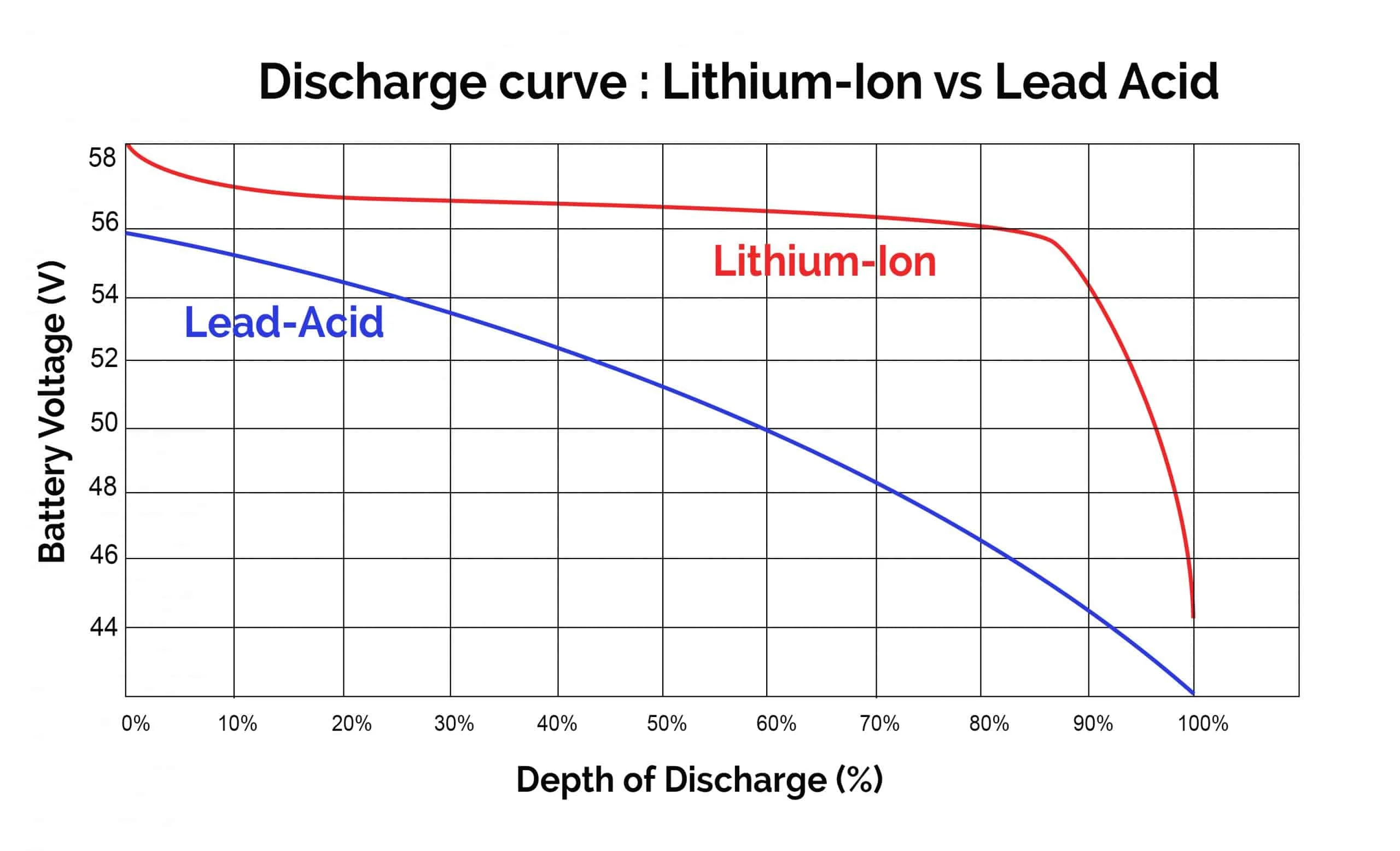 Check Solar Battery Capacity and Power Rating
Battery capacity is perhaps the most apparent criteria people use to choose any sort of battery storage. Capacity, as the name suggests, refers to the amount of energy a battery can hold when fully charged. For instance, a 5Kwh battery can hold the store the same amount of energy.
Battery capacity: kWh of storage (e.g 14kWh battery)
Power rating: How much power can flow in and out of your battery at any given time
However, looking at battery storage alone isn't enough as far as backup solar battery storage is concerned.  You also need to look at a battery's power rating to decide if it the right for your solar PV storage and consumption requirements.
Without going into too much detail about power ratings refers to how much power can flow in and out of your battery at any given time. Another way to look at it is how long it takes your battery to fully charge and discharge.
If you need a lot of power in a short window of time, then you need a battery with a high-power rating. On the other hand, you can go for one that has a low power rating and high capacity if your consumption is stretched over a long time.
Now, most folks installing solar PV systems in Australia generally need battery storage to be used at night. In this case, it's very common that average Aussie homes require a stack of medium capacity low power rating batteries that can run the entire night before they need to be charged again.
You will need a stack of low to medium capacity solar batteries with a very high-power rating if you'll be running heavy equipment in short periods. For instance, operating heavy electrical equipment in your workshop on solar batteries will definitely work better with a bigger stack of high-power batteries.
As a recap on capacity and power ratings as far a solar battery is concerned:
Solar battery capacity refers to the amount of energy/electricity a battery can hold in Kwh
Power rating refers to how much juice you can get from a battery within a given period- the higher the power rating, the faster you can get the juice, and the faster it discharges, and vice versa.
Most homeowners would go for a high capacity, low power rating battery pack unless they are running heavy appliances that need a lot of energy in a short period.
The rate of discharge (power rating) you need might also influence whether you can go for lithium-ion or lead-acid batteries.  While lithium-ion batteries may be expensive, they do provide more power and tend to have larger capacity vs. mass. However, lead-acid batteries could suffice for low power consumption spread over longer periods, although the amount of power discharged for use will dissipate with time.
As you can see from the above graph, high power lithium-ion batteries tend to produce constant electricity to the end and discharge completely, while lead acids tend to take longer to discharge, but power dissipates over that period.  Think of a flashlight that dims out as the battery runs out and one that gives the same light but can't turn on when the battery is fully discharged. The former represents a lead-acid solar battery in our scenario, and the latter represents a typical lithium-ion battery.
Battery Lifespan or Number Recharge cycles
Like the battery on your car or mobile devices, any solar battery you purchase today will have a limited number of recharge cycles before its performance degrades significantly. Typically, a good solar battery should be having at least five years' worth of recharge cycles that also covered under its warranty about 5000 cycles. That said, newer lithium-ion batteries tend to have a longer life and can be recharged and discharged more than their lead-acid counterparts.
As a rule of thumb, always look at the long term when making a purchase decision regarding solar batteries. If you are fine about having to replace your battery pack after a few years, then going for a cheap lead -acid battery stack would be up ideal for you.
| Batteries | Charge Cycles | Capacity/ Efficiency | Warranty |
| --- | --- | --- | --- |
| Lithium Ion | 10,000 | 85% | 10 years |
| Lead Acid | 500 – 1,000 | 40% | 1 – 2 years |
| Salt water | 3,000 | 85% | 5 years |
Cheaper lead-acid batteries are also ideal for budget buyers who don't care much about the longevity of their batteries.
On the other hand, those looking at the long term and would love to have a maintenance-free battery solution for their solar product should definitely consider investing in pricier lithium-ion battery solutions. Of course, battery lifespan also depends on other factors such as DOD, inverter quality, and, more importantly, climatic conditions.
The above graph indicates the typical trajectory taken over cycles with regard to battery lifespan. As you can see, AGM (which represents lead-acid batteries has a sharper decline over cycles as compared to the others.
Solar Battery Maintenance Requirements
An important consideration when it comes to solar batteries is the maintenance requirements that come with a particular battery choice. Some lead-acid batteries require acid refills every few months while others are made to be recombinant and therefore require less maintenance. The kind of maintenance required will also influence how and where you install the batteries. Maintenance-free batteries can be installed in a sealed space and remain there for as long as they are in use. Their counterparts, on the other hand, will need an accessible room and will need to be installed in an open container facing up to allow for regular maintenance.
| Batteries | Needs maintenance? | Frequency |
| --- | --- | --- |
| Lithium Ion | No | Never |
| Lead Acid | Yes | 2 – 4 times per year |
| Salt water | No | Never |
Recyclability
The whole point of having solar energy, at least in Australia, is to reduce the negative environmental impact that fossil fuels and non-recyclables have. Generally, you should go for batteries that can be recycled easily or observe the proper disposal guidelines, especially since most solar batteries can be toxic when disposed of.
Cost- Does it Matter?
You shouldn't be looking at cost when purchasing long term solar products such as batteries. While solar batteries remain prohibitively expensive in Australia, some states do offer rebates on battery purchases. In contrast, others offer interest-free loans that we shall cover in greater detail later. That said, your budget dictates what kind of solar product you can buy, especially if there are no rebates where you are.
Buy deep-cycle lead-acid batteries if you are on a shoestring budget and not interested in high power ratings.
Buy lithium-ion batteries if you have the budget for them and need better performance, less maintenance, and higher power ratings.
Approval by The Australian Clean Energy Regulator
If you are like most Australians, you will probably take advantage of the federal STC-based solar rebates to reduce your solar installation cost. A catch that you might miss in the rebate system is using batteries that are approved by the industry regulator that is also in charge of STC approvals.
While the regulator is very particular about their not covering batteries in the STC rebates, they also point out that any additional components to the installed solar PV system must meet safety and quality standards. The risk of using unapproved batteries is not having your STC rebate claim approved and having to pay full price for your entire solar PV install.  Luckily, your accredited solar installer will see to it that your batteries are of the required standard and installed properly for CER approval.
So, having mentioned lithium-ion and lead-acid solar batteries more than a few times, it's time to compare the two and discuss other options that may be available for you:
Lead Acid Solar Batteries- What to Expect
They've been around for over a century and probably the most common type of battery among budget solar users. Lead-acid batteries have the benefit of being affordable, easy to install and integrate with any solar PV system, and recyclable provide safe disposal guidelines are carefully followed when that time comes.
Budget aside, there are two types of acid-based solar batteries;
Sealed acid solar batteries are pricier but easier to work with as compared to Flooded Acid solar batteries.
They've been around for over a century and probably the most common type of battery among budget solar users. Lead-acid batteries have the benefit of being affordable, easy to install and integrate with any solar PV system, and recyclable provide safe disposal guidelines are carefully followed when that time comes.
Budget aside, there are two types of acid-based solar batteries;
Sealed acid solar batteries are pricier but easier to work with as compared to Flooded Acid solar batteries.
Sealed Lead Acid Batteries
As the name suggests, sealed acid batteries are sealed and use a different chemical composition and storage mechanism that does not require acid or water refills.  They are perfect for installations that are meant to require as little maintenance as possible. Sealed batteries can be divided into those that use absorbent glass mat (AGM) and those that use gel.
Advantages of sealed acid batteries
They don't discharge in storage, even when they are not in use- They are perfect for remote or rarely used country cabins or caravans that you visit occasionally.
They don't require much maintenance- No refills or hydrating.
They have the benefit of being low DOD, which means they can serve energy for longer periods.
They do not produce any gas or odor and therefore safe to install anywhere in the house
Sealed acid batteries are relatively more durable than their flooded acid counterparts.
They are deep cycles meaning they can be deeply discharged without losing performance within the normal performance lifespan.
They can be installed in any position or orientation – this is in contrast to their flooded acid counterparts that must be installed in a vertical orientation to prevent spillage and aid optimal performance.
They are resistant to vibrations and physical shocks such as earthquakes and normal movements. This is perhaps why those using moving caravans would want a sealed gel mat as opposed to a regular flooded acid.
Disadvantages of sealed acid solar batteries
Most gel mat and other types of sealed batteries can be pricy. However, that should not put you off from purchasing them if you have the budget. They are way better than wet/ flooded solar batteries.
They might need to be heat controlled
They are not ideal for high consumption needs due to their low power rating.
Flooded lead-acid solar batteries
A cheap option for budget buyers, flooded acid batteries are deep cycle and usually have low power ratings. They are perfect for day to day use and can give energy for long periods as required in a typical home setup.
Flooded Lead Acid Solar Battery Advantages
They are relatively affordable as compared to all the other types of solar batteries
They can be integrated easily with any solar PV system out there.
They are easy to install and maintain
Flooded lead-acid batteries are readily available across Australia
They are 99% recyclable
Flooded Lead-Acid Disadvantages
They need close maintenance- refilling with water every few months
They must be installed in a fixed orientation
They tend to be bulkier than other solar batteries such as lithium-ion
Most flooded lead-acid batteries emit fumes and odor. This means they need to installed in a well ventilated and secluded space away from living areas.
Are Lead-Acid Solar Batteries A Good Option In Australia?
Lead-acid batteries are quite common in Australia despite their shortcomings and a shorter lifespan. You could never wrong with a safely installed, approved, and well-maintained lead acid solar battery if that is what you can afford.  You should go for lead-acid batteries if:
You are on a budget
Don't need to power heavy equipment and have short high-power consumption cycles.
You are considering going off-grid- You will need battery storage, and lead-acid batteries are cheap enough for that.
You don't mind having to do regular checks and maintaining your batteries.
Lithium-ion Batteries- What to Expect
While there is still a market for other solar battery types such as lead-acid, lithium-ion batteries are slowly becoming the most popular choice. This is especially true in Australia, where lithium-ion batteries take the biggest percentages of sales in the solar market.
Lithium-ion batteries are not new. They have been around for several decades now, popularly used to power mobile electronics such as handheld telephones, walkie talkies, torches, among other things. It's just now that lithium-ion batteries have seen significant uptake in the green energy sector with accounting for most of the sales. While it might seem like a natural choice for lithium ions solar batteries, their pricing in Australia can be off-putting to some buyers, especially those with considerable storage and daily consumption. However, cost shouldn't be the primary criterion when buying solar batteries, as mentioned earlier.
Advantages of Solar Lithium-Ion Batteries
They have zero maintenance- You only need to install your lithium-ion battery pack and wait for its lifetime to lapse before you get new ones.
They provide deep discharge (DOD) – significantly higher than any other solar battery available in Australia.
Lithium-ion batteries have a long lifespan as compared to other batteries out there.
They are relatively small and compact, making installation a breeze.
They are believed to be more efficient in discharging power
They don't produce any gas, odor, or fumes. Lithium-ion batteries can be installed anywhere in the house provided safety standards are adhered to.
Disadvantages of lithium-ion batteries
They can be expensive as compared to other alternatives
They may require additional protection from overcharging- required a protection circuit
They can age when they are not in use
All in all, choosing between the two types of batteries may come down to your individual needs and budget. A new type of battery worth noting is the saltwater battery. It' not widely available in Australia but may have some promise in making fully recyclable solar battery storage in line with the green agenda.
Solar Battery Storage Price
Pricing for battery storage in Australia depends on several factors, such as government incentives, demand, capacity, and type of battery. For instance, a typical 7.4 Kwh off-grid battery from a reputable manufacturer would cost anything from $6500 going up and about $8000 with an inverter and other peripherals installed.  Different manufacturers have different prices, as you can see from the solar battery price list on this website.
Below are some average lithium-ion solar battery prices in Australia. These are for the most common battery types:
| Solar system size kWh | Daily output | Battery size needed (Kwh) Lithium-ion | The average cost in Australia |
| --- | --- | --- | --- |
| 3kWh | 12 kWh | 8.4 KWh | $7000 - $9000 |
| 4kWh | 16 kWh | 11.2 KWh | $10,000 - $12,000 |
| 5kWh | 20 kWh | 14 kWh | $12,000 - $14,000 |
| 6kWh | 24 kWh | 16.8 KWh | $15,000 - $18,000 |
| 8kWh | 32 kWh | 22.4 KWh | $20,000 - $25,000 |
| 10kWh | 40 kWh | 28 kWh | $25,000 - $31,000 |
The above battery size recommendations are based on most households use 70% of their electricity after dark when solar panels are no longer generating electricity.
How to size batteries for solar storage
Sizing your batteries for storage refers to deciding the right battery size capacity that will fit your consumption needs and be able to store all the energy coming from your solar PV system. In doing this, you'll be avoiding wasting money on battery storage that you don't need or under-sizing your batteries leading to a shortfall and having to spend part of your daily yield to the grid.
Daily consumption in kWh / 4 = Solar system size needed
Daily consumption x 0.7 = Battery size required
There are a few questions you can use to size your solar battery storage appropriately. They include:
1. How Big Is Your Solar PV System?
Assuming you receive sufficient solar radiation in your area, your battery storage should at least be close to your daily yield or half of it if you will be using some of the electricity during the day. For instance, a 10Kw solar PV should be matched with at least 5kw battery storage. You should aim at getting as close to your daily yield capacity if you want to maximize your solar utilization.
2. Are You Going, Off-Grid?
Going completely off-grid requires a bigger battery matched with an equally large solar PV system.  The average battery size for off-grid residential systems is 10KWh. If you are not going off-grid, then you might consider saving money by purchasing a small battery capable of providing backup power when it is available.
3. Your Budget
Batteries are still quite expensive in Australia. The amount of money you have will influence what type and size of solar battery you can purchase. You can save some money If you happen to have a solar battery rebate or interest-free loans in your state.
4. Your Daily Energy Consumption
Ideally, your battery should be able to cater for your daily consumption. Daily consumption is measured in Kilowatt-hours. Now it might be as simple as it sounds. Ideally, your battery should store half of your daily yield that should be enough to power your house for longer.
Are solar batteries cost-effective?
For most Australians, investing in solar batteries is not cost-effective because of the high initial cost. Batteries are covered under any green energy rebate in most states, and those that have are provided under strict conditions. That and the generous feed-in tariffs make investing in batteries unattractive for most Aussies.
Will Solar Batteries Get Cheaper?
There is evidence that solar battery prices will fall as solar uptake increases with time. The aim is to have most Australians either using grid-connected systems or to go completely off-grid by 2030. This is apt for the country's aim to cut emissions from fossil fuels.
Is There A Rebate On Solar Batteries?
Some states do offer solar battery rebates and interest-free loans to their residents. Here is an overview of solar battery rebates in various Australian states and territories
Victoria – Victoria has, by far, the most generous rebate on solar batteries in the country. As of March 2020, Victorians with existing solar PV systems were eligible for a battery rebate of up to $4,838. More information about the rebate can be obtained from the Victorian energy website.
NSW solar battery rebate– The NSW government provides eligible residents with interest-free loans of up to $14,000 to go towards the purchase of solar batteries.
ACT- Through the Next Generation Energy Storage Grants program, the ACT government provides rebates at a rate of $825 per Kilowatt to its residents.
QLD – The QLD government offered interest-free loans for residents who wanted to purchase solar batteries. Sadly, this program is currently closed.
SA – Southern Australians have access to a range of state-level battery subsidies provided by the Clean Energy Finance Corporation. Energy concession holders can get up to $400 per Kwh in rebates,s, and all other households get $300 per Kwh.  The maximum rebate available is $4000.
WA – Western Australians can access interest-free loans of up to $6000 and grants of up to AUD 3000.
TAS – There are no solar battery rebates in Tasmania.
NT – Northern territory residents can access grants of up to $6000 for solar batteries under the Business Battery Scheme.
| State | Rebate | Amount | Interest-free loans |
| --- | --- | --- | --- |
| Victoria | Yes | Up to $4,838 | No |
| New South Wales | No | NA | |
| Queensland | No | NA | No |
| South Australia | Yes | $300 per kWh (max. $4,000) | |
| Western Australia | No | NA | |
| Australian Capital Territory | Yes | $825 per kWh | No |
| Northern Territory | No | NA | |
| Tasmania | No | NA | No |
How Long Do Solar Batteries Last?
Good quality lithium-ion batteries can last for ten years or 10,000 cycles. Their lead-acid counterparts have a significantly shorter lifespan that could be anything from 4 to 6 years, depending on the type and quality. That said, solar battery lifespan differs from brand to brand. Always go for solar batteries that have a long warranty period as opposed to those advertised to have a long lifespan by a short warranty period.
What Can I Do So They Last Longer?
There are various ways to prolong the lifespan of your solar batteries, such as:
Proper installation and mounting
Regular maintenance for flooded lead-acid batteries- preferably 3-month intervals
Protect them from overcharge
Invest in a good quality inverter.
Rotate the batteries, among others
How many batteries do I need to power a house?
The number of batteries you need depends on your consumption needs. For instance, you'll need a 5Kwh battery pack if your consumption is in the region of 4.8Kwh.
Do solar panels drain batteries at night?
A properly designed solar PV system will not drain batteries at night. However, bad installations may sometimes cause your panels to drain all the energy stored in your battery. This is a serious problem that should be addressed by a trained professional as soon as it is discovered.
Solar Battery Comparison Table
| Battery | Cost | Capacity | Warranty | Type |
| --- | --- | --- | --- | --- |
| Tesla Powerwall 2 | $14,000 | 14kWh | 10 years | Lithium ion |
| sonnenBatterie Eco | $15,000 | 14kWh | 10 years | Lithium ion |
| Sungrow-Samsung sbp4k8 | $4,610 | 4.8kWh | 10 years | Lithium ion |
| Redflow Zcell | $12,600 | 10kWh | 10 years | Lithium-ion phosphate |
| Enphase Energy | $2,057.00 | 1.2kWH | 10 years | Lithium ion |
| ZEN Energy | $10,000 to $15,000 | 10kWh to 20kWh | 10 years | Lithium ion |
| Ampetus Energy | $2,300 | 3kWh | 15 years | Lithium-ion phosphate |
| AKASOL's neeoQube | $12,000 | 5.5(kWh) | 10 years | Lithium ion |
| Sunverge SIS | $26,000 | 11.6kWh | 11.6kWh | Lithium ion |
| Alpha Ess | $7,302 | 11kWh | 10 years | Lithium ion |
| Redback Technologies | $10,745 | 4.8kWh | 5 years | Lithium ion |
| Fronius Solar Battery | $5,000 to $20,000 | 4.5kWh – 12.0kWh | 7 years | Lithium-ion phosphate |
| LG | $8,195 | 9.8kWh | 10 years | Lithium ion |
| Aquion Energy | $2,200 | 2.5 kWh | 5 years | Salt Water |
| Solax | $5,390 | 3.5kWh | 5 years | Lithium ion |
| Simpliphi Batteries | $4,750 | 3.4kWh | 10 years | Lithium Ferrous Phosphate |
| Sungrow | $3,500.00 | 4.8 kWh | 10 years | Lithium ion |
| Leclanche Apollion Cube | $9,200 | 6.7kWh | 10 years | Lithium ion |
| Soltaro 2 | $1,700 | 2kWh | 10 years | Lithium ion |
| Magellan Power | $20,600 | 12.8 kWh | 5 years | Lithium ion |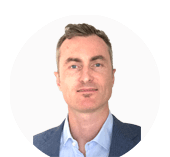 Author: Ben McInerney is a renewable energy enthusiast with the goal of helping more Australians understand solar systems to make the best choice before they purchase. Having an accredited solar installer in the family helps give Ben access to the correct information, which allows him to break it down and make it easily understandable to the average homeowner.