Solar Battery Rebates 2023 Guide
Updated: December 6, 2023
Solar batteries can be expensive to acquire for most Australians.  In contrast, a federal government STC rebate makes it cheap and easy to install a standard grid-connected solar PV system in your home. This solar PV system rebate scheme was created to encourage more Australians to adopt green energy. Indeed, millions of Australians have benefitted and continue to benefit from the scheme.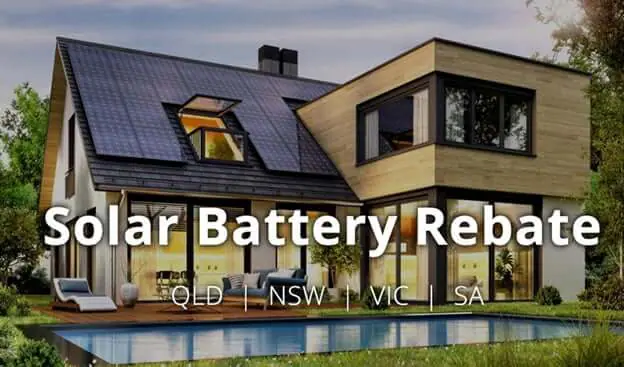 While the federal government does not provide rebates on solar batteries, a few states have taken it upon themselves to provide their residents with rebates, incentives, and interest-free loans. This is a bid to encourage you as a solar consumer to utilize as much of the solar energy you produce on a daily basis. Installing solar batteries definitely has its upsides such as:
You could go completely off-grid if you wanted with a solar battery pack installed
They allow you to utilize generated solar energy at night.
You can store your energy to be used during cold weather.
Charge solar batteries can be moved elsewhere to power portable appliances and devices.
As mentioned earlier, solar batteries are not covered under the federal STC solar rebates. However, it's the Clean Energy Regulator's mandate to ensure that any solar batteries installed in your system are approved and installed according to quality and safety guidelines that exist.
You'll have to look at what your local state or territory government has to offer. Luckily some of the states where solar uptake is high have good solar battery incentives for their citizens as we shall now discuss in greater detail in the next section.
Solar Batteries Rebates by State
Solar Battery Rebate Victoria
If you are a Victorian, then you are among the lucky ones since the state has one of the most attractive solar PV and battery rebate scheme in the country. The battery rebate in Victoria provides residents in eligible postcodes with a financial incentive of up to 4,174 Australian dollars to go towards their solar battery purchase. The program has, since its inception in 2019, helped over a thousand Victorians purchase solar batteries at a discounted price.
Do You Qualify for The Victorian Solar Battery Rebate?
The Victorian government specifies the following eligibility criteria for those interested in the solar battery rebate program:
Be in eligible postcode
Have a solar system > 5kWh
Safety compliance for the battery installation
Approved battery brand
No existing solar battery
Combined household income < $180,000
Property < $3 million in value
First application for a rebate
Agree to safety inspection
Your property should be in a designated postcode and already have a solar PV with over 5Kw capacity installed. The authorities will use postcodes to validate applications for the solar battery rebate.
You are required to get pre-approval from the Distributed Network Service Provider (DNSP) to demonstrate safety compliance for the battery installation.
The batteries installed should be approved by the state.
You should not have any existing energy storage system for your solar PV system.
You need to be the owner and occupier of the property. Not for investment properties or tenants.
Your combined annual household taxable income should not exceed 180,000 Australian dollars. Information shall be obtained from the Australian Tax Office for the same.
The property should not exceed $3 million in value according to a current council rates notice.
You should not have previously taken part in a solar rebate with the same property in the application.
That you should agree to receive information from the DNSP regarding battery trials.
You shall agree to receive a free safety inspection as part of the process if selected to receive the battery rebate.
How to Apply to And Claim the Victorian Solar Battery Rebate
The Victorian solar rebate can be claimed as a point-of-sale discount with an approved solar battery seller. You can start the application process online after obtaining a battery quote from any of the authorized sellers.
They will need to get a battery pre-approval from the Distribution Network Service Provider. You will then need to upload the quote alongside your rebate application on the Solar Victoria portal and wait for the approval.
The New South Wales Solar Rebate/ Incentive program
The solar battery incentive scheme closed in NSW as of 31st December 2016. During its time, it added 342 MW of renewable energy to the grid which is more than three times the capacity of Australia's largest solar farm.
While the NSW government did not provide a solar battery rebate to its residents, it did have an interest-free loan program that is quite attractive for those interested in purchasing solar batteries. Under the Empowering Homes solar battery loan offer, NSW residents in the Hunter region can access loans of up to $14,000 Australian dollars to buy solar batteries.
Are you eligible for the NSW solar battery rebates?
With the large feed-in tariffs available from energy suppliers, the solar battery incentive scheme was scrapped and does not look like it is coming back any time soon.
While active the NSW government incentive program was recommended for people who meet the following criteria:
Those who use most of their electricity in the mornings and evenings
Those who use at least 6000 kilowatt hours of electricity per year.
If you are on a one-tome-use tariff with an electric retailer
You have implemented other energy-saving measures
Applying for the NSW interest-free solar battery loans
Because solar batteries are just not worth it at current prices considering their 10 years (5,000 cycles) lifespan, the NSW government made the right call in scrapping the incentives and making power companies pay a good price on feed-in rates.
This avoids the cost-benefit of a solar battery at today's prices as the grid can be used as a kind of a cloud or virtual storage for your solar power.
The power company tracks the amount of power you generate and feed into the grid and when you draw that power back during the night you a virtually drawing the power free as you built up credits throughout the day.
Australian Capital territory Solar Battery Rebate
ACT residents can access a rebate of up to $825 per Kilowatt under the Next Generation Energy Grants program. As an example, a 6Kw solar PV system will be eligible for a $2,633 rebate under the program.
To be eligible for the ACT Next Generation Energy Storage Grants program, you must:
Have an installed solar PV system that has not been supported by the program before
The solar PV system should be connected to the grid
You must have solar PV panels installed
You must have an approved inverter installed
You must own a property in the ACT
You must have a good battery location in your home.
How to apply for the ACT Next Generation Energy Storage Grants program – If interested, head over to the ACT government website to learn more about the application process.
South Australia solar battery rebate
In SA, residents can access rebates of up to $4000 for their solar battery installations from the Clean Energy Finance Corporation. This is to help pay the cost of battery installation.
The subsidy is calculated on the kilowatt-hour capacity or flow rate of the battery purchased.
Current SA subsidy levels in 2020 for solar batteries
| Type | Amount |
| --- | --- |
| Energy concession holder | $400 per kWh |
| All other households | $300 per kWh |
| Max. subsidy per household | $4,000 |
Am I eligible for the subsidy?
To be able to claim the generous South Australian Government subsidy for solar battery installation you will need:
An approved battery system installed by a qualified installer.
Residential property
Connected to the SAPAN distribution network
Owner-occupier only.
First time applying for the subsidy (once per property)
Western Australia solar battery rebate
As of the time of publishing this guide, Western Australians can access loans of up to $6000 and $ grants for solar battery installations.
Northern Territory solar battery rebate
Residents in the Australian Northern Territory can access grants of up to $6000 under the Business Battery scheme.
Do I Qualify for A Solar Battery Rebate?
Yes, you qualify for a battery rebate if you meet the requirements set by your state government for any programs they might have in place. However, the qualification for a battery rebate varies from state to state. Refer to the above guidelines and your state's energy website to see if you qualify for a solar rebate.
How Many Batteries Will I Need?
The number of batteries you will need depends on the size of your storage system and daily consumption. For instance, a 10KW system can use two 5Kwh solar batteries. Be sure to talk to your solar seller regarding the type of battery setup that will suit your needs.
Are solar Batteries Worth It?
Solar batteries are only worth it if you have above-average energy consumption and have a solar system big enough to generate surplus energy that can be stored. They are also great for an off-grid system so that you have enough energy stored to use during the night and overcast days.
It might also help if you use most of your electricity during the mornings and evenings or at night. Otherwise, you could benefit from the generous feed-in tariffs by sending your surplus yield back to the grid instead of storing it.
What Zone Am I In for Government Rebates?
Government solar rebates are divided into four distinct zones, as shown on the map below. For instance, residents in the Northern Territory are most likely in Zone 1 unless they are in border towns while those in the South are in Zone 4. For a more pointers to your zone, provide your postcodes at the Clean Energy Regulator's STC calculator or to your solar retailer during purchase.
Do I Apply or The Solar Installer Does It for Me?
In most cases, you can assign the right to apply for the solar rebates on your behalf. This will allow you to receive the solar rebate as a point-of-sale discount. Alternatively, you can choose to skip the cut and apply for tradeable small-scale-technology certificates after your solar PV system has been installed.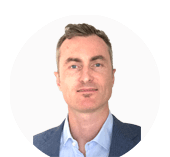 Author: Ben McInerney is a renewable energy enthusiast with the goal of helping more Australians understand solar systems to make the best choice before they purchase. Having an accredited solar installer in the family helps give Ben access to the correct information, which allows him to break it down and make it easily understandable to the average homeowner.