Jinko Solar Panel Review 2023
Updated: November 21, 2023
Jinko solar is one of the biggest names in the solar panel manufacturing industry. The company has predominantly been known to be the largest mass producer of budget friendly and reliable Tier 1 PV solar panels.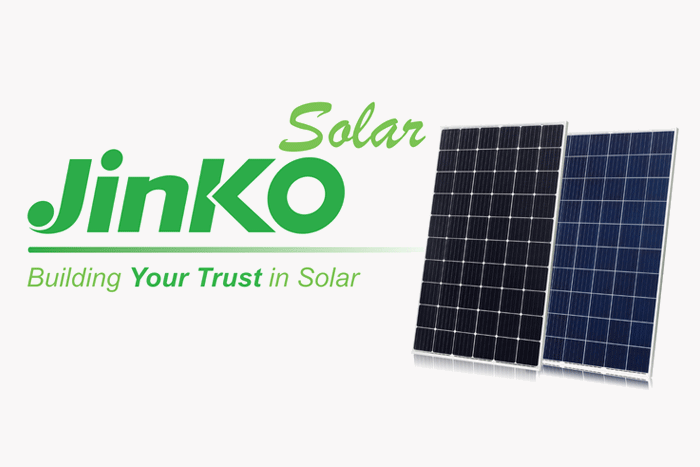 The Jinko company started back in 2006 in China with the aim of meeting the solar demand in the Chinese and Malaysian market. They started producing solar panels in 2009, and got listed into the stock exchange market in 2010. This move opened doors for their exponential growth in the international market.
The company runs 9 production facilities, and 14 overseas subsidies around the world, which have allowed them to produce enough panels for their global markets.
In 2019 alone, Jinko solar shipped a record 14.3GW globally, the most from any solar manufacturer.
For their workforce, the company continues to maintain a team of 15,000 workers, and several automation robots. This combined workforce has been a key reason for their rapid growth.
Over the years, the company has been refining its solar panel quality.
Besides focusing on just cost-effectiveness, Jinko has, in the recent past, embraced more innovations earning them the coveted Intersolar Europe Award for Innovation with their Jinko Bifacial Swan Solar panel.
They've also received recognition from the prominent PVEL scorecards for their efficiency and constant 'top score' ratings.
Their success seems to stem from the rigorous durability testing, performance testing, research & development and their quality control. 
Jinko solar has opened several offices in Australia, from Sydney, to Melbourne, Brisbane, Adelaide and Perth.
This has improved its supply and distribution of their panels throughout the country and also helped improve the customer service to their customers.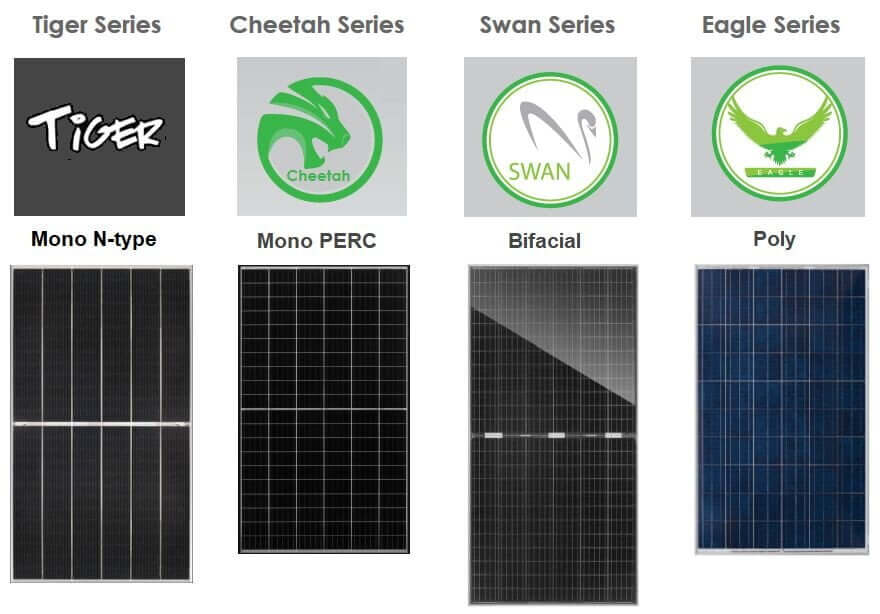 Having been in the industry for many years, Jinko solar has come up with a wide range of affordable solar panels for all structures – whether residential, commercial or the utility-scale installations.
They also provide custom designed solar panels for larger solar systems for owners that need panels for specific uses.
Their most popular mono-crystalline solar panel series includes:
The cheetah series
Cheetah HC series
Swan series
Tiger series
Tiger Pro series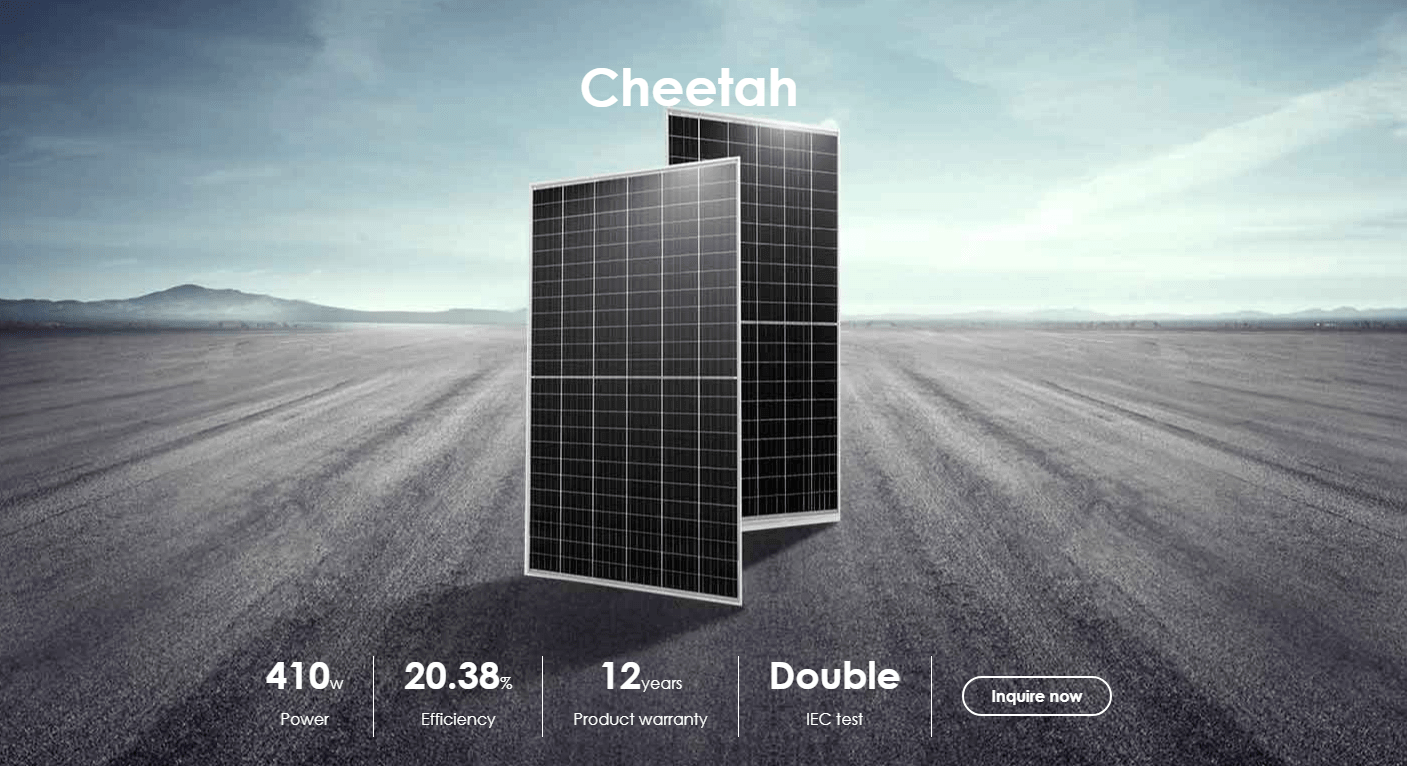 Jinko's Cheetah series came to the market in 2018, and fast became the most popular solar panel model in their production. The series features panel range sizes from 325W to 340W for half-cut size and up to 410W for the full-size solar panel.
Five busbar solar cell – Integrates the newer technologies to boost the solar modules efficiency and improve the panel's aesthetic appearance.
PID resistance – Amazing anti-PID performance that guarantees reduced power degradation which is great for mass production.
High efficiency – Panels have a superior module efficiency of up to 20.38% thanks to the use of PERC (Passivated Emitter Rear Contact) technology.
Low-Light Performance – Uses advanced glass and cell surface textured design which significantly enhances its performance under low-light conditions.
Durability – The panel is certified by TUV NORD for its high salt-mist and ammonia resistance. It's also certified to withstand extreme weather conditions including: wind load (2400 pascal) and snow load (5400 pascal).
All panels in this series come with a 25-year performance warranty and a product warranty of 15 years. Its degradation rate stands at 1% in the first year and 0.4% in the subsequent years until the 25th year.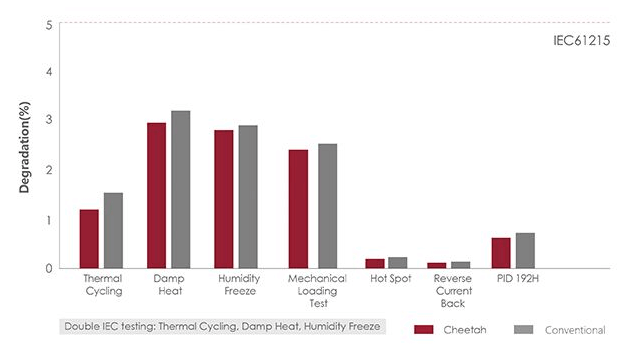 The Cheetah HC series refers to the cheetah Half cells range. These panels are an improvement over most cheetah solar panels. The panel's key features are very similar to those of their predecessor, with several key advantages.
For one, the half-cell designs on these panels drastically improve their shading response. This improves the panel output during partial shading conditions.
Their module efficiency is also much better at 20.48% and the temperature coefficient has really improved, at -0.35%/oC. This allows it to yield much more energy under higher temperatures compared to conventional panels.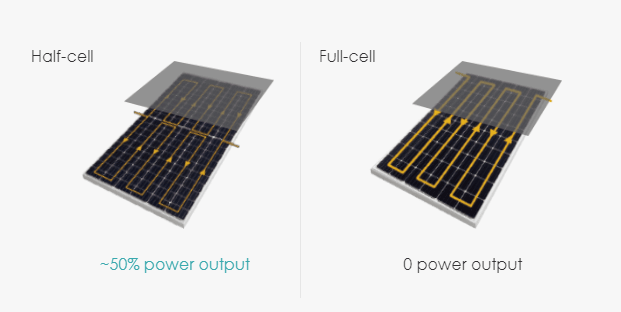 Jinko Solar's Swan bifacial series has been the talk of the industry for a while, after scooping the European Intersolar Award for innovation.
These panels incorporate the Cheetah HC, half-cut cell technology with a transparent back sheet that makes it more light-weight than other glass modules.
The two panels in this series are: Transparent Backsheet HC 5 Bus Bar – 72 cell and the Dual Glass HC 5 Bus Bar – 72 cells with frame.
Their power output is estimated to be 20-30% more than the regular monofacial modules. It generates up to 400W from the front side, with around 20% coming from the rear side.
Five Busbar solar cell – Implements modern technology to improve the module's efficiency while also enhancing its aesthetics.
Higher power output – Module power increases by 5 – 25% per the different reflective conditions. Its efficiency goes as high as 19.78%.
Excellent in low-light environments – Panels offer a lower LCOE and a higher IRR which ensures an excellent performance under low-light conditions.
Longer lifetime yield – Their power degradation annually stands at 0.5% with a 30-year linear power warranty.
PID Resistance – The Anti-PID performance guarantees limited power degradation for mass production. It's also designed to handle high-voltage systems of up to 1500VDC, saving BOS cost.
·       Strengthened mechanical support – Panels are manufactured with enough strength to support 5400pascal snow load and a 2400 pascal wind load.
This module can be used in numerous design solutions from Sun Rooms, highways, carports, sun track mounts to desert-covered circumstances.
The Tiger series has been the latest and most powerful addition to Jinko Solar's solar panel range.  The series features two shingle-cell solar panel types; The Tiger Monofacial and the Tiger Bifacial panels.
This 'next generation' series uses Jinko's N-Type monocrystalline silicon cells to boost its efficiency and output. Its module consists of a 78-cell design using the tiling ribbon technology developed by Jinko's Research and Development team, which facilitates the reutilization of light absorption to increase the power generation. 
The panels can generate up to 475W with a 21.16% efficiency.
Tiling Ribbon tech + half-cells – Combined use of the TR and half-cell technologies helps eliminate cell gaps and hence increases the module efficiency.
Low-light Induced Degradation – Thanks to the N-type cells, light induced degradation (LID) is much lower compared to that of P-type cells.
9 Busbar solar cells – Instead of the usual 5 busbars, Tiger series panels use 9 busbars to reduce the distance between the bars and the finger grid line. This helps decrease the resistance power losses and hence improves efficiency.
Fantastic low-light performance – Panels utilize the Half Cell technology to improve shading tolerance by splitting the full-cells to half. Performs well on cloudy, early mornings, and dusks.
Longer lifetime yield – The panel modules degrade by 1% during the first year then maintain a 0.4% linear degradation.
Best warranties – This series has the best warranty periods from Jinko with a 15-year product warranty and the 30-year linear power warranty.
·        Weather resilience – The panels come certified to withstand snow load (5400pa) and wind load (2400pa).
Tiger Neo
| | | |
| --- | --- | --- |
| | 54HL4R-B | 54HL4R-(V) |
| Cells Number | 108 Cells | 108 Cells |
| Cell Type | N Type Monocrystalline | N Type Monocrystalline |
| Power Output | 420-440W | 425-445W |
| Annual Power Degradation | 0.40% | 0.40% |
| Dimensions | 1762×1134×30mm | 1762×1134×30mm |
| Weight | 21 Kg | 21 Kg |
| Product Warranty | 25 years | 15 years |
| Performance Warranty | 30 years | 30 years |
| Operational Temperature Range | -40℃ ~ +85℃ | -40℃ ~ +85℃ |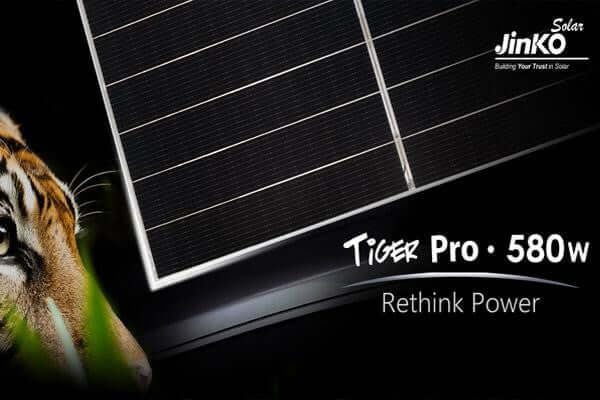 Dubbed the 'world's most powerful utility solar panel', this series from JinkoSolar has forever changed the solar panel market. The panel boasts of delivering up to 580Wp with an Ultra-high p-type mono-module efficiency of around 21.6%.
Like the Tiger series, this series also uses the Tilting ribbon technology and multiple bushbars with circular ribbon to get rid of inter-cell gaps and reduce current losses. This results in better efficiency and increased output.
Among the key benefits of the Tiger pro series includes improved temperature coefficient, reduced installation time and costs, and lower degradation rates.
This robust system can also save you around 1.41% of land space with a 500W solar module. This is a result of the high efficiency, which means you only need fewer panels to meet your demands.
Its high compatibility is also a key differentiator of this series. The Tiger pro solar panels are easily compatible with multiple inverters and mounting systems.
It works seamlessly with string and centralized inverters, and also fixed/one-in portrait configuration, two-portrait independent tracking systems and the multi-row interconnecting systems.  
Finally, it's product warranty now lasts for almost 25 years. For the monofacial warranty, the first year degrades by 2% and subsequent years, by 0.55%. For the bifacial, the first year degrades by 2% and other subsequent years by 0.45%.
Pros of Jinko solar panels
Being one of the global leaders in solar panel production, Jinko solar has a proven track record in Australia and other markets. Some of the key reasons for this includes:
Cost-friendly – Jinko solar is known to produce some of the most affordable Tier 1 solar panels in the market. The Cheetah series have been most popular for the reliability and cost. They are also recognized by the Australian Council of Energy, giving you access to the rebate program,
Good warranties – The Jinko panels all come with at least 10 years product warranty and a 25-year performance warranty.
Excellent durability – Jinko solar panels are all designed to withstand heavy winds and snow loads.
Most Jinko solar panels also occupy less space than the conventional solar panels. This makes it an easy choice for homeowners who need to fit many solar panels on their roofs.
Cons of Jinko solar panels
Despite its huge success in the Australian markets, Jinko solar panels are still far from perfect.  While some of the newer Jinko panels have raked up efficiencies of approximately 20%, most panels have an average efficiency of 16.5%.
This explains why the panels are much cheaper than other Tier 1 panels in the market. More efficient solar panels are usually more costly and tend to be better investments long term.
For homes with small roof space, Jinko solar panels may also not be the best choice for a panel. Due to their lower efficiency rating, their output may not be able to meet your daily energy demands.
Jinko may have not been the most efficient solar panels before, but it's well on its way now. Just recently, the Chinese solar manufacturer announced that it achieved a world-record 24.79% efficiency on their newer n-type monocrystalline cell.
They also recently unveiled the 610W n-type solar modules showing that Jinkosolar will soon steal the show with regards to efficiency.
Generally, all Jinko solar panels come with a 10-year product warranty and a 25 – 30 performance warranty. The Tiger series is the only service with a longer product warranty at 15 years.
Jinko solar panel specification
| | Cheetah | Cheetah HC | Swan | Tiger |
| --- | --- | --- | --- | --- |
| Cell Number | 132 | 120 half-cut cells | 144 | 156 half-cut cells |
| Cell Type | Mono PERC 158.75 x 158.75mm | N-Type Monocrystalline | Mono PERC 158.75 x 158.75mm | Mono PERC 158.75 x 158.75mm |
| Power Output | 335W | 350Wp | 400Wp | 580Wp |
| Nominal Power Voltage | 1500VDC | 1500VDC | 1500VDC | 1000/1500VDC |
| Power Density | 23.34w/m3 | 25.40w/m3 | 24.42w/m3 | 11.13/16.70w/m3 |
| Panel Efficiency | 19.88% | 20.48% | 19.78% | 21.16% |
| Annual Power Degradation | 0.4% | 0.55% | 0.5% | 0.4% |
| Dimensions | 1840 x 998 x 35mm | 1684 x 1002 x 35 mm (1.68m2) | 2031 x x1008 x 30mm | 2182 x 1029 x 40mm |
| Weight | 20.7kgs | 19.0 kg | 26.6kg | 26.1kg |
| Product Warranty | 10 years | 15 years | 12 years | 15 years |
| Performance Warranty | 25 years | 25 years | 30 years | 30 years |
| Operational Temperature Range | -40°C to 85°C | -40°C to 85°C | -40°C to 85°C | -40°C to 85°C |
| Made in | China | China | China | China |
Best alternatives to Jinko
If you don't think Jinko Solar's solar panels are a good fit for your home, there are still several other good solar panel brands in the Australian markets.
Depending on what you're looking for in a solar panel, you have a host of options to choose from. Brands like:
Q Cell solar panels
Panasonic
LG
REC
Nevertheless, each of them has its own advantage and flaw over the other. Brands like LG, Q Cells and SunPower are making huge strides when it comes to efficiency. However, they tend to be quite expensive investments.
Other solar panels such as Panasonic, Tindo solar and Canadian Solar panels offer standard efficiency and their pricing is also cost-effective.
Keep in mind; there's no one-fits-all solar panel for everyone. What works for another person may not always work for you. Therefore, if Jinko Solar doesn't work for you, look for other equally good brands.
Yes. Jinko solar panels are widely regarded to be Tier 1. They have been producing electricity for close to two decades, and the company has been listed under the New York stock exchange since 2010. Jinko solar panels also have an extremely high degree of vertical integration.
Jinko solar is made by JinkoSolar Holding Co, Ltd. The company is currently the world's largest solar panel manufacturer. Its headquarters are located in Shanghai, China.
In China. Since its inception in 2006, the Jinko Solar has primarily focused its production in China and Malaysia. Their distribution facilities can however be found in major cities around the world, including Australia.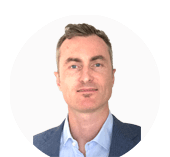 Author: Ben McInerney is a renewable energy enthusiast with the goal of helping more Australians understand solar systems to make the best choice before they purchase. Having an accredited solar installer in the family helps give Ben access to the correct information, which allows him to break it down and make it easily understandable to the average homeowner.