LONGi solar panels review
Updated: March 16, 2021
LONGi Solar is a leading solar panel manufacturer in the world that primarily focuses on monocrystalline solar cells. Started barely two decades ago, in 2000, this Chinese company has made headlines in the global solar market because of its incredibly fast growth.
In 2019 alone, the company shipped over 14 GW of solar cell modules in the market, and a projected 18GW production capacity in 2020, proving their position as leading manufacturers worldwide.
The company is now part of the 'Silicon Module Super League' and was the only solar panel manufacturer-branded AAA-rated in 2020's third-quarter ratings by the PV Module Tech Bankability ratings.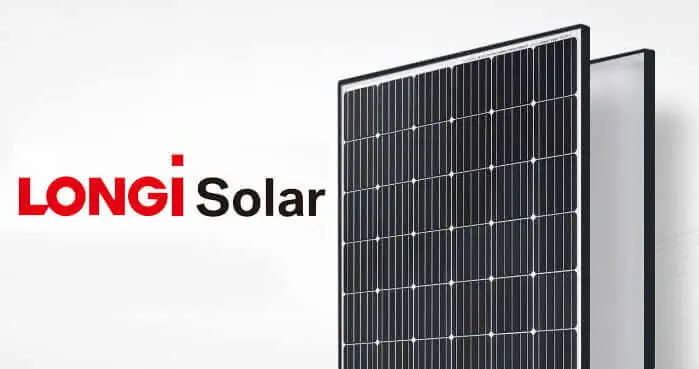 For over 20 years, LONGi Solar has focused its panel's development on mono silicon. This has enabled them to produce high-efficiency and better performance solar panels, which are much cheaper compared to polycrystalline modules of the same size.
LONGi panels have also won various awards, including recognition by DNV (a German testing lab) as one of the 'top ten best modules,' which proves the panels' performance and durability.
The company's rise in the market and its fast dominance is also a great sign that it will still be booming in the next 25 years.
Australian homeowners can therefore rest confident that they've made a safe investment with these panels.
To achieve the high efficiency and power outputs on their panels, LONGi solar combines the PERC cell technology, Bifacial technology, and the Half-cut cells technology.
PERC technology involves using PERC cells with passivated rear sides and laser grooving to improve the cell efficiencies. This technology won LONGi Solar first prize in Energy Yield Simulation 2017 and 2018. It also won first prize in TÜVRheinland's Outdoor Energy Yield of the mono facial module in 2019.
The bifacial tech modules incorporate an AI grid that's transparent, allowing light to be absorbed from both sides of the panel. This increases the energy yields from your solar panels.
Lastly, the half-cut cell technology used in LONGi panels has helped them increase their module's power outputs by nearly 2% and also improves the panel's reliability.
When combined, these cell technologies lower the panel's hot spot temperatures by almost 10 – 20oC, lowers the operating temperatures, shading losses, and increases the energy yield under high irradiation conditions. All these play a key role in increasing the reliability of LONGi solar panels.
Are LONGI solar panels perfect for rooftop solar?
Yes. LONGi solar panels were designed with different rooftop sizes and conditions in mind. With their half-cell technology, the LONGi panels can work perfectly regardless of some shading, winter or a cloudy day. The panels are also great during those extremely hot summers.
Their high efficiency and power output ensure that homeowners with small rooftops can fit just enough panels to enjoy solar energy.
LONGi solar panels are also fantastic for your rooftop if investing in solar batteries is in your future plans. Due to their high efficiency, the panels can generate more than enough power for your batteries as well as the feed-in tariff.
Model
Panels
Hi-MO 3 Series
LONGi LR6-60HPH
LR6-72HPH
LR6-60HBD
LR6-72HB

Hi-MO 4 Series
LR4-60HPH
LR4-72HPH
LR4-60HBD
LR4-72HBD

Hi-MO X Series
aLR6-60OPH
LR6-72OPH

The Hi-MO 3 series, launched in 2018, is one of LONGi's best performing solar modules from their Hi-MO series. The panel features advanced PERC cell constructions which improve the panel's efficiency and power yield.
Size: 1672 x 991 x 35mm
Cell type: Monocrystalline
Cell number: 120 – 144 half-cut cells
Output: 305 – 325W
Weight: 16.8kg
LONGi adopted the half-cut cell technology, which splits the full cells into two and lowers the working current, resulting in higher power outputs and reduced hotspot temperatures. This is common on both the bifacial and mono facial modules.
The mono facial panels like the LONGi LR6-60HPH and LR6-72HPH have 6 busbars for easier current collection, and their parallel cell connection design helps increase power yield in case of shading.
On the other hand, bifacial modules like the LR6-60HBD and LR6-72HBD use the M6 standard wafer part of the assembly line, which is now upgraded to 9busbars. This significantly increases power output.
By absorbing light from the rear side of the panels, bifacial technology increases energy harvesting by up to 25%.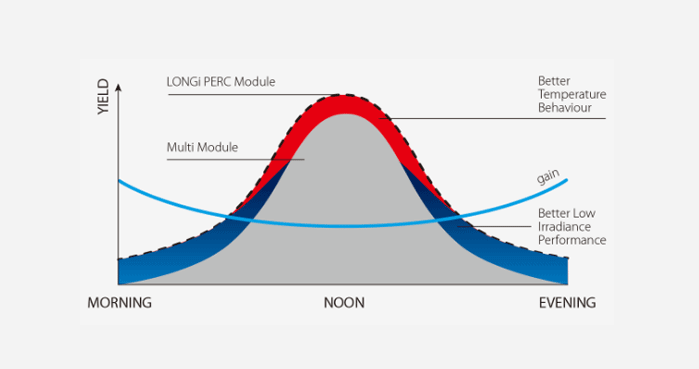 The Hi-MO 3 series solar panels have some of the best performance guarantees in the market. By the tenth year, you can still expect around 93.05% of its initial power capacity and about 84.8% power output after 25 years. This reflects a 2% power degradation in the first year and a subsequent 0.45% annual degradation between year 2 and 25.
This slow degradation rate is enabled by the low LID Mono PERC Technology used in the panel design.
LONGi maintains the standard 10-year product warranty for any Tier 1 solar panel and a 25-year linear performance warranty. These warranties indicate the backing LONGi gives for the products.
The Hi-MO 3 series panels have been among the most efficient solar panels in the market. However, the efficiency and output you receive depend on the panels you use.
In ideal conditions, the LR6-72HBD can generate up to 385W using a 144-cell module with a 19.1% module conversion efficiency. The LR6-60HBD has a maximum output of 325W with a 19.2% module efficiency using a 120-cell module. LR6-72HPH module also has a max output of 385W, and a module efficiency of 19.3%.
Lastly, the LR6-60HPH can output around 325W with the highest efficiency of 21.6% and 120-cell module.
Panels needed for 6.6kW solar system
If you're planning to get these LONGi Hi-MO 3 solar panels for your 6.6kW solar system, you'll only need about 20 solar panels. Due to their relatively high efficiency, these panels can work well on small rooftops or roofs that often experience shading.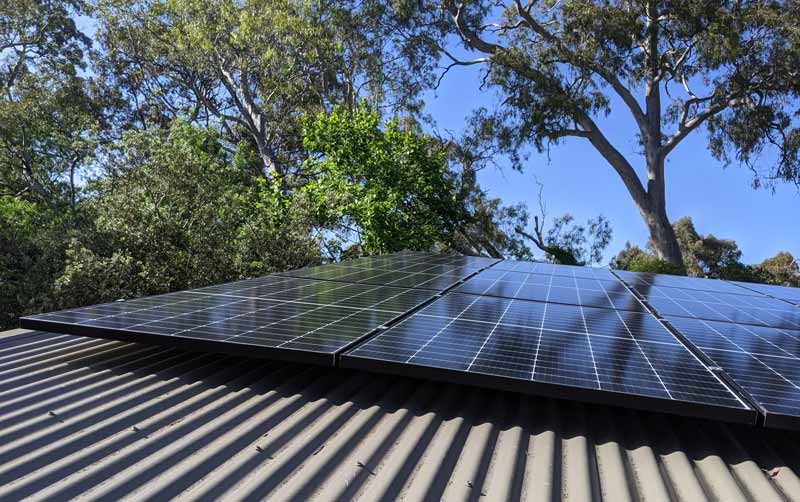 LONGi's Hi-MO 4 series of panels is one of their most efficient and powerful yet. The series is quite similar to its predecessor, the Hi-MO 3 series, but with a few adjustments that have drastically improved the module output and efficiency.
Size: 1755 x 1038 x 35mm (monofacial) and 2094 x 1038 x 35mm(bifacial)
Cell type: Monocrystalline
Cell number: 120 – 144 half-cut cells
Output: 345 – 455W
Weight: 19.5 – 27.5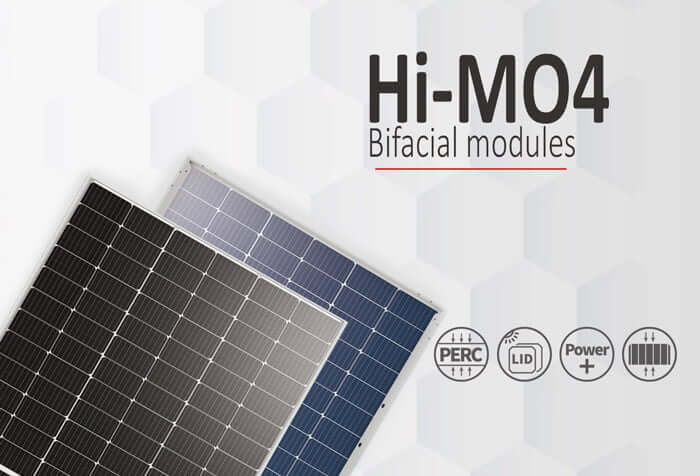 Like the LONGi Hi-MO 3, this series still uses the half-cut technology to increase each module's power output and minimizes the spot temperatures on the cells by reducing the working current.
It combines this with the M6 standard wafer part of assembly, now upgraded to 9busbars, to increase its watt per square meter. Additionally, the double facial panels use an encapsulation glass to enable the panels to generate more power from both sides.
The frame design and the cell's parallel arrangement are also critical in reducing the shading impact on the cells.
LONGi's R&D ensures that their panel's power output efficiency is among the best in the industry. With 10 years in use, the panels will still generate around 93.05% of the panel's initial capacity. After 25 years, the panels still offer a generous 84.8% capacity of its initial power performance.
This degradation is much slower than the 80.7% from other conventional solar manufacturers in the market. The degeneration rate for this is 0.55% annually after the first year.
Being the most efficient solar panels in the Hi-MO series, these panels can go as high as 455W on a 144-cell module with a high 20.9% module efficiency rate.
Other panels like the LR4-60HBD have a maximum output of 365W with a 120-cell module and a 19.4% efficiency. The LR4-60HPH can achieve a 380W with the perfect conditions, using a 120-cell module, and a high 20.9% efficiency.
Panels needed for 5kW solar system
For a 5,000 or 5kW solar system, you'll require about 12 Hi-MO solar panels to get the most of the system. Because of their incredibly high efficiency and power output, this panel is perfect for households and properties with a small roof space.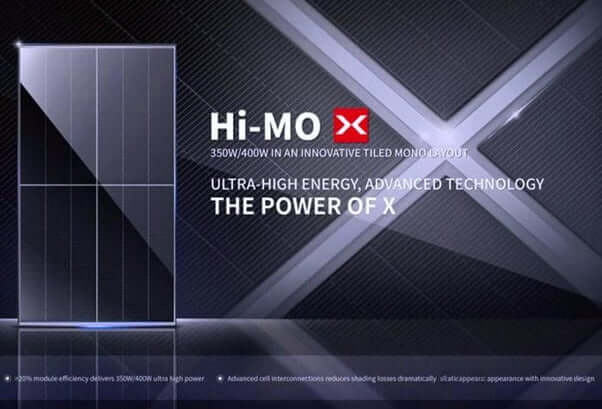 The Hi-MO X solar panels are the latest cell series introduced by LONGi Solar to the market. These panels were first launched in Melbourne and are now known for their high-module efficiency and output.
Size: 1762×994×35mm and 2006×994×35mm
Cell type: Monocrystalline shingles
Cell number: 60 – 72 cells
Output: 400W
Weight: 19 – 23kgs
Unlike its previous predecessor series, the Hi-MO X combines a shingled layout and the mono PERC technology to increase its module efficiency to 20%. The mono technology also helps in slowing down the degradation of the panels.
The panel strings are elongated, as well, which makes BOS costs more affordable. For a better appearance on your roof, the panels' tiles are cut from full square cells, ensuring no cell gaps.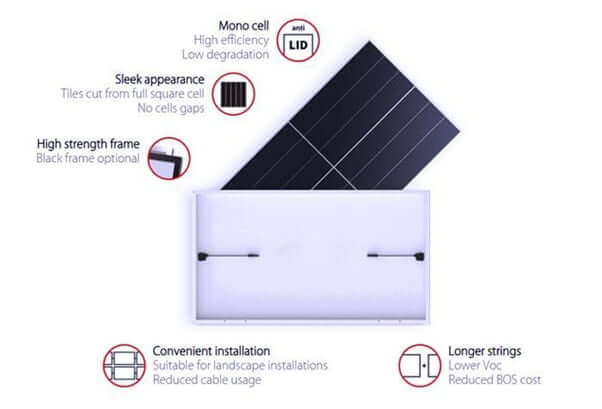 From their wealth of experience, research, and development, LONGi solar has developed the Hi-MO X to be durable and very efficient even to the end of its time.
Normally, after 10 years, you can expect a 93.05% production output of its initial production. And after 25 years, you can expect at least an 84.8% production of the panel's initial output.
These panels come with a degradation rate of 0.45% and 0.55% from the 2nd year to the 25th or 30th year.
With these models, LONGi provides a 12-year product warranty on the panels and a 25-year extra linear power output warranty. However, the LR6-72OPH comes with a 30-year linear power warranty. Such warranties show that the solar manufacturer is confident with their products.
The Hi-MO X solar panels are the most efficient in the LONGi cabinet. Under optimum conditions, the LR6-60OPH has a maximum output of 360W with an impressive 20.6% module efficiency.
The other one, LR6-72OPH, achieves a high-power output of 410W with a module conversion efficiency of 20.3%.
Based on the research and the progress made by the LONGi team, this software is projected to be the future of LONGi solar panels.
Panels needed for 3kW solar system
Between 7 – 9 panels. The high module efficiency of the LONGi panels ensures that homeowners with 3kW solar systems don't have to worry about having a large roof space. It's suitable for installation anywhere!
Yes. Besides their Xi'an headquarters, the company has offices in Europe, the US, Japan, Canada, India, Malaysia, and Australia.
Their Australian offices are located in Northern Sidney.
Why an Australian office is important
Having an Australian office is a massive benefit for both the Australian homeowners. The office makes it easier for the customers to resolve their warranty issues with the company, instead of having to deal with international calls to China.
It also ensures that LONGi customers can easily get help if their installers are out of business.
LONGi solar panel specification/ datasheet
| | Hi-MO 3 Series | Hi-MO 4 Series | Hi-MO X |
| --- | --- | --- | --- |
| Cell Number | 120 - 144 | 120 - 144 | 60 - 72 |
| Cell Type | Monocrystalline silicon | Monocrystalline silicon | Monocrystalline silicon shingles |
| Power Output | 305 - 325 | 345 – 455W | 350 - 400W |
| Panel Efficiency | 21.6 | 20.9 | 20.6 |
| Annual Power Degradation | 0.45% | 0.55% | 0.44 – 0.55% |
| Dimensions | 1672 x 991 x 35mm | 1755 x 1038 x 35mm (monofacial) and | 1762×994×35mm and 2006×994×35mm |
| | | 2094 x 1038 x 35mm(bifacial) | |
| Weight | 16.8 kgs | 19.5 – 27.5 kgs | 19 – 23 kgs |
| Product Warranty | 10 years | 25 - 30 years | 12 years |
| Performance Warranty | 25 years | 25 years | 25 - 30 years |
| Operational Temperature Range | -40~+85°C | -40~+85°C | -40~+85°C |
| Made in | China | China | China |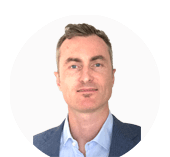 Author: Ben McInerney is a renewable energy enthusiast with the goal of helping more Australians understand solar systems to make the best choice before they purchase. Having an accredited solar installer in the family helps give Ben access to the correct information, which allows him to break it down and make it easily understandable to the average homeowner.