Canberra Solar Rebate & Panel Cost info
Updated: December 6, 2023
With the rising cost of electricity, the ACT government provides solar rebates to assist homeowners in installing solar power. The residents are also credited for the unused solar energy generated by their system.
The average solar rebate in Canberra, ACT, is $2,633 for the popular 6kW solar system. The exact rebate amount you will get depends on the size of the solar system you install.
Besides the Federal government solar rebates, the ACT government also runs state-specific rebates for homeowners installing solar power and battery storage systems.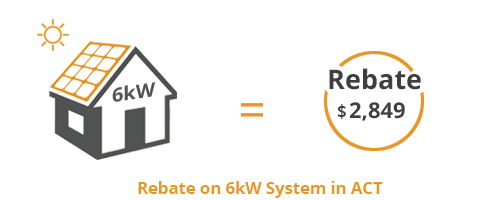 The amount of solar rebate you receive depends on the size of the solar system you install. For example:
Installing a 6kW Solar system in Canberra would cost:
Gross cost: $9,342 ( the actual cost of the system)
Rebate amount: $2,633
Net cost: $6,709 (price after deducting the rebate offered)
The table below provides you with the rebate amounts offered for solar system sizes of up to 100kW.
| Solar system size | Number of STCs (Canberra, ACT) | Rebate amount in ACT |
| --- | --- | --- |
| 1.5kW | 16 | $638 |
| 2kW | 22 | $878 |
| 3kW | 33 | $1,317 |
| 4kW | 44 | $1,756 |
| 5kW | 65 | $2,195 |
| 6kW | 66 | $2,633 |
| 6.6kW | 72 | $2,873 |
| 7kW | 77 | $3,072 |
| 8kW | 88 | $3,511 |
| 9kW | 99 | $3,950 |
| 10kW | 110 | $4,389 |
| 12kW | 132 | $5,267 |
| 15kW | 165 | $6,584 |
| 20kW | 176 | $7,022 |
| 30kW | 221 | $8,818 |
| 40kW | 442 | $17,636 |
| 50kW | 552 | $22,025 |
| 100kW | 1,105 | $44,090 |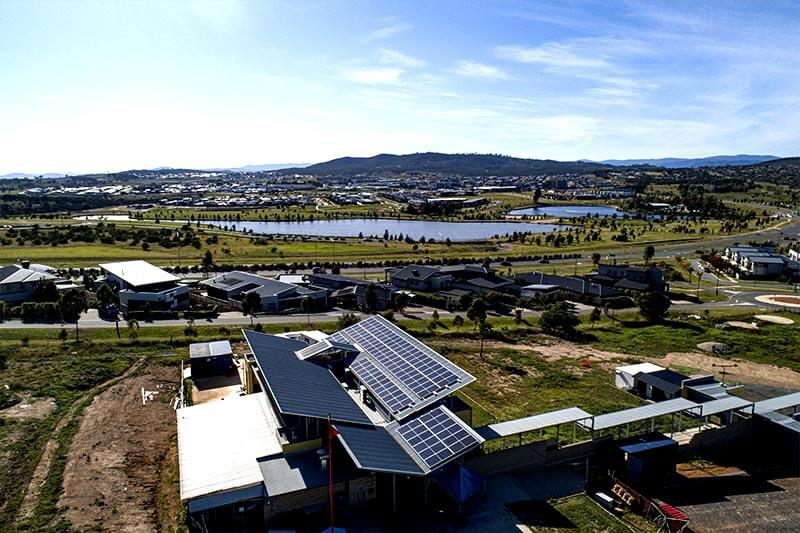 If you wish to calculate the exact rebate amount you could get for your system, you will have to know the tradable small-scale technology certificates you can get for your system using this formula.
kW solar system x Deeming period in years x zone rating.
Canberra is in zone 3 with an STC rating of 1.382.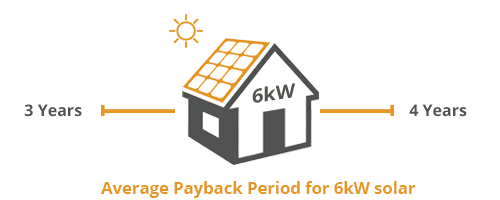 So, the number of STCs for a 5kW solar system bought in 2023 would be:
5 x 8 x 1.382 = 55 STCs.
To know the rebate amount you will get for your 5kW solar PV system, you need to multiply the tradable small-scale technology certificates by the current STC value in the market.
55 STCs x $39.90 (current STC value) = $2,195 (actual rebate you can claim for your 5kW system).
Note:
*The STC value is not fixed, and it varies depending on the solar retailer or installer you choose.
*The deeming period refers to the time interval (in years) between the time you install your solar system to the year 2030 ( when the government rebate scheme will end).

Solar Rebate Calculator
What are the solar rebates available in Canberra, ACT?
Residents of Canberra have the following solar rebates available in the ACT.
Sustainable Household Scheme
This program gives ACT homeowners access to interest-free loans from $2,000 to $15,000. These loans are not limited to solar power and can be repaid over up to 10 years.
Willing homeowners can combine these loans with the Next Gen Battery Storage program for higher savings.
The Sustainable Household Scheme partners with Brighte, the loan provider for the scheme.
How does this scheme work?
All eligible homeowners can get loans ranging from $2,000 to $15,000 for renewable energy systems, including:
Rooftop solar systems
Home battery storage systems
Hot water heat pumps
Electric heating and cooling systems
Electric stovetops
Electric vehicles
Electric vehicle charging systems
This scheme runs for five years, during which time you can install one or all the eligible products. The value of all the eligible products can add up to $15,000.
The loan amount you get depends on your credit limit. If you borrow a loan above your credit limit, your loan provider may charge you an interest on any funds above your limit.
The loan repayment begins when:
You install any of the eligible products.
You buy an electric vehicle.
Homeowners can apply for a loan under the Sustainable Household Scheme or under a subsidy of another scheme like the NextGen Energy Storage Program.
This scheme is open to ACT residents who own a home or have a current driving licence.
All applicants must meet the eligibility criteria of the scheme and the lending partner, Brighte. One of the requirements applicants must meet include attending a free live online workshop for one hour.
Are there any additional costs?
This scheme does not require any establishment or account-keeping fees.
There is no penalty fee for early loan repayments. However, you may be charged a fee if you do not repay the loan during the sti[ulated deadline.
All applicants must have a good credit card history and must be able to repay the loan without any hardships.
Your loan provider must meet the required lending practices as per the National Consumer Protection Credit Act 2009.
Next Gen Battery Storage Grant
The Next Gen Battery Storage Program encourages ACT homeowners and business people to install solar power storage systems by reducing the initial costs.
If you need solar power during the night, on cloudy days and at peak times when the cost of electricity is high, this grant is for you.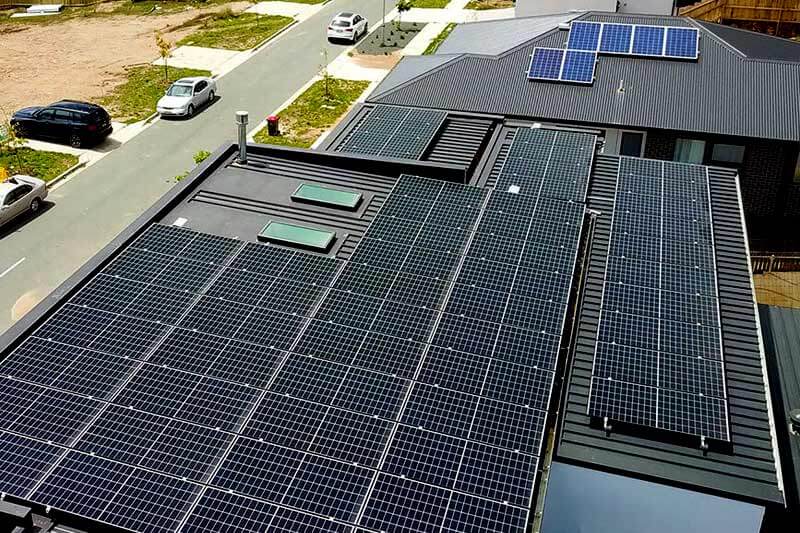 This rebate is open to ACT homeowners and business people, including Tharwa, Oaks and Hall Estate. It is, however, not available for people living in the Jervis Bay Territory.
To be eligible for this rebate, your new battery backup system should be:
Coupled with a solar power system
Connected to the grid
A new battery system that is not yet supported by the program.
The Next Gen Energy Storage rebate is up to $3,500 or 50% of the cost of the battery (excluding GST).
Current retailers for this rebate include:
ADS Solar
ECG Electrical
Ausgreen Solar Solutions
First Sun Solar
LECA
Malwa
EPC
G Star Energy
Innovate Energy
Power Ideas
Polygon Energy
Mondiaux Solar
Sunstak
Solarhub
Solargain
Sunbuilt Solar
Stored Solar
Stag Electrical
Solar Battery Group
Solahart
Solar$Life
Solar Forever Canberra
Select Electrical and Solar Solutions
Reposit
RBE
The retailer you choose will include the rebate amount on the quote they provide.
Home and business owners can apply for this rebate under the Next Gen Energy Storage program. You can also apply for a loan under the Sustainable Household Scheme.
To be eligible, you must follow all the terms and meet all the conditions of both programs.
Safety and reliability of the program
The CEC ensures that battery retailers meet the latest safety requirements. All Next Gen retailers must use solar batteries accredited by the CEC.
Also, energy storage systems must meet the ACT legislation standards and all relevant Australian and International standards.
This rebate covers only the energy storage systems accredited by the CEC.
Your retailer will provide you with:
Detailed information on how to use your battery system safely
A 10-year warranty for your battery and inverter system.
Home Energy Support Program
The Home Energy Support Program provides eligible homeowners with a rebate of up to $5,000 to help them reduce the upfront costs of installing energy-efficient systems or installing sustainable product upgrades.
As of 31st Mar 2022, all eligible homeowners are given access to a rebate amount of up to $2,500 for installing rooftop solar systems.
This program allows homeowners to pay the remaining amount of the solar PV system with interest-free loans.
Soon, eligible homeowners will get an additional rebate of up to $2,500 to install renewable energy systems such as:
Hot water heat pumps
Reverse cycle heating and cooling systems and
Ceiling insulation.
The rebate amount per homeowner is up to $5,000.
How does the program work?
Eligible households get a rebate of up to $2,500 to install rooftop solar. Below are two options to pay for your solar system.
Option 1
You get a rebate only and pay the remaining cost of the system with your own money. Once the ACT Government processes your rebate, you will pay your solar supplier the remaining amount directly.
You must attend a free online Home Energy Support workshop.
You will then be required to provide more information together with the application form. The information required includes your proof of eligibility and solar quotes from CEC accredited installers.
Only accept a quote from your supplier after the ACT Government pre-approves your application.
After installing the system, you and your solar supplier will be required to fill out the rebate form.
You will then receive your rebate within 7 business days after the ACT Government processes your form.
Option 2
You will get a rebate and interest-free loan from Brighte, Home Energy Support Program's partner, who will also process your rebate.
You will be required to attend a free online Home Energy Support workshop and apply through the Brighte website.
Cost of solar in Canberra
The average 6kW solar system will cost $6,709 after the government rebate has been applied. For a larger system like a 10kW solar system in Canberra, you will pay $9,623 on average.
The cost of solar in Canberra will depend on the quality of solar panels you elect to install as well as the installation company. There are lots of solar scams around, so it would be worth your while to get at least 3 quotes before choosing a installer to work with.
When will the solar rebate end in Canberra, ACT?
In Canberra, ACT, the solar rebate program will end in December 2030. Consequently, the rebate amount available for homeowners and businesses reduces by a fifteenth every year.
So, the earlier you install your solar system, the more the rebate amount you get before the end date.
What are the requirements for getting solar rebates in Canberra, ACT?
The Clean Energy Council has a set of requirements that apply to every zone in Australia, Canberra, ACT, included. To be eligible for STCs, you must meet the following requirements.
You must be an Australian homeowner and provide documentation to prove that you own the property on which the solar system is to be installed.
Be interested in a solar system of 100W or less.
Buy your solar energy system from an approved installer.
Meet all other requirements for state-level rebates
Claim your STCs within a year of installing your solar system
It is important to have your solar PV system installed by an accredited solar installer. The system must meet the standards and safety guidelines provided by the CEC.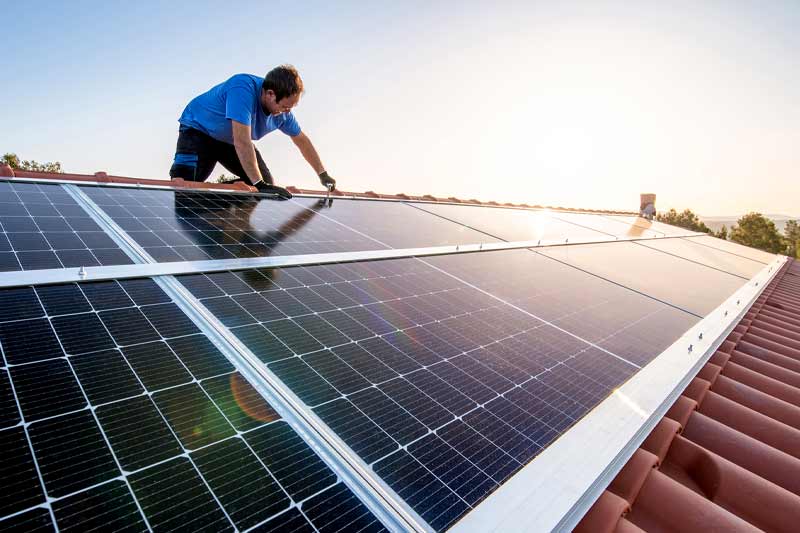 Am I eligible for the solar rebate?
If you are a resident of Canberra, ACT, and meet the above requirements, then you are eligible for the solar rebate.
How do I claim my rebate in Canberra, ACT?
If you live in the ACT, you can claim two rebates.
From the federal government STC rebate program
From state-level low-income households program
To claim your SCT rebate from the federal government, you should have your system installed by an accredited solar installer. You will get your STC rebate as a point of sale discount.
On the other hand, you can claim your state-level rebate by making a formal request through the state government portal or the local council.
Can I get a rebate more than once?
No, you cannot get a solar rebate more than once. All eligible residents of Canberra, ACT, are eligible for solar energy and battery rebates once. If you install your solar system first and a battery backup system later, you will get a rebate for the solar PV system first, followed by a rebate for your battery system.
What factors determine my rebate in Canberra, ACT?
The factors that will determine your rebate in the ACT include:
How you calculate the STCs in the ACT
The STC zone you fall in
What you expect to gain when you claim your rebate
You can also get state level rebates in the ACT as long as you are eligible. The state level rebates have been discussed in detail above.
What are the main disadvantages of solar energy?
High initial costs
Unpredictable daily power yields due to factors such as:
Shading from buildings and trees
Climate and weather conditions
Requires a lot of space
Energy storage systems are fairly expensive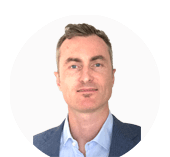 Author: Ben McInerney is a renewable energy enthusiast with the goal of helping more Australians understand solar systems to make the best choice before they purchase. Having an accredited solar installer in the family helps give Ben access to the correct information, which allows him to break it down and make it easily understandable to the average homeowner.