Updated: June 16, 2022
As electricity bills continue to skyrocket in Western Australia, solar prices are steadily going down, pushing homeowners and businesses to install solar systems. Also, with an abundance of sunshine and federal government rebates, solar power is fast becoming an alternative source of power for WA households.
WA residents can take advantage of the federal government solar rebates. Eligible candidates receive an average rebate of $2,387 for a 5kW system or $3,157 for a 6.6kW system. These are some of the best rebates in Australia.
The exact rebate you receive depends on the solar system size, STC zone, and the current STC value. The larger the system, the higher the rebate.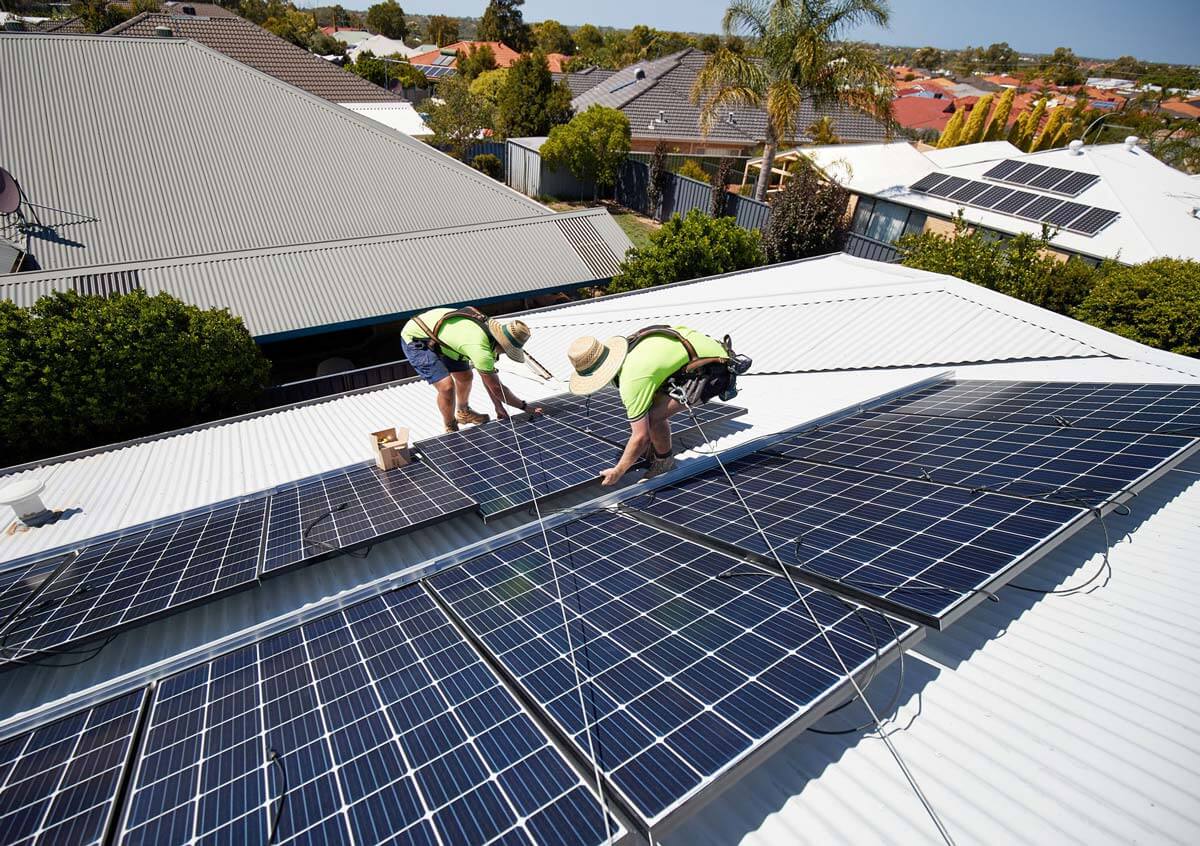 | Solar system size | Number of STCs (WA) | Rebate amount in WA |
| --- | --- | --- |
| 1.5kW | 18 | $693 |
| 2kW | 24 | $924 |
| 3kW | 37 | $1,425 |
| 4kW | 49 | $1,887 |
| 5kW | 62 | $2,387 |
| 6kW | 74 | $2,849 |
| 6.6kW | 82 | $3,157 |
| 7kW | 87 | $3,350 |
| 8kW | 99 | $3,812 |
| 9kW | 111 | $4,274 |
| 10kW | 124 | $4,774 |
| 12kW | 149 | $5,737 |
| 15kW | 186 | $7,161 |
| 20kW | 248 | $9,548 |
| 30kW | 373 | $14,361 |
| 40kW | 497 | $19,135 |
| 50kW | 621 | $23,909 |
| 100kW | 1,243 | $47,856 |
Western Australia has a limited energy rebate scheme. For instance, WA homeowners do not get battery rebates for installing solar power storage systems.
The good thing is that WA residents still have access to the federal government rebate. As you plan to install solar power, here are a few things you should keep in mind.
The STC value is not steady, and it will continue to rise or fall depending on the current demand for renewable energy.
The STC number that you receive will continue going down every year.
The buyback scheme will end in 2030.
Claiming your rebate may not be as easy as you might think. But if you work with reliable solar, they will claim the rebate on your behalf and install the solar system at a discounted price.
You will only get a rebate if you work with a CEC accredited installer.
Systems of over 100kW do not receive rebates. Such systems receive a different rebate known as the Large-Scale Renewable Energy Target designed for commercial properties.
Here is a table showing the number of STCs and rebate amounts for different solar system sizes in WA.
How does the rebate work?
Typically, the rebate is awarded through small-scale technology certificates, which are tradable certificates for a discount on your solar system.
Your new solar power system is eligible for a certain number of STCs, depending on its size. See the number of STCs various solar PV systems receive in the table above.
Once you know how many STCs your system can get, you can trade them to willing buyers. However, the process might be a little too complex for you, so it is best to just trade the certificates as a point of trade discount on your solar system at the current market rate.
Currently, the STC value stands at $38.50.
Be wary of sneaky solar companies
Most homeowners usually let their solar companies handle the STCs trading. So, if you buy a solar PV system, the amount will be already deducted.
For instance:
The gross cost for a 5kW solar system in WA is about $7,517.
The rebate for the system is $2,387.
The net cost of the system after deducting the rebate is $5,130.
It is important to note that you are only eligible for the rebate if you use a CEC-accredited installer and CEC-approved panels.
Therefore, you must ensure the installer you use is reliable and trustworthy. Some sneaky installers may provide shady contracts that put you in difficult situations. For this reason, you must always ensure you read the terms and conditions of your agreement before signing anything.
Your contract should have the following:
The current STC value ($38.50).
The STC quantity of your system, e.g., 62 certificates for a 5kW solar system.
The STC total amount you are credited as a point of sale discount. For instance, $2,387 for your 5kW system.
If the contract contains unclear clauses, make sure your installer explains them in terms you can understand.
How to calculate your rebate amount
If you would like to know how to calculate your rebate for a 5kW solar system (assuming you buy it this year), here is a formula to guide you.
Solar system size x 1.382 (WA STC zone rating) x 9 (current STC multiplier)
5 x 1.382 x 9 = 62 STCs
Multiply the STC number by the current STC value in the market.
62 STCs x $38.50 = $2,387.
And voila! It's that easy!
How to choose the right solar installer in WA
There are numerous solar installers in WA, so finding a genuine one may be more complicated than you think. Before you select any installer, consider the following:
The product and performance warranties offered on the panels, inverters, and batteries
Installation warranty
The solar company's policy
The company's experience and reliability. Do they honour their warranties?
Are they independent installers, or are they tied to a particular brand or provider?
Ensure the installers are CEC accredited and the systems they install are CEC approved.
Make sure the installer you choose is able to meet your specific needs, and they can install the system you want regardless of the size or where it will be mounted.
What are the solar rebates available in WA?
WA does not have state-based rebates, but the residents receive incentives for installing renewable energy systems from the federal government.
Household customers, non-profit organisations, or educational institutions receive the incentives through the Household Renewable Energy Scheme. Let's learn more about this scheme.
WA Household Renewable Energy Overview
If you are a WA household, you will receive three types of benefits once you install a renewable energy system.
The benefits include:
Upfront incentives once you buy a renewable energy system
Electricity savings
Distributed Energy Buyback Scheme (DEBS)
Renewable Energy Buyback Scheme (REBS)
Let's discuss each benefit in detail.
WA residents will receive financial incentives from the government once they install a renewable energy system. The incentives are provided through the Small-Scale Renewable Energy Scheme.
Typically, solar installers arrange everything involving this scheme. So, you will get an upfront discount on the price of the solar system you buy.
The installer you choose should be able to tell you everything you need to know about this scheme.
The savings you can get from your renewable energy system depends on how much power you can consume at the time of generation.
The power generated by your solar system will be used to meet your daily consumption. The excess energy will be sent back to the grid.
The more power you use, the more money you will save. All the power you use from your solar system is energy you do not need to buy from your electricity retailer. The value for the power you consume will be equivalent to your current tariff rate.
If your system is not generating power, or the power generated cannot meet your daily household needs, you will have to buy electricity from your electricity at the normal tariff rate.
Distributed Energy Buyback Scheme (DEBS)
The Distributed Energy Buyback Scheme is a "time of export" payment. This means it offers higher buyback rates during peak times (usually between 3 pm and 9 pm). During this time, electricity is worth more.
WA residents under DEBS will receive a feed-in-tariff rate of 10c/kWh for all the electricity they export to the network between the peak hours (3-9 pm). If you export electricity to the electricity network before 3 pm, the FIT rate will be 3c/kWh.
This scheme encourages homeowners to use more energy from their solar systems during the middle of the day. Also, homeowners are advised to install west-facing solar panels to generate more power when the demand is high.
Renewable Energy Buyback Scheme (REBS)
The Renewable Energy Buyback Scheme is the current scheme for WA residents that are solar power but do not have any exclusive feed-in tariff.
Eligible homeowners, educational institutions, and NGOs have the chance to earn credits on their bills for any generated but unused energy. This scheme only applies to small systems of between 500watts to 5000watts.
Homeowners under REBS receive 7.1c/kWh for the power exported back to the grid at any time of the day. To be eligible for the Renewable Energy Buyback Scheme, your solar system must meet the following:
Have a CEC approved bi-directional meter
Have all necessary approvals to be connected to the power grid
Be of 5000 watts or less.
What are the requirements for getting solar rebates in WA?
The CEC has several requirements for homeowners looking to install solar power in WA and the whole of Australia.
All eligible customers must meet the following to be eligible for STCs.
Be an Australian homeowner and provide proof that you own the building or property on which you wish to install solar energy.
Install a solar system of not more than 100 watts
Work with an approved solar installer
Meet all requirements for state-based rebates, if any.
Claim your Small-Scale Technology Certificates within one year of installing your solar PV system.
Am I eligible for the solar rebate in WA?
If you meet all the above requirements, you will be eligible for the WA solar rebate.
How do I claim my rebate in WA?
Since WA does not have state-level rebates, you will have to claim your rebate from the federal government. And as mentioned above, you must meet all the requirements to be able to claim your rebate.
Ideally, you get your rebate as part of a sal;e discount for the solar system you install. Your installer will apply and get the rebate on your behalf after installing the system for you.
What is the solar rebate WA end date?
The solar rebate in WA will end in 2030.
The rebate amount homeowners receive will reduce every year. So, the earlier you install your solar energy system, the higher rebate you will get.
Luckily, even if the rebate ends, solar power systems will still be affordable. This is because photovoltaic systems prices have significantly reduced. But if you want to be a part of the government incentives, there is no better time to install a solar system than now.
Is WA a good climate for solar?
Yes. WA has an excellent climate for solar systems. The state receives an average of 8.8 to 9 sunshine hours per day, and it is the sunniest region in Australia.