5kW Solar System Price in Adelaide
Updated: December 6, 2023
With electricity prices on the rise and solar system prices decreasing every day, solar power is a cheaper, cleaner, and safer alternative source of energy for Australian homeowners living in Adelaide. 5kW solar systems are among the most common sizes for most homeowners.
If you plan to install solar panels and have a medium to large household, 5kW should be the perfect size. You will spend an average of $5,726 to install a 5kW solar system. This cost is inclusive of the solar rebate.
The Federal and South Australian government solar and battery rebates have made solar power affordable to all types of households.
The table below shows the average cost of a 5kW solar power system in Adelaide.
| Solar System | Size | Average cost |
| --- | --- | --- |
| Cost per kW in Adelaide | 1kW | $1,145 |
| National average cost per kW | 1kW | $1,767 |
| 5kW solar system price in Adelaide | 5kW | $5,726 |
What is the rebate amount of a 5kW solar power system in Adelaide?
Solar power in Adelaide is quite affordable due to the federal government and the South Australian government's state rebate. The rebate on a 5kW solar system in Adelaide is currently $2,195. This will reduce each year until 2030 when the rebate program officially finishes.
Below are the solar panel rebates you will receive for your 5kW solar system.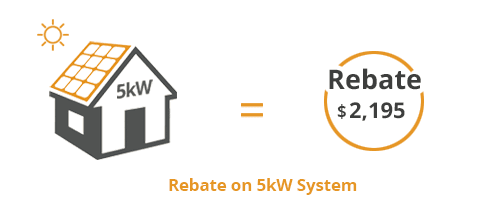 Federal Government rebate scheme
If you live in Adelaide, SA, you will receive the Australian government solar rebate.
The rebate is provided through an initiative called the Small-scale Renewable Energy Scheme.
All eligible SA residents receive their respective rebates by claiming the small-scale technology certificates (STCs), which are tradable certificates for a discount on your solar system.
The rebate amount you receive depends on the size of your solar system, the STCs the system receives based on your STC zone, and the current STC value in the market.
A 5kW solar system receives 55 STCs in Adelaide.
So, if you are eligible for the rebate, and a Clean Energy Council accredited installer installs your solar system, you will receive a rebate of $2,195 for your 5kW solar system. Your inverter should also be CEC approved.
Further reading: SA solar rebates
South Australian battery rebate
The South Australian government's Home Battery Scheme provides up to $6,000 for battery installs. This amount will be higher for low-income households installing solar and battery systems.
The SA government has set aside $100 million to assist in installing home battery systems for SA homeowners. This scheme is available to more than 40,000 households.
The installation of solar batteries will reduce the demand on the network, thus lowering energy prices for SA residents.
In Adelaide, SA, it is usually the solar retailer that determines the feed-in-tariffs you receive for the excess solar power you send to the power grid.
Solar retailers in SA offer between 12c/kWh to 16c/kWh, which is higher than what other retailers offer in most states.
How much power does 5kW solar systems in Adelaide generate?
The average power output for a 5kW solar system in Adelaide is 21.5kWh, which is enough to offset the electricity usage of your entire household.
There are several factors that may affect the power output of your solar system. These include:
Your location
weather/climate
Shading from trees and buildings
The roof/solar panel orientation
The quality of the solar system and inverter
Purchasing a high-quality system and inverter ensures you get optimal results. You will also get a good ROI within just a few years.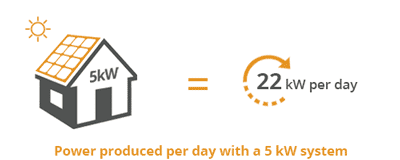 How many solar panels does a 5kW solar PV system have?
A 5kW solar system in Adelaide is made up of between 12 to 18 solar panels. The exact number of panels depends on the quality and wattage of the solar panels you purchase.
As solar panel technology continues to improve over time, this number could even be lower.
How much roof space does a 5kW solar system need?
Most solar panels measure about 1.6m x 1m. So, you will need between 20m2 to 30m2 of roof space depending on the wattage of the solar panels you install.
What is the best roof pitch for maximum exposure in Adelaide?
Ideally, the tilt of your solar panels greatly affects the output of your solar panels.
In Adelaide, and Australia in general, a roof pitch of 30 to 40 degrees is ideal for maximizing the power generation of your system year-long.
A higher roof pitch ensures you get more power even during the winter months.
How much can a 5kW solar system save me in Adelaide?
A good quality 5kW solar system in Adelaide can save you about $350 to $500 per billing cycle or about $2,000 per year. The lifetime savings of the system can add up to $50,000 or more.
However, the actual amount your 5kW solar system can save you depends on how much energy you use among other factors. These include: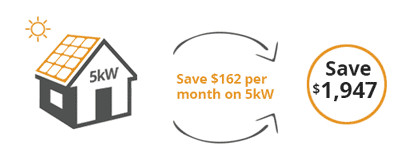 A while back, solar feed-in tariffs were the main source of incentives for solar panels for Australian homeowners. This has changed over the years as more and more people embrace solar power.
Now, the best way to get the most out of your solar system is by using most of the energy your system generates.
If you use most or all the power generated by your 5kW solar system, you will get a faster ROI and optimum savings. However, if you are not able to use all your power, and send the excess power to the grid, you will earn credits of about 6c/kWh to 16c/kWh.
This comes down to the sunshine hours the panels receive per day. Luckily, Adelaide is fairly sunny throughout the year, and winters are mild. So, your solar panels can receive a fair amount of sunshine throughout the year.
The best roof orientation to generate the most power in Adelaide is north. This orientation will help you make significant savings especially if you use most of your power during early mornings or late afternoons during peak hours.
East or west-facing roofs can also give you significant savings.
What is the average payback period for a 5kW solar system?
A 5kW solar system in Adelaide can pay for itself between 2.5 to 4 years. This will however depend on your electricity usage. The less power you send back to the grid, the less time it will take for your system to pay for itself.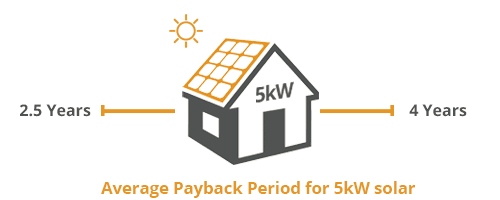 What can 5kW solar power systems run in Adelaide?
A 5kW solar system can run several appliances including solar air conditioners, fans, lights, TVs, refrigerators, washing machines, dryers, water pumps, etc.
With a hybrid or off-grid solar power system, your equipment can run for more than 12 hours.
Here is a load reference for a 5kW solar system, suppose you install an off-grid system.
Off-grid 5kW solar system load reference
System
Quantity
Load-rated power
Total rated power usage
Lights
8
11W
88W
Computer
2
150W
300W
Refrigerator
1
120W
120W
Fan
2
80W
160W
Fax machine
1
150W
150W
Printer
1
250W
250W
Air conditioner (2HP)
1
1,500W
1,500W
Electric cooker
1
300W
300W
Washing machine
2
300W
600W
Microwave
1
1,000W
1,000W
Water pump
1
200W
200W
Colour TV
2
100W
200W
Satellite TV receiver
1
25W
25W
Total
4,893W
*This is just a reference example. Your load can be more or less than 5kW
*air conditioners, water pumps, and refrigerators are inductive loads, which means they use 3 to 6 times power when they start working. So, when using, ensure you turn off the inductive load first.
What kind of household does a 5kW solar system suit best?
A 5kW solar system is best suited for medium to large homes using larger amounts of power.
If you have a large pool, teenage kids, washers, dryers, reverse cycle air conditioning, and computers among other equipment, and an electricity budget of more than $350 per billing cycle, a 5kW solar system would be an excellent size for you.
Should I consider a larger system?
5kW systems are great middle-of-the-range systems best suited for Australian homeowners with average to large electricity needs.
However, if you are looking to offset your energy costs, and have enough roof space, you could consider a 6.6kW solar system.
5kW solar system with battery storage in Adelaide
Solar batteries are needed for a full off-grid or hybrid solar system. You'll need to install a 14kWh battery system to complement a 5kWh panel system.
You will pay about $12,500 on average for a 14kWh battery, but depending on where you live, you may be able to offset that with a solar battery rebate or an interest-free loan.
So, how much does a solar battery cost?
On average, a good quality Tesla Powerwall 2 lithium ion solar battery costs $14,000. This battery comes with a 10-year warranty and can take up to 20 years to pay for itself.
A 5kW solar energy system would need a 14kWh battery system. So, in total, your 5kW solar system with a 14kWh battery system would cost between $19,500 to $25,000 to install.
How to find a good solar company in Adelaide
With the many solar companies in the industry, it can be quite challenging to find a reliable installer. Here are a few tips to guide you during your search.
Do a detailed search on the web and identify a few potential companies.
Delve deep into all the companies you select. Visit their websites and check out their reviews, ratings, and testimonials.
Get at least three quotes
Select the solar company that meets the qualities you want, and your budget.
Make sure the company is insured, licensed, and accredited by the CEC.
Check whether the panels they install are also accredited by the CEC.
Use this FREE service to find a good solar company in Adelaide
The fastest and easiest way to get connected to three of the most reliable and affordable solar installers in Adelaide would be using this FREE service.
GoSolarQuotes.com quickly matches you with three local solar installers voted #1 by previous users in your area. It's really easy!
Scroll up to the top of the page and enter your ZIP Code in the blue form at the top of the page.
Give us a few details about your solar installation or replacement job plus some contact information.
Your solar job details are forwarded on to the closest three solar installers all voted best priced who will also price your solar job.
In slightly under three minutes, you'll have your installers!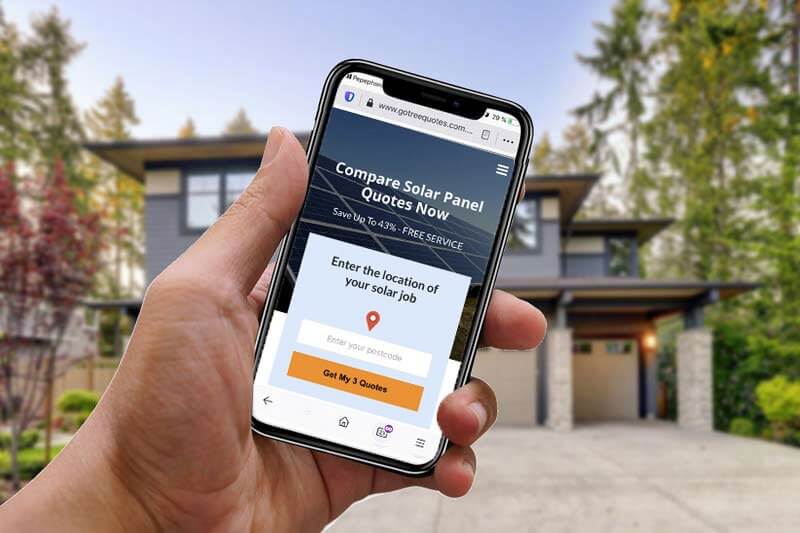 Some of the top solar panels in Adelaide include:
LG
Trina
QCELLs
Longi
Jinko
Seraphim
Risen
Suntech
All these solar panels cost differently depending on their quality and brand.
Yes. Adelaide, and South Australia in general, is an excellent climate for solar, receiving an average of 8 sunshine hours per day.
This would depend on your daily power needs. If you use about 20 to 22kWh of power per day, and are looking to offset your electricity bills, then a 5kW solar system would be perfect for you.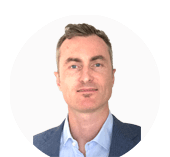 Author: Ben McInerney is a renewable energy enthusiast with the goal of helping more Australians understand solar systems to make the best choice before they purchase. Having an accredited solar installer in the family helps give Ben access to the correct information, which allows him to break it down and make it easily understandable to the average homeowner.