Sungrow Inverter Review
Updated: December 6, 2023
Having been in the inverter industry for over 24 years, Sungrow has proven to be one of the best inverters in the market today. Their products are widely known for their impressive efficiency, safety, ease of installation, and durability.
Like most solar products, Sungow is made in China, but don't let that throw you off, they are a top-tier product and one of the best on the market.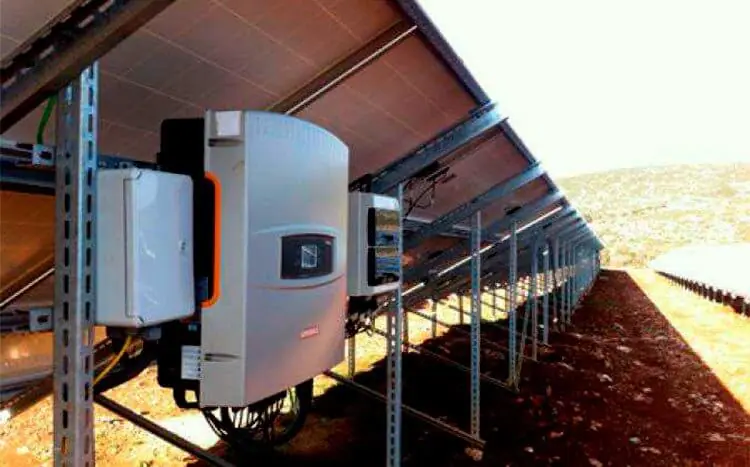 Sungrow offers a wide range of products of solar and energy storage inverters which are suited for residential, commercial, and utility-scale grid-tied systems.
They've also invested heavily in research and development which allows them to come up with cutting-edge solutions for their products.
Their inverters also come with a 10-year warranty, which is a sign of good faith in their products.
Moreover, the fact that they've dominated the market for long coupled with their presence in Australia means that their company is likely to be around long enough to satisfy their warranties.
Sungrow inverter efficiency
Efficiency of an inverter is one of the key factors most homeowners should look for when choosing an inverter. Most residential inverters have an efficiency between 95 – 98%, which is the standard for most inverter brands in the market.
However, Sungrow boasts of a top-tier efficiency of over 99% for some of their newer inverter models. This has placed them among the brand leaders in the industry.
Note: The efficiencies for each inverter may be higher for residential inverters compared to commercial inverters. The average efficiency for commercial inverters may range between 98.6% to 98.7%
| Models | DC Power | AC Power | Efficiency |
| --- | --- | --- | --- |
| Sungrow SG Premium model | 7500VA | 4999VA | 98.4% |
| Sungrow CX range model | 257.4KVA | 100kVA | 98.7% |
| Sungrow SH5K model | 6700VA | 4999VA | 97.7% |
| Sungrow SH-RT model | 15000VA | 10000VA | 98.4% |
Sungrow inverters by model
There are numerous models of Sungrow photovoltaic inverters in the market – each suited for a specific project size. The inverters come in a range between 3kW to 6.8MW all of which are approved by the Clean Energy Council (CEC).
Sungrow inverters are of three types;
String inverters
Central inverters
Hybrid inverters
Each of these types is the basis upon which the Sungrow models were curated for both residential and commercial properties.
Among the top five inverter models in their products for residential and commercial properties include:
Model 1: Sungrow SG Premium model
The SG premium inverter model is one of the most popular residential inverters in the market today. In fact, data from Formbay reveals that it's the second-biggest seller in Australia, only second to Fronius.
This popularity can be largely attributed to its reliability and affordability compared to other inverters in the market.
One of the unique vantage points of this model is that the inverters are dual-input MPPT. This means they can handle the modules installed from either side of the roof.
Since May of 2020, Sungrow also updated its range of inverters in this model featuring Quick Arc Fault Circuit Interrupter (QAFCI) and built-in DC isolators.
The SG premium model is designed for single-phase systems and comes in three varieties:
The S series
The D series
The TL series
The S series are single MPPT inverters with LCDs. D series are dual MPPT inverters with LCD displays, while the TL-D series are parallel string inverters with no displays.
Model 2: Sungrow SH5K model
Sungrow's SH5K models feature a series of hybrid inverters designed to serve single-phase residential systems. Being a Sungrow product, the model became popular due to its cost-effectiveness and efficient designs.
The range of inverters in this model is all dual trackers, which is crucial for efficiency. They are also IP65, meaning that they are perfectly suited for the outdoors (dust-proof and waterproof).
SH5k models are also compatible with both lithium-ion and lead-acid batteries making them suitable for both new installations as well as retrofit installations.
They also come with an already optimized energy management system, smart home load control, and battery usage strategies.
The simplicity and intuitive nature of these models also make them very easy to maintain and update. Owners can take advantage of the one-click firmware update over Ethernet or Wi-Fi, and customize settings through the LCD.
And like all other Sungrow inverters, you can monitor the performance of SH inverters online through the app and receive email reports or alerts.
Model 3: Sungrow CX range model
The Sungrow CX range model features a series of string and central inverters designed for three-phase systems on commercial properties.
Inverters under this model are known as Commercial Extreme (CX) due to their impressive capacity to handle large systems. String inverters in this model come only in large sizes from 33kW, 40kW, 50kW, and 110kW. (40kW model isn't available in the Australian market).
Sungrow didn't spare a thing during the construction of these commercial solutions, designing them with simplicity, flexibility, efficiency, and durability in mind.
They come with a wide range of features including:
Multiple handling grips and easily accessible connectors for convenient installation
Remote firmware update, proactive fault analysis, and string current monitoring on the web and iSolarCloud app
Fuseless design using the 2-string connection terminals per MPPT
Compatible with bifacial PV modules
Smart commission through the app and Bluetooth
IP66 protection for water resistance and IP68 fans for maximum yields
Intelligent air cooling
Keep in mind; The 30kW CX inverter in the Australian market is slightly different and comes with 5x MPPTs, while the 110kW model comes with 9x MPPTs.
Model 4: Sungrow SH-RT model
The SH-RT model of inverters from Sungrow features a new range of hybrid inverters designed to cater for three-phase residential systems. The model became popular mainly due to its easy installation and high performance.
The inverters in this model offer great flexibility to homeowners, having a wide battery voltage range of between 150 – 600V. It also provides complete unbalanced loads in backup mode and supports parallel connections with communication between inverters.
SH-RT inverters are perfectly suited for homes looking for a flawless transition to their backup power device during a power outage. The inverters charge and discharge relatively quickly (in less than 20ms) to meet the demands of your high energy consumption.
During an outage, this model uses the excess PV energy to charge the battery and recharges each morning after a blackout.
These hybrid inverters also incorporate smart management features like an optimized built-in EMS, remote firmware updates, and customizable settings.
To enhance the energy management for the users, inverters in the series can be managed online over the iSolarCloud app.
Model 5: Sungrow SBP4K8 Battery
The Sungrow SBP4K8 Battery is widely regarded as the best home battery for residential energy storage. The battery attributes its high reliability, safety, and high performance to Samsung's SDI battery module.
It's compatible with most Sungrow Hybrid Inverters, including those in the SH5K and the SH-RT models.
Among the key features of this battery include:
High performance and safety with the prismatic cells from Samsung
Simple setup process for multiple batteries
One-click online firmware update, which makes the installation easier
Smart hibernation system that preserves the battery health
Remote monitoring from the app and web
Multi-protection at both the cell level and system level
Over 95% discharge depth which maximizes the usable capacity
The storage capacity of this battery extends up to 14.4kWh with 2.5kW continuous power output and a 4kW max peak. Its cycle life is claimed to run up to 6000 cycles.
Besides the performance, the SBP4K8 battery is also cost-effective, going for around $4,000.
Sungrow inverters by model
You've probably heard time and again that you should keep off Chinese inverters. But in this case, Sungrow has proven that they can be trusted by the Australian market.
As a matter of fact, their wide range of residential inverters is among the best in the world today.
Here are some of the best inverters you can try for your home.
SG3K-S SG3K/3K6/4K/4K6/5K/6K-D
These residential string inverters are among the most popular in residential homes in Australia. They're known for their high efficiency and good performance compared to other popular brands in the market.
Key features
High efficiency at 98.4%, making it one of the best in the industry.
Flexible PV string connections and high DC/AC ratio at 1.3.
Push-in connectors for easier installation.
Convenient smart management through online monitoring on the Sungrow's iSolarCloud app.
Built-in surge arrestors, and high anti-corrosion rating at c5 for safety.
Remote firmware updates and easy energy flow using Sungrow smart meter.

These inverters are suitable for single phase inverters.
This Sungrow string inverter is one of the best for three-phase residential systems. It boasts of an industry-leading efficiency, which makes it perfect for complex power grids.
Key features
High efficiency of up to 98.6% or a European efficiency of 98.1%
10% higher yield under more irradiance with a 1.1 overload capacity.
Easy installation and setup thanks to the plug-and-play design.
String current monitoring online for faster troubleshooting.
Built-in surge arrestors and residual current protection.
Faster commissioning and online monitoring over the app or web.
This hybrid inverter comes in four different sizes i.e., SH5.0, 6.0, 8.0, and 10RT. It's designed for three-phase residential systems and works perfectly during power outage transition to backup.
Key features
Wide battery range between 150 – 600v
Seamless transition to backup mode during power outages
Offers full unbalance loads for maximum flexibility when using backup power sources
Built-in and optimized EMS for higher self-consumption
Cool smart management such as free online energy monitoring and remote firmware update
Lightweight and compact with unique push-in connectors to save installation time.
This Sungrow residential string inverter was designed to cater for smaller solar PV generation systems. It's preferred because of its ease of installment and quiet operation.
Key features
High efficiency of around 97.5% or 97.0% European efficiency
Built-in surge arrestors and residual current protection
Faster commissioning through LCD
Plug-and-play installation
Quiet operation compared to a house fridge
High anti-corrosion due to aluminium die casting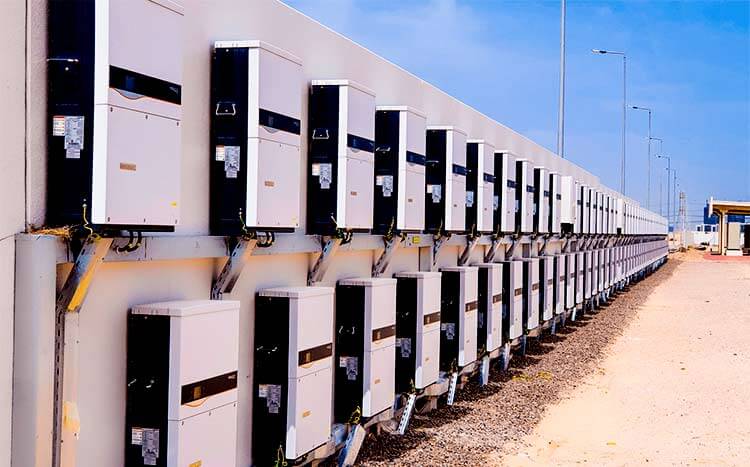 The benefits of using Sungrow inverters
The global success of Sungrow inverters didn't come overnight. It was a result of the unique features, R&D, and incorporation of modern technology. These features have ensured that it remains among the best inverters.
As a user, here are the top benefits you can expect to gain from using sungrow.
Sungrow is a world leader in inverter efficiency. When coupled with the rightly sized solar systems, it ensures that homeowners enjoy the best results from their installations.
Sungrow solar inverters can achieve up to 99% efficiency depending on the sunlight intensities of your area. This often means more yields and flexibility from the power generation.
The Sungrow inverters also come with a free management app, iSoundcloud App, that allows you to measure the daily performance of the inverter online.
Its network infrastructure is fast, easy to deploy, very safe, and reliable. Among the key real-time data you can access from your inverter through an app or web will include energy consumption, string-level monitoring, etc.
Good monitoring always leads to better efficiency and service optimization.
Sungrow manufacturers use some of the latest technologies in the market to ensure that customers enjoy the best.
They keep updating and upgrading their firmware, and their latest 'Remote firmware' and 'Touch-Free' technologies are proof of that. Such smart technology makes using the app so much faster and easier.
Additionally, Sungrow's decision to use DC 2-in-1 connections with Aluminum and copper AC cables also allows the inverter to be more agile in the PV string configurations. The high DC/AC ratio, going up to 1.3 ensures the inverter maintains a high yield throughout production.
Excellent safety features
For many years, Sungrow has been known to have one of the best safety features in the market. It supports a type 2 built-in Surge Protection Device (SPD) that covers both AC and DC for maximum safety according to the grid regulations.
The inverters also come with Ethernet, Wi-Fi, and RS485 compatibility which gives the solar owners the freedom to access their inverters from anywhere around the world without increasing their risks.
Solid against physical damage
The Sungrow inverters come with a C5 anti-corrosion rating and cutting-edge technology that ensures it can withstand most of the physical shocks it's exposed to. Its compatibility with IP66 means that it remains waterproof and protected from dust ingress.
This inverter comes with unique push-in connectors that make the installation quicker and more convenient.
It's also compact and lightweight, allowing it to be portable, and the mounting plate of Sungrow inverters has a built-in internal level which improves the installation time.
Commissioning the inverter is also more straightforward since it can be done through the iSolarCloud App or the LCD.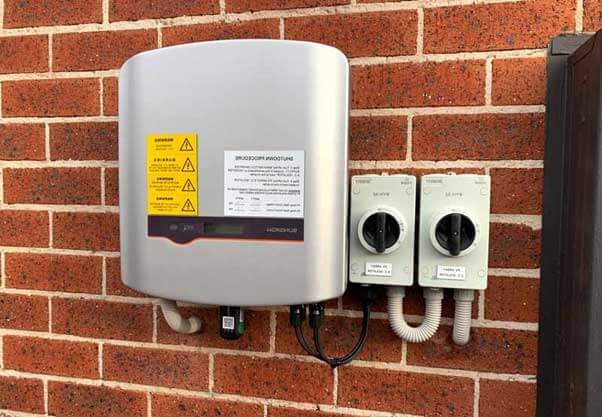 Sungrow has embraced smart management systems for all its monitoring and auditing services. Using their Sungrow Smart meter and their internal certified data security grants, they're able to facilitate safe data storage for all their delicate files.
Sungrow inverter warranty
According to the CEC, all inverter manufacturers should offer at least a 5-year manufacturer's warranty.
Up until recently, Sungrow used to offer that 5-year warranty on all their products, as well as a 10-year optional extended warranty. But in April 2020, the company decided to provide a 10-year warranty on all their latest inverters and other products.
And since they've been in operation for a long time, you can rest assured that the company will still be around 10 years to fulfill this guarantee.
Their Australian offices are located in North Sydney, New South Wales.
Sungrow inverters are among the most cost-effective power conversion systems in the market because they're shipped from China rather than Europe. The average cost of the inverters depends on the model and size.
For instance, The popular 5kW Sungrow SH5.0RT Hybrid inverter costs between $3,000 – $3,300. Another system, the 5kW Sungrow SG5K-D-Premium Inverter is cheaper at $900 – $1,200, and the 10kW Sungrow SG10KTL-MT inverter goes for between $2,000 – $2,300.
The best place to place your solar inverter on the roof is usually away from direct sunlight on a moisture-resistant surface. Since Australia is in the southern hemisphere, most homeowners place it facing North.
If the inverter won't be on the roof, ensure that it's in a place with excellent ventilation. Its location should also be easily accessible for regular maintenance and at least 3 feet from the ground to avoid floods or rising water.
Before completing the installation, ask your installer to guide you on the best location for the inverter.
It depends on the type of solar inverter you want to replace. On average, most inverters may cost you around $2675.93. However, the actual prices may range from $800 to $1,500 on the low end and between $3,000 – $3,300.
The size of the inverter might also increase the overall costs of replacing the solar inverter. The bigger the inverter, the more expensive the overall cost of replacing it will be.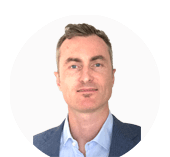 Author: Ben McInerney is a renewable energy enthusiast with the goal of helping more Australians understand solar systems to make the best choice before they purchase. Having an accredited solar installer in the family helps give Ben access to the correct information, which allows him to break it down and make it easily understandable to the average homeowner.