Solar Rebates in South Australia - New 2023 Guide
Updated: December 6, 2023
With the SA government rebates and reducing solar panel costs, South Australian residents can get a solar panel system today without spending a fortune.
The average rebate on Solar in South Australia is $2,633. It varies depending on the size of your system. The bigger the size, the bigger the rebate. 
This guide goes through the solar rebates you can get in South Australia in detail.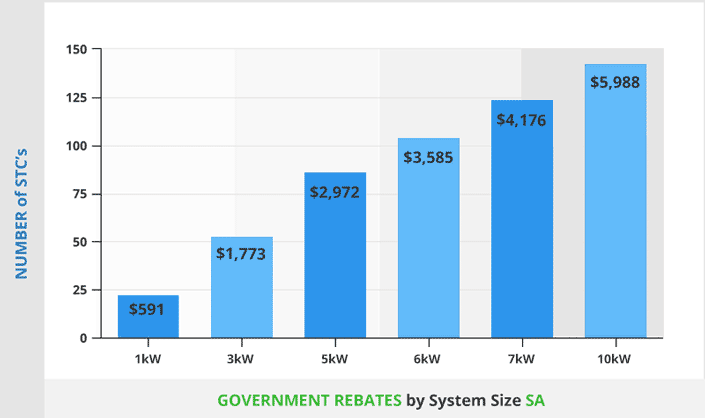 While the amount of rebate one gets varies based on the system they purchase, you should expect to get at least $4000 in STC solar rebates in SA for an average solar installation. An average solar system, in this case, is one with at least 5Kw rated nominal output with about 20 solar panels.
5kWh rebate example in SA
| | | |
| --- | --- | --- |
| Gross system cost |   | $7,920 |
| Rebate |   | (-$2,195) |
| Net system cost |   | $5,726 |
| Solar System installed Kw | Number of STCs (SA-Adelaide) | Rebate Value in Southern Australia |
| --- | --- | --- |
| 1.5Kw | 16 | $638 |
| 3Kw | 33 | $1,317 |
| 5kw | 55 | $2,195 |
| 6Kw | 66 | $2,633 |
| 7Kw | 77 | $3,072 |
| 10Kw | 110 | $4,389 |
That said, you can calculate the exact amount you will get from the rebate scheme for any system size. You do this by calculating how many tradable small-scale technology certificates you can get for each solar product using this formula:
kW solar PV system x Deeming period in years x zone rating.
Going by the zoning maps, most of South Australia is under zone 3, which attracts a 1.382 STC rating.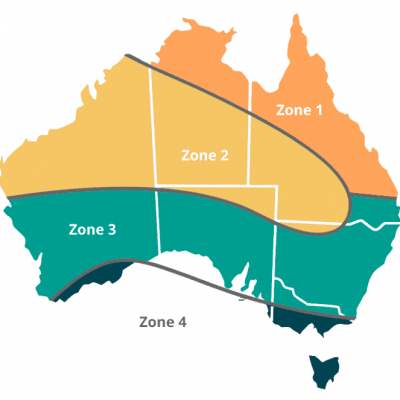 Now, with this zone rating in mind, a 5Kw solar PV system rebate bought this year (2023) in SA could be calculated as follows:
5 x 11 x 1.382, which would entitle you to about 55 tradable small-scale technology certificates. Now with this figure, go ahead and check the current STC value in the market and multiply it with your STCs. This will give you the real amount you can claim as a solar rebate for a 5Kw solar PV system in SA.
For our case, 55 STCs would give us roughly $2,195 in actual rebates that can be claimed as a direct point of sale discount from a solar installer.
Below is a more comprehensive breakdown of estimated solar rebates you could get in Southern Australia where you to do the installation this year:
The above rebates are calculated based on the current STC value of *$39.90 and an assumed *deeming period of 11 years. At the same time, a zone 3 STC rating of 1.382 is used to calculate the number of small-scale technology certificates you could get.
*Note 1: the current STC value is not fixed and could vary depending on the solar retailer/installer you surrender your Small-Scale Technology to. However, the amount they are willing to assign to each STC should not be much different from what you can get on the open market where you to trade them yourself.
*Note 2: The deeming period refers to the time interval in years between when you install the solar PV system up to the year 2030 when the STC scheme is scheduled to end. While it might sound salesy encouraging you to install now, the earlier you can get a solar system installed, the higher the number of small-scale technology certificates you can claim. This is obviously because STCs handed out reduce by one every year until 2030, so be wise!
How Do I Claim My Solar Rebates in Southern Australia?
There are two ways you can go about claiming your solar rebate in Southern Australia. Luckily, none of them needs you to deal with local authorities or make endless trips to government offices.
The first and perhaps easiest way to claim your STC rebate is to have the rebate factored into your solar installation as a point of sale discount. Most people in Southern Australia and everywhere prefer this option as it's more convenient and could save you some money; here is why:
You'll be assured that your solar installer is accredited with the Clean Energy Regulator if they can accept to be assigned the right to claim your STC. This is important because purchasing from an unaccredited solar agent or company would mean you won't benefit from the solar rebate and have to pay full price.
You will get a good deal for your STCs- You'll probably be safe letting the solar company sell your small-scale certificates instead of having to do it on your own. Most solar companies have agreements with other companies (oil and coal) to whom they can trade the STCs.
The rebate isn't a rebate in the strict sense- Most people wrongly think rebates are handed out in cash from the government upon purchasing and installing a solar PV system.
What Are the Requirements for Getting Solar Rebates in Southern Australia?
The requirements set out by the Clean Energy Regulator apply to every zone in Australia, which includes those in SA. You will, therefore, need to meet the following for your solar PV installations to be eligible for STCs:
Be an Australian homeowner with documentation to prove the same- In the case of Southern Australia, you'll obviously need to provide your homeownership documents, physical address, and other identifying details to show that you do indeed own the property on which the solar PV was installed.
The STCs must be claimed within a year of being installed. Any systems older than a year will not be considered for the STC rebate. Of course, you won't have to worry about this if you can get the STC rebate as a point of sale discount.
The solar system must not exceed capacity specifications published by the Clean Energy Council- STC rebates are only given to a solar system that does not exceed 100 per kWh. Anything above that is not considered a small-scale system. It will be put under a different category of rebates as set out by the Regulator.
You cannot claim rebates twice for a solar PV system
The last and perhaps, most important requirement is to have an accredited solar company or agent install the system according to standards and safety guidelines set out by the Clean Energy Regulator.
Am I eligible for the rebate?
If you are a South Australian resident who fulfills the above requirements you are eligible for the solar rebate. Basically, if you are:
Installing a new solar system (No existing solar systems are eligible)
Installing a system smaller than 100 Kilowatt-hours in size
Are not taking advantage of another Australian
Government's subsidy or scheme such as the free energy concession for low-income solar schemes.
How is the rebate administered?
Rebates on solar panels and home battery systems are actually applied for and paid to solar installers. After your system is installed, the installer will apply for the rebate on your behalf.
All prices displayed by installers to South Australians include the rebate baked into the price. So all you need to do is find a great local installer, get your system installed and pay them the difference between the system price and the rebate.
Feed-in tariffs are a little different. They are paid to you on a monthly basis by your energy company. For more information on solar feed-in tariffs for South Australian residents, please go here.
Can I get the rebate more than once?
Eligible South Australians are only eligible to access the solar rebate program once on solar panels and once on a home battery. If you install your solar panels first, then get a battery storage system later, you can get your rebate on the solar panel system first, then re-apply or the subsidy on your home battery system at a later date.
You can only get a subsidy once on each of the components of the system.
Can renters get the rebate?
There is no hard and fast scheme for South Australians directly related to renters and landlords at the time of writing this article. The best advice is to get in touch with your landlord and ask them to install solar in exchange for you signing on for longer in the residence. You can strike a deal to increase rent which would save you on your power bill, but also allow them to pay off the system.
With the solar feed-in tariff, they will be able to have the system paid for in 3 – 4 years on average.
Do I need council approval for a solar system?
You do not need council approval or a building permit to install a solar system in South Australia. If you are planning of taking advantage of the Subsidy for solar panels or home battery systems. you will need to have the systems installed and supplied by certified installers.
If you go for a DIY project, it will just end up costing you more money in the long run as you will not be eligible for the subsidy.
The South Australian Government Home Battery Scheme gives all grid-connected South Australians access to subsidies and low-interest loans to help pay for a home battery system.  These subsidies are provided by the Clean Energy Finance Corporation.
Subsidies are available to all South Australians and calculated on the kilowatt-hour capacity of the battery purchased. Also, Energy Concession Holders are eligible for a bigger subsidy under this scheme.
Can I still get the rebate if I already had a battery installed?
The Rabate on solar battery storage systems is for new battery installs. The subsidy is calculated on the kilowatt-hour capacity of the battery – meaning the bigger the battery, the larger the subsidy – but it is capped at the same value for every household.
Low-interest loans are available to assist households to cover the purchase of the subsidized battery and new solar panels if they don't already have them.
Free Solar for SA energy concession holders
Energy concessions allow low-income homes, seniors, and pensioners to access free solar.
The Switch for Solar trial program allows one thousand eligible households to have free solar installed in exchange for concession payments.
How Cheap Are Solar PV Systems in South Australia?
Solar PV system prices have been falling in Australia for over a decade now. Going by current rates, you could say that Australia has, by far, the most affordable solar PV systems in the world. This has partly to do with the government's renewable energy initiatives and rebates coupled with private sector interest in the green agenda.
Compared to other regions, Southern Australia's solar PV prices are relatively low. Perhaps this explains why more and more people are finding it attractive to switch to solar energy in Southern Australia. According to recent data published by the Australian Clean Energy Council, over 35% of Southern Australian households have solar and battery systems installed (over 250, 000 installs).
Below is a table comparing solar prices you would expect to pay after rebates in Southern Australia.
Pricing for solar PV systems may vary from vendor to vendor and is also affected by the amount of STC certificates you can claim when you install. For instance, a solar PV system from top manufacturers like LG might be slightly more expensive. At the same time, you may get marginally fewer rebates if you install the solar system a year or more from now due to a reduced deeming period.
| Solar PV System | Estimated Cost in SA (After rebates) |
| --- | --- |
| 1.5kw | $3,198 |
| 2kw | $3,545 |
| 3kw | $4,094 |
| 4kw | $4,929 |
| 5kw | $5,726 |
| 6kw | $6,709 |
| 7kw | $7,468 |
| 10kw | $9,623 |
What Is the Solar Feed-In Tariff in South Australia?
Solar feed-in tariffs are available to all South Australian residents who consume less than 160MW of power per year (most homes consume about 10MW per year). You Expect to get at least 20 to 25 cents for every Kwh you send back to the grid from your PV system in Southern Australia. In case you didn't already know about them, solar feed-in tariffs are the rebates you get from your electricity company for sending your surplus solar energy back to the grid. Almost all electricity retailers in Southern Australia offer feed-in tariffs for each kW of power you send to the grid.
Solar Feed-in tariffs are the number one factor in Southern Australia's green energy goals. According to the latest data published by the Clean Energy Council, over half of the energy in SA is being fed in by grid-connected household solar PV systems.
Who Has the Best Feed-In Tariff In SA?
The table below shows how much some of the electricity retailers pay for solar feed-in tariffs in Southern Australia:
*Feed-in tariffs are subject to agreements between you and the electricity retailer you are currently contracted to. Not all solar PV installations are eligible to feed-in tariffs at this point, especially in Southern Australia.
How Much Do Solar Batteries Cost in South Australia?
Expect to pay an amount in the region of $8000 to $10,000 for a decent solar battery kit for your solar PV system in Southern Australia. Unlike solar panels whose cost has reduced over time, solar batteries remain quite expensive in Australia.
They are no federal rebates for solar batteries in South Australia. However, different state governments do offer incentives and no-interest loans for residents who want to purchase solar energy. The South Australian authorities -through the Home Battery scheme– offer a rebate of up to $6,000 to its residents for solar energy storage systems. These rebates are subject to eligibility and availability of funds. Information on the Home Battery Scheme can be found on the South Australian government home battery scheme website.
You may want to purchase solar batteries in case you don't want to feed your surplus solar energy back to the grid. This is a logical and popular option for most people as it can reduce their electricity bills significantly. Storing your surplus and using it at night is better than feeding it back to the grid in terms of savings and solar payback periods.
Standard solar panels should last at least 24 to 30 years without any noticeable performance degradation. Of course, this does not mean that they will stop working after that period; only that performance may start reducing every year after that. It also depends on how well you can maintain them and other interfering physical conditions on your roof.
Here is a graph showing the expected solar PV degradation for over 25 years.
It's actually easier to sell a house with solar panels in Southern Australia.  Today, solar panels can be found in almost 35% of homes in SA and probably more in the next five years due to rebates. The truth is, having a working solar PV installed on your house will make it more attractive to any Aussie buyer. Solar energy is increasingly becoming more popular in Australia than anywhere else in the region or the world!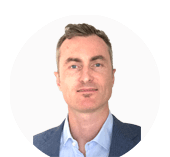 Author: Ben McInerney is a renewable energy enthusiast with the goal of helping more Australians understand solar systems to make the best choice before they purchase. Having an accredited solar installer in the family helps give Ben access to the correct information, which allows him to break it down and make it easily understandable to the average homeowner.